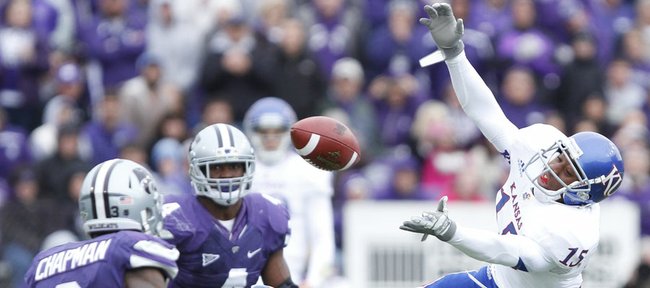 By now, after two quarterbacks and eight losses, it has become obvious that the Kansas University football team is lacking in the quarterback department.
But with the promise and potential of BYU transfer Jake Heaps waiting to rescue the position, it seems fair to say that wide receiver is the position at which KU needs the most help.
Never was that more evident than during Saturday's 41-14 loss at Baylor, when KU quarterbacks Michael Cummings and Dayne Crist completed just five passes to wide receivers and watched the best throw of the day from either guy bounce off the hands of KU junior Chris Omigie and into the arms of a Baylor defender.
The issue wasn't so much that Omigie dropped the pass as it was that the fourth-year junior represents the lack of production and development that has plagued KU's wide receivers in recent seasons.
"Am I surprised we haven't gotten more production out of this position? Yes, I'm surprised," KU coach Charlie Weis said Sunday night.
To be fair, KU's most experienced wideouts — seniors Kale Pick, Daymond Patterson and D.J. Beshears — all have missed games because of injuries this season.
"The biggest negative for them is they all got banged up at different times of the year," Weis said. "It kind of breaks a little bit of the normal flow."
Indeed. After combining for 152 yards and 14 grabs in the season opener, that trio has struggled to match that production again, healthy or not. While all three have underachieved — Pick (22 receptions, 341 yards) has been the most reliable and effective of the entire bunch — their graduation after the season will leave a glaring hole.
Remember back in fall camp when Crist said he liked KU's receivers and thought they were as good as any he played with at Notre Dame? Even if it is the old chicken-or-the-egg scenario, this year's numbers don't support that claim. Through nine games, KU's receivers have totaled 920 yards on 75 receptions. And no touchdowns. What's more, during most weeks this season, single receivers on other Big 12 teams have matched or outdone the yardage and reception totals put up by KU's entire receiving corps. Heck, Baylor stud Terrance Williams, who lit up the Jayhawks for 137 yards and a touchdown on 11 receptions over the weekend, has outperformed KU's receivers by himself, hauling in 987 yards and six touchdowns on 54 catches.
"There's candidates," said Weis, when asked if there was hope for the future of the position. "But no one's kind of risen to the top. No one has really stepped up enough to jump over everyone else, saying 'Hey, make me the guy.'"
The returning wideouts have potential. Andrew Turzilli is still just a sophomore and, although he has disappeared of late, this season has to be viewed as a step forward for him. Tre' Parmalee has impressed enough to play as a true freshman. Juco transfer Josh Ford, though quiet all season, made his first start at Baylor. And Justin McCay, the transfer from Oklahoma who, like Heaps, was forced to sit out this season, responded to a bad spring with a better fall.
"It's nice, (in practice) on Sundays, to see Justin out there because he's not running show team, he's running our stuff," Weis said. "He has a chance of being a one or a two. He's a guy who's a legitimate contender as a front-line (receiver)."
Potential is nice. But production is better. And Weis knows, Heaps or no Heaps, this team needs to get better at wide receiver if it hopes to become competitive in the pass-happy Big 12 Conference sooner rather than later.
"In recruiting, I think we're gonna have to handle it both with junior-college kids and high school kids," he said. "Because I think that it's gonna be important to make sure we have some guys that are ready to play right now."