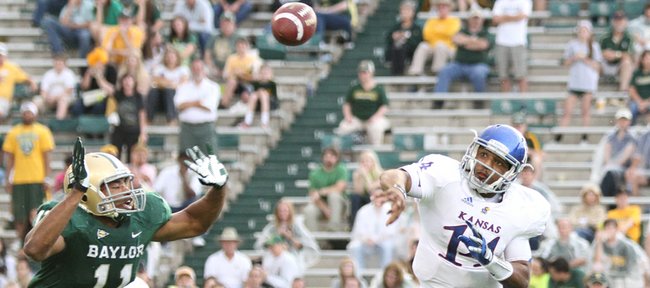 Podcast episode
KU coach Charlie Weis talks after his team's 41-14 loss to Baylor on Nov. 3, 2012.
Box score
Waco, Texas — There's a saying in football that if you're playing two quarterbacks, you probably don't have one.
After a nice three-week tease from red-shirt freshman Michael Cummings, that certainly appears to be the case for Kansas University coach Charlie Weis, who used both Cummings and senior Dayne Crist during Saturday's 41-14 loss at Baylor.
Though true, Weis' explanation that KU's problems go much deeper than quarterback is starting to get old. Weis admitted as much in the postgame meeting with the media.
"We're in the same boat that we're in almost every game we go to," he said. "It's 20-14 at halftime, we're down by six. This story's getting too old for me. It's almost like I'm telling a repeat story every week."
But Weis has been through this charade only eight times. KU fans have lived it for years.
Thanks to former quarterback Todd Reesing and the magic he injected into the program from 2006-09, people around Lawrence have seen what a quality quarterback can do for an average team. With a big-time quarterback in the huddle, which almost all Big 12 teams have, points and yards are easier to come by. Baylor has one in Nick Florence, and the Bears rolled to 666 yards of total offense Saturday, including an uncharacteristic total of 299 yards on the ground.
KU has had no such luck of late. During its 18 consecutive Big 12 losses, which dates back two full years, KU (1-8 overall, 0-6 Big 12) has averaged just 14.2 points per game. What's more, the Jayhawks have topped 21 points in a game only three times in that stretch and never scored more than 34.
"It's known you gotta put up points to win in the Big 12," said Cummings, a native of Killeen, Texas, who finished 9-of-19 passing for 81 yards with two interceptions. "And that's something we're struggling to do right now."
Because of that, Weis entered Saturday's game with a different philosophy.
"What we wanted to try to do was be more wide open in the game because we figured Baylor had more firepower and it was gonna take more points to win," he said.
But the early plays he called resulted in three-and-outs, so Weis went back to the tried and true running game, which got another wasted effort from junior tailback James Sims, who ran for 126 yards and a touchdown on 21 carries.
While KU struggled, the Bears (4-4, 1-4) raced out to a 14-0 lead in the game's first five minutes in front of a crowd of 39,039. A never-say-die attitude from the KU defense and touchdown runs from Sims (58) and Cummings (22) kept Baylor from pulling away early, and, once again, the Jayhawks went to the locker room very much in the game.
"We were really pretty fortunate for it to be 20-14 at halftime," Weis said. "The way the game started, it looked like it could've gotten ugly real early."
That came later, after an extended halftime because of a lightning delay and a host of KU miscues.
"I thought the game changed in the third quarter," said Weis of the stretch when Baylor opened up a 34-14 lead and never looked back.
In order to hang with the Bears, KU knew it would have to match them score for score. Cummings and company did for a while, but after a one-yard TD run from Bryce Petty with 10:59 left in the third quarter gave Baylor a 27-14 lead, KU failed to answer on the ensuing drive when a bomb from Cummings hit Chris Omigie in the hands but wound up being intercepted instead.
"Michael's best throw of the day that hits him right on the numbers for a walk-in touchdown," Weis recalled. "And instead of a walk-in touchdown, it's an interception. That little sequence, everything changed in a hurry. ... After that play, it was like you could feel the wind come out of the sail."
The entire offense took a turn for the worse after that, including Cummings, who was pulled from the game early in the fourth quarter, done in by a three-play stretch midway through the third quarter in which he played like the young quarterback he is. The dagger was a soft pass right into the hands of BU nickel back Ahmad Dixon with KU trailing 27-14. Six plays later, Florence — 26 for 42 for 367 yards and four total touchdowns — rumbled in from seven yards out and Baylor led, 34-14.
"When he came off that field, he had that look in his face like, 'It's time to go to the bullpen,'" Weis said of Cummings. "Michael would never ask to be taken out, but he definitely had that (look)."
What happened from that point on only mattered to the game's official scorers, as Baylor continued to rack up yards, and KU continued to miss the mark.
"Chunks," Weis said when asked what disappointed him most about his defense. "I can say it in one word: chunks. There were way too many chunks in the game."
With three games to play in a season that has been pretty much the exact opposite of what most expected — improved defense and a struggling offense — the Jayhawks continue to preach things like hard work and small victories.
"It definitely gets old to live that story," Cummings admitted. "We're striding, trying to make an effort to put up more points in the second half, and we just gotta keep working toward that goal."
Added defensive end Josh Williams, who finished with six tackles: "Every week, we're preparing and putting in the work to win the game. To come so close in a lot of games and end up falling short is pretty tough."
KU may not have a standout quarterback, but it doesn't have a quarterback controversy, either. Weis made sure of that before he left the stadium Saturday.
"I'm not looking to have rambling quarterbacks right now," he said. "When I went to Mike, it was to go to Mike. Our production in the pass game has been bad. That's why we've been running the ball so much. That's really the foundation of what we end up doing. But as long as Mike's OK, Mike will be the quarterback."