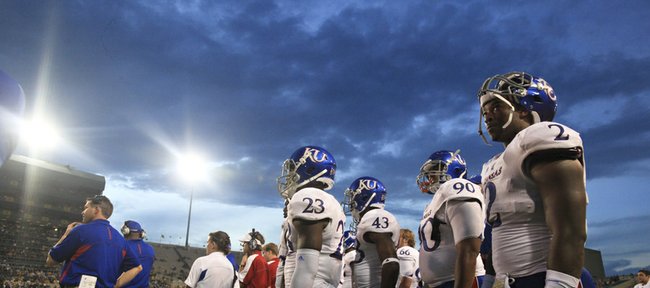 Podcast episode
KU coach Charlie Weis talks after his team's 41-14 loss to Baylor on Nov. 3, 2012.
Box score
Waco, Texas — For the second time this season, the Kansas University football team sat through an extended weather day and responded by playing like it.
Near the end of halftime during Saturday's 41-14 loss at Baylor, a bolt of lightning was detected in the area of Floyd Casey Stadium, and the teams remained in the locker room for an extra 45 minutes until officials deemed the conditions safe for play.
When play resumed, with KU taking the second half kickoff down 20-14, KU's opening drive stalled on a failed fourth-down try near midfield, and the Bears answered by putting the game out of reach.
After the loss, KU coach Charlie Weis talked about the delay and the negative impact it had on his team.
"When you're in the locker room for an hour, there's no momentum left," he said. "I'm not making excuses. Both teams had lightning delay. It actually was advantage us (because) all the fans were gone."
After announcing the attendance at just over 39,000 midway through the first half, KU and Baylor played in front of a crowd about one-quarter as large but just as loud.
"Of course the students were all saying nice things to me," Weis said. "So I could hear everything they were saying. ... I prepare for a lot of stuff, but I really haven't done a lot of research on lightning delays. So, I'm 0-for-2 in lightning delays in the third quarter."
As was the case the last time, during a 20-14 home loss to Oklahoma State on Oct. 13, the Jayhawks said the delay was a distraction but not an excuse.
"We gotta do better coming off of delays and things like that, little minor things that effect the flow of the game," KU quarterback Michael Cummings said.
Added senior offensive lineman Tanner Hawkinson: "Those types of things you don't expect, but we just gotta stay mentally focused. It's no excuse to come out and play like we did in the second half."
Defense delivered early
KU delivered a season-best 10 tackles-for-loss during Saturday's loss, with many of them coming at crucial moments during the first half to keep the Jayhawks in the game.
After giving up two touchdowns in the game's first five minutes, KU's defense stiffened and forced three punts and two field goals on the next five drives. On Baylor's last offensive drive of the first half, which resulted in a 22-yard field goal from place kicker Aaron Jones, the Bears ran seven plays inside KU's 11-yard line but could not cross the goal line.
Michael Reynolds, Keba Agostinho and Josh Williams led the team with two tackles-for-loss each, and Ben Heeney, Greg Brown, Huldon Tharp, Ben Goodman and Kevin Young each had one.
Fourth-down fun
Already known for his willingness to go for it on fourth down, KU coach Charlie Weis again flashed his gambler mentality Saturday, calling for three fourth-down tries and a fake field goal. KU failed on all four attempts, with the botched field goal coming from a misread prior to the snap, Weis said.
As for the fourth-down tries, Weis said the decision was made well before each play.
"When we got to the 50-yard line, if it got to a fourth and relatively short, we were going for it," he said.
No surprises
Baylor entered Saturday's game against Kansas ranked first in the nation in passing and third in scoring. The Jayhawks were well aware of that, and they watched every wrinkle of Baylor's offense multiple times in the week that led up to the game.
"Everything they did is what we expected," senior defensive end Josh Williams said.
Unfortunately for the Jayhawks, that familiarity mattered little, as Baylor rolled to 666 yards of total offense and ripped off five scoring drives that took 2:36 or less.
"With an offense like that, you gotta do everything you can to hold them to a minimum," Williams said. "In the third quarter, they made some explosive plays and that killed us. They just made some big plays at a critical time in the game."
This and that ...
The Jayhawks lost Saturday's opening coin toss for the third week in a row after winning it during each of the five previous weeks. Baylor elected to receive the opening kickoff. ... Senior safety Bradley McDougald served as the team's fourth captain after being voted by KU's coaches as the top special teams performer against Texas. ... Temperature at kickoff was 82 degrees under partly cloudy skies with winds of 11 mph out of the southwest.