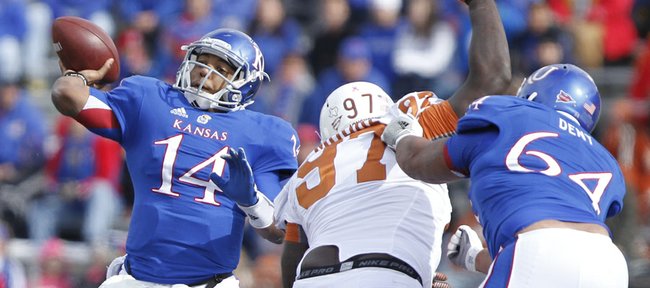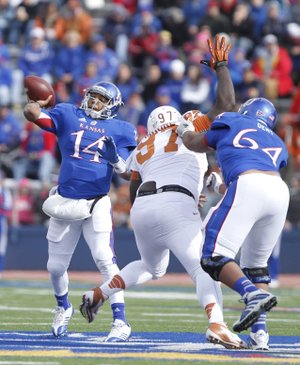 Waco, Texas — There was a time when being the starting quarterback for a Big 12 football program in a game that took place just 60 miles from his childhood home seemed like a pipe dream for Kansas University quarterback Michael Cummings.
The red-shirt freshman from Killeen, Texas, always had plenty of confidence in himself, but not everybody saw what he saw or believed what he believed.
So as smaller schools tried to sign him up and bigger schools tried to change his position, Cummings held onto the belief that he could play quarterback in the Big 12, which he has done during the past three games for the Jayhawks (1-7) and will do again at 2:30 p.m. today at Floyd Casey Stadium in front of a Baylor crowd that figures to include more than a hundred members of the Michael Cummings fan club.
Cummings came to Kansas for this reason. From the time former KU assistant coach Darrell Wyatt began recruiting him to the day when former KU coach Turner Gill told him he could play quarterback in Lawrence, Cummings knew that KU was right for him.
"Coach Gill said he was gonna give me an opportunity to play quarterback," Cummings said. "Bottom line. That's all I wanted — an opportunity. That's what brought me here."
Now that you know the story of what put Cummings on the brink of starting a Big 12 game an hour away from the stadium where he starred in high school, we can get to the story of what led to him supplanting fifth-year senior and former Notre Dame quarterback Dayne Crist as the Jayhawks' go-to guy.
When Cummings was younger, he had a tough time bottling up the wild ways that made him a handful for friends and family members.
"I was very energetic as a child," Cummings remembered. "My brothers tell me stories where they'll walk in the door, and I'll just jump off the couch onto them and their friends."
It wasn't that Cummings was looking for trouble, more that he didn't know how to keep his curiosity in check.
"Not fights," he said. "Just, I was mischievous. Like, I would put glue in people's chairs because I wanted 'em to stick to the chair because I saw it in a cartoon and stuff like that. ... I was kind of a hot head, and things didn't bode well for me when I was like that, so I just figured if I take everything in stride and be calm, things will turn out better for me."
He's been that way ever since and credits his father, Dexter, a retired military man, for helping him become the control-craving person he is today.
"A lot of late nights and school phone calls helped me figure that out," Cummings said.
By the time he reached high school, Cummings had become the polar opposite of that couch-jumping, paste-pranking wild man who kept everyone around him on their toes. He was smooth in practice, cool under pressure and level-headed during even the most hectic situations.
"If you're everywhere with your emotions, that's just wasted energy," he says now. "When it's game time, it's game time. But I feel like, as a quarterback, you need to be cool, calm and collected at all times no matter the situation, so that's how I try to prepare and perform."
In the moments that followed his fourth-quarter appearance in a loss to Kansas State, Cummings smiled when talking about his first opportunity to play and said he was not nervous at all. Shortly after nearly leading the Jayhawks to a come-from-behind victory against Oklahoma State the following week, Cummings hardly seemed impressed when talking about the spark he brought to the offense. In fact, he credited KU's coaches, offensive line and running backs for the near comeback.
A week later, after making his first start at No. 10 Oklahoma, Cummings said he had a blast and, if anything, was disappointed in the way the team played because he wanted to win to quiet the OU fans.
"The game wasn't too big for him," KU coach Charlie Weis said.
Cummings' demeanor, week in and week out, has backed that up.
"He seems like an old vet, like he's been playing there a long time," senior center Trevor Marrongelli said.
Added junior running back James Sims: "Mike is real relaxed. He doesn't really think too much, he just goes out and does what he's supposed to do, and that's all we can ask from him."
Other teammates said Cummings' confidence and command of his emotions have a positive effect on everyone on the field.
"In the huddle, he's really just kind of even-keeled, and he doesn't let any situation get the best of him," senior left tackle Tanner Hawkinson said. "We could be facing a big third down or something, and he'll just say, 'All right, fellas, this is a big play, we gotta convert.'"
As the 2012 season winds down and the young quarterback continues to gain experience, he knows nothing is promised to him. With BYU transfer Jake Heaps waiting in the wings as the likely 2013 starter and Weis continuing to stockpile talented QBs in the recruiting classes behind him, Cummings knows the only way he'll have a role on this team in the future is if he continues to do the things that brought him to the present.
"I'm the same person that I was before I started playing," Cummings said. "I don't feel like your position on the field should change how you act off the field. My mind-set changed, being named the starter, but my expectations haven't changed. I'm ready to go out there and compete. As long as I got a chance to compete, that's all I can ask for."
More like this story on KUsports.com