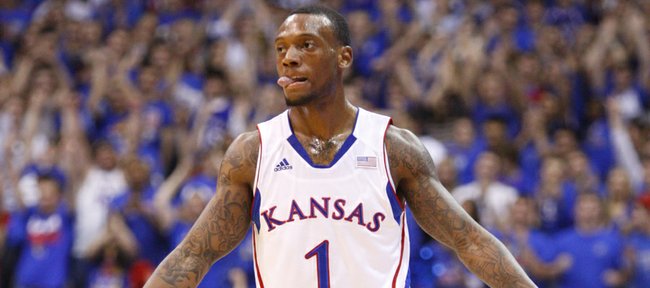 Naadir Tharpe knows if he's open he better shoot the basketball.
Or else ...
"Coach tells me that a lot in practice. There's certain times I won't (shoot). He gets mad at me and tells me to go run a sprint," Tharpe, Kansas University's 5-foot-11 sophomore point guard from Worcester, Mass., said, smiling, after scoring eight points in an 88-54 exhibition victory over Emporia State on Tuesday night in Allen Fieldhouse.
He went 3-of-3 from the field and also drained a pair of three-pointers while dishing four assists against one turnover in 17 minutes.
"The teams I've been on ... the coaches have always wanted me to shoot the ball," Tharpe added.
He didn't exhibit an accurate shooting touch in limited duty his freshman year at KU. Tharpe cashed 11 of 38 shots for 28.9 percent while totaling 175 minutes in 32 games. He made six of 22 threes for 27.3 percent.
"One thing about Naadir ... what he does better than anything — and we didn't see it last year statistically — is he can shoot the ball," Self said. "He is really a 2 (shooting guard) as much as anything. He's working hard trying to be a good backup to Elijah (Johnson). I think Naadir is going to have a big year for us, I do. We're going to need him in the game for offense."
Tharpe, who acknowledges "my game has come pretty far this year," is a bit too small to be a prototypical 2-guard.
"That's kind of funny coach said that," Tharpe said. "I feel like I'm a point guard and just can shoot the ball pretty well. There's a lot of great point guards who can shoot the ball well. It's just one thing I feel I can do."
Another is his ability to communicate effectively.
"Every day, I try to get everybody to go into practice excited," Tharpe said. "We are going into practice to get better. If we work hard, we'll get better and the team gets better.
"Coach wants everybody to be aggressive. It's what he always says. It's what he wants everybody to be when they step on the court. I try to do that and get others excited, too."
Tharpe started Tuesday's opener in place of Johnson, who was late for a class earlier in the day. A year ago, Tharpe also started on opening night with both Johnson and Tyshawn Taylor facing suspensions during the exhibition season.
Tharpe scored 12 points off 4-of-9 shooting with eight assists against nine turnovers a year ago against Pittsburg State. He much prefers Tuesday's line of four assists against just one turnover.
"Last year I was a freshman," Tharpe said. "It wasn't the same last year as it is this year, as you could see."
Taylor's condo complex flooded: Former KU point guard Taylor missed Wednesday's Brooklyn Nets practice. He was stuck in his Hoboken, N.J., condo because of severe flooding caused by Hurricane Sandy.
"Made it out safe ... In the Telly in Brooklyn," Taylor reported on Twitter on Wednesday night.
On Tuesday he had Tweeted, "My building is literally an island, flooded by water on all sides!" He also Tweeted, "I ain't going nowhere unless I'm swimming there."
Taylor was scheduled to make his NBA debut tonight against the New York Knicks, but that game was postponed Wednesday in the aftermath of Hurricane Sandy. Instead, Taylor and the Nets will open the season on Saturday against Toronto.
Jayhawks in NBA: KU has 14 players on opening day NBA rosters, which ranks fourth of all colleges nationally. Kentucky has 21 players, followed by Duke (18), North Carolina (15), KU (14), UCLA and UConn (12), Texas (11), Florida (10), Arizona (9). KU's NBA players are: Cole Aldrich, Marcus Morris (Houston Rockets), Darrell Arthur, Josh Selby (Memphis Grizzlies), Mario Chalmers (Miami Heat), Nick Collison (Oklahoma City Thunder), Drew Gooden (Milwaukee Bucks), Xavier Henry (New Orleans Hornets), Kirk Hinrich (Chicago Bulls), Markieff Morris (Phoenix Suns), Paul Pierce (Boston Celtics), Thomas Robinson (Sacramento Kings), Brandon Rush (Golden State Warriors), Tyshawn Taylor (Brooklyn Nets).
This, that: KU coach Bill Self on Wednesday made the trip to Huntington Prep School in Huntington, W.Va., to visit Andrew Wiggins, a 6-7, 190-pound senior small forward, who is now rated No. 1 in the Recruiting Class of 2013. ... Self today will host "A Courtside View" at Crown Toyota Pavilion in Lawrence. Social hour begins at 6 p.m., with a panel discussion of issues in college athletics with ESPN's Jay Bilas and others running from 7 p.m. until 8:30. Information is available at assistyouth.org.
Award candidates: KU's Jeff Withey and Angel Goodrich have been selected as candidates for the 2012-13 Senior CLASS Award in collegiate basketball. To be eligible, a student-athlete must be classified as a NCAA Division I senior and have notable achievements in areas of community, classroom, character and competition. There are 30 candidates in the men's and women's categories.