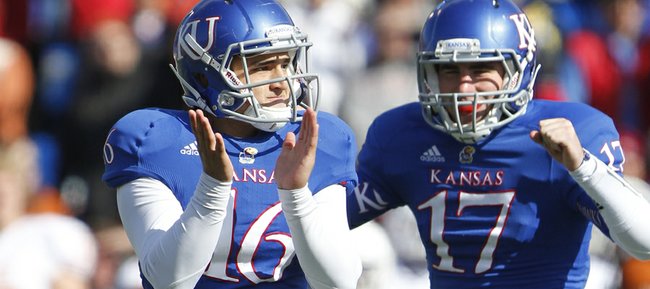 If Greg Brown had caught that interception or if Colt McCoy's kid brother hadn't hooked up with Jordan Shipley's kid brother on that fourth down completion or if Tyler Patmon had not been beaten on the left sideline for that dagger of a long completion, Kansas University would have beaten Texas in a football game Saturday for the first time since 1938.
And walk-on kicker Nick Prolago would have been the unlikeliest hero in the history of KU football.
Instead, Texas came from behind to win the game in Memorial Stadium with 12 seconds left. If Kansas had won, reporters would have elbowed each other to get closer to Prolago in order to tell a fresh life story of an underdog making history.
Instead, the moment Texas scored, Prolago's less-than-15 minutes of fame vanished. As of 7 p.m. Wednesday night, he still never had been interviewed by a reporter. Not in high school. Not in junior college. Not at Kansas.
He did his job and made a 29-yard field goal that gave Kansas a lead that almost stood up. He didn't have anything to do with what happened after that, so the 5-foot-10, left-footed kicker from Olathe Northwest High deserves to have his story told.
You remember the kid who couldn't take a hint? The kid who couldn't get it through his thick skull that he's just not good enough to play anymore and needs to find something else to do with his time — you know, take cello lessons or start a stamp collection.
Prolago had to reason to feel like that kid just a few months ago. He went to Butler Community College in El Dorado, thinking he would be the field-goal kicker in the fall of 2011 for the perennial junior college powerhouse. Instead, he was told to red-shirt and the job was given to the kicker who had red-shirted the previous year.
Prolago transferred to Kansas and showed up to try out for spring football. Special teams coach Clint Bowen told him he didn't have the necessary paperwork and to come back for summer camp when he took care of that. Prolago called the KU athletic department compliance office the next day and was told to call back in the summer.
"I was told no at Butler and got red-shirted," Prolago said. "I was told no in the spring because I didn't fill out the right papers. I thought maybe it wasn't my path in life. I honestly kind of gave up on it over the summer, but I had everyone in my corner telling me to do what makes me happy.
"And kicking made me happy and playing football. I love playing football. Everyone said I'd regret it later on in life if I didn't at least try."
So he took care of the compliance paperwork, and when it was processed he received a call from Bowen, who invited him to show up for summer camp and told him to work on kickoffs, where the team needed the most help. Punter Ron Doherty ranked at the top of the field-goal depth chart. Prolago had not worked on kickoffs at Butler and always had enjoyed kicking field goals more.
"I was surprised I did so well on kickoffs at camp," he said. "Maybe it was just adrenaline that got me through."
Starting with the Week 2 game against Rice, Prolago — the kid who knew Lawrence well because his father Frank was meat manager at Hy-Vee in Lawrence for 11 years and Nick used to tag along with him now and then — was on a field with 40,000 people watching him.
Kansas coach Charlie Weis twice has trusted Prolago to attempt a field goal. He missed a 30-yard attempt against Oklahoma in Norman.
With the score with Texas tied, 14-14, and 2:28 left on the game clock last Saturday, Weis sent Prolago onto the field to attempt a 29-yard field goal. Prolago had not made a field goal in a game in two years, since his senior year in high school, when he booted a career-best 41-yarder against Shawnee Mission West. Prolago said Wednesday that to the best of his recollection, his second-longest field goal in a game came from 30 yards out.
As the go-ahead drive mounted, Prolago readied himself on the sidelines.
"Everyone kept coming up to me, 'Do your job. Do your job. Put it through. Be confident. Don't worry about it.' It helped," he said. "It showed me they had my back. My teammates had confidence in me. That week in practice, I had kicked a 45-yarder to not run."
Had he missed that, the entire team would have done sprints. He made it. They didn't have to run.
"I thought back to that during the game," Prolago said. "I thought, 'Kick it, just like at practice.' My teammates knew I had it in me from that kick in practice. It was just extra confidence that really helped me out."
Prolago boomed it through the uprights, and when he watched it again on YouTube he estimated he had 20 yards to spare.
A soccer player from kindergarten through eight grade and a football player since then, Prolago had no trouble answering where that kick ranked on his lifetime list of athletic achievements.
"No. 1," he said. "I've never been in a huge situation like that. As the game was going on in the fourth quarter, I was thinking, 'Man, my time has come. I always see this on TV, and I would really love to be that guy.' It came down to it and I was that guy."
The butcher's son was that guy and that guy beat the pressure and came within a dozen ticks of beating the Longhorns.
More like this story on KUsports.com