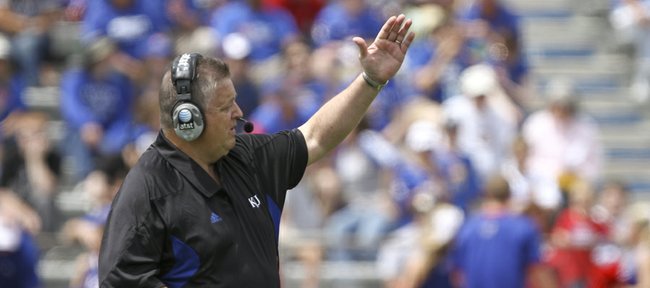 We all know about the Notre Dame transfers, the big-time quarterbacks and the changes he made to the Kansas University football roster.
But six months after he was hired, the impact of new KU football coach Charlie Weis goes far beyond a simple reshaping of the rules and roster.
According to KU officials, season-ticket sales are up 4,000 packages from where they were at the end of last season. The announced attendance of 15,000 for the spring game in April was larger than what KU had seen in recent years. And traffic and activity on websites and message boards specific to KU football have soared since December.
Although the increase in season-ticket sales might not knock anyone's socks off, one KU official pointed out that it was an impressive starting point.
"We haven't even kicked off our summer sales push yet," said Jim Marchiony, KU's associate athletic director for communications.
It remains to be seen how much the push will add to that number, but this much is known: After 21⁄2 years of embarrassment, KU football has something to sell again. Weis and the Jayhawks are taking advantage of that.
With his first recruiting class scheduled to report to campus in a week, Weis used the month of May as an opportunity to get out among the people. Last week, he wrapped up a nine-stop tour of Kansas that took him from Dodge City and Hays to Kansas City and Topeka and places in between. Everywhere he went, he was greeted with open arms and crowds of 100 to 350 KU fans and alumni, who showed up at golf courses, country clubs and athletic venues to hear Weis share his vision for Kansas. It's a message most had heard more than once already, and it is rooted in terms such as discipline, accountability and honesty.
"He's a no-nonsense kind of guy, it sounds like, and he said that discipline is going to be a primary focus there, and he's not putting up with any garbage," said Jim Trower, president of Salina's chapter for the KU Alumni Association. "His quote was, '(Fans) don't want dirt bags on the team, and he doesn't want dirt bags on the team, either,' and that kind of resonated with me. I had several people mention to me that they really liked that."
It was not just what Weis said that made Jayhawks across Kansas feel like the program was headed in the right direction once again.
"I think coach (Mark) Mangino came out once," Trower said. "I can remember Glen Mason coming out once. So to have coach Weis come out to Salina in the first six months of his tenure there at KU is pretty exciting, and the people in Salina were pretty fired up to hear that he was going out of his way to come out to all of the communities in Kansas. I just liked the whole attitude. They started way out west and went east, and that's not normal. They normally hit the big cities first and go to the little cities second."
Although the idea for the tour seemed a lot like something a savvy marketing director might cook up in his office, it wasn't.
"What was most meaningful to me was that Charlie came to me in February with this idea that he wanted to get out around the state and meet people wherever we wanted him to go," said KU athletic director Sheahon Zenger, who joined Weis at all of the stops. "He said, 'I don't care if it's three stops a day, whatever works, I'm yours.'"
Up to that point, Weis' focus had been entirely on football. From this point on, it again will be about football. But for the month of May, it was about the people and the relationships both he and Zenger believe are crucial to making Kansas football competitive again.
"Coach Weis has done an awesome job early of getting out to the most important areas of our state," said Heath Peterson, assistant VP for alumni and student programs at the KU Alumni Association. "He's really blanketed the state and has shown that he understands the importance of connecting with fans and alumni throughout Kansas. I think a lot of people were waiting to form an opinion on this hire until they met coach Weis. And, now that more have, far and away what I heard was that people were blown away by him, and they're excited for his brand of football."
Weis has that affect on people. Although he says he's not super-comfortable talking in front of crowds, you'd never know it from watching and listening. He's engaging, humorous and honest. That led those who met him in May to feel even more of a genuine connection to him.
"I know I appreciated the way and candor with which he answered questions," said one alum who attended the Garden City function. "We don't see those guys out here very often, and it was very cool to see that he didn't just regurgitate the same-old coach-speak answers when he was here."
Another alumnus who attended the event in Dodge City said it was clear that Weis and Zenger were "two peas in a pod" and added that having those two men in charge of KU football gave him hope for the future.
That's what the tour was about, and, really, what Weis' first six months in Lawrence were about. Weis believes he can create a winner here, but more importantly, he believes there's a right way to do it. The groundwork is laid, and the structure is in place. It's football season in Lawrence again.
"I want to make sure everybody understands that this was an old-fashioned, go-out-and-meet-the-people effort," Zenger said. "This was not about campaigning or anything like that. This was just an old-fashioned meet-and-greet. Charlie and I both understand what our job is today and going forward. This is rebuilding the Kansas football program, and it's going to be one brick at a time."
More like this story on KUsports.com