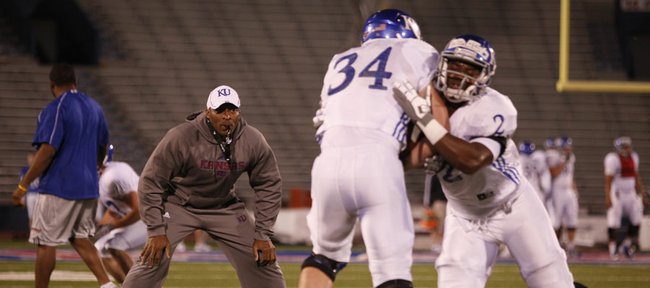 Every time Demontie Cross set his cell phone down on his desk, it would buzz again.
"Traitor," one text message said.
"Benedict," said another.
"How could you?" was a third.
Right after word had broken that Cross had accepted the position of linebackers coach at Kansas University on Jan. 19, his old Missouri football teammates weren't about to let him live it down.
Cross just chuckled as the 20 or so text messages piled up, not responding to most of them while thinking of a comeback.
"I just told them by the end of it all," Cross said, "I'll have them in red and blue."
Cross, who played free safety at MU from 1994-96, mostly remembers the physicality from his team's games against KU, which included quite a few hits after the whistle.
Even with Cross' history at a rival school, he knew he had to listen this offseason when KU football coach Charlie Weis approached him about the possibility of joining KU's staff.
"It was the right fit for the right time," Cross said, "and that's why I'm here."
Cross spent last season as the special-teams coordinator and safeties coach at Wisconsin — a team that finished with an 11-3 record and appearance in the Rose Bowl.
So why would Cross leave a successful program in the Big Ten to switch to a rebuilding team in the Big 12?
One reason was that he'll once again be in charge of his own position group.
"There's just nothing like it," Cross said. "Having met with the guys, I feel alive again. I feel refreshed."
Cross also comes to KU with previous NFL experience after spending 2006-10 in different coaching positions for the Buffalo Bills.
In 2010, he was promoted to inside linebackers coach.
During his time with the Bills, Cross worked with recognizable names like Paul Posluszny, Kawika Mitchell, London Fletcher and Takeo Spikes.
Interestingly, he and a few of the veterans were about the same age.
"For me as a young coach at the time, they really helped bring me along fast and well," Cross said. "I wouldn't trade that for anything."
Cross also wants KU to develop the same type of work ethic he saw at Wisconsin.
There were times when Wisconsin coaches had to kick players out of conference rooms to have a meeting themselves, as the UW players would review practice and game film every day.
"The kids there, they run that program, and they hold each other accountable," Cross said. "They do all the things right off the field. ... So when you can get it like that, you've got something good going."
When he first arrived, Cross told his linebackers at KU they were all coming in with a clean slate.
His biggest emphasis with his players will be getting them to play aggressively.
"A lot of big plays are made when people take plays off," Cross said. "For the linebackers, just getting them running to the ball, getting them physical and being able to tackle — not only in close quarters, but in space as well, because the game is such a spread-out game nowadays — that's my goal."
Cross also doesn't hide his enthusiasm for the linebackers who will be arriving this summer.
That includes Schyler Miles, a 6-foot-2, 220-pound inside linebacker from Tampa, Fla., who was ranked as the 27th-best linebacker in his class by Rivals.com.
"He has enough size on him to be able to come here and play right away," Cross said. "He's a kid that's very exciting. He's a guy that we hope can lead our defense in the future for years to come."
If Cross is able to help improve KU's defense in the next few seasons, he promises the same teammates who lit up his phone in January will be the first ones to support him.
"At the end of it all, it was always, 'Congratulations. I'm happy for you,'" Cross said. "If we can get back to some winning ways and doing some good things around here, I guarantee I'll have them sitting in the crowd cheering for us as well."