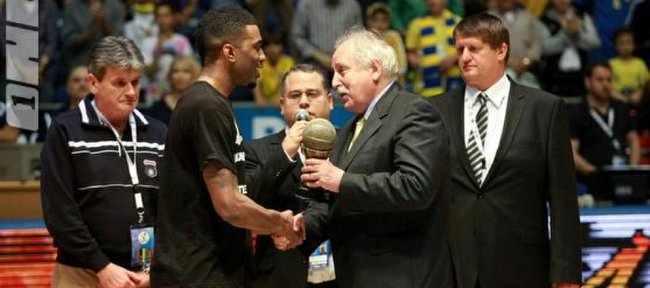 Former Kansas University basketball guard Keith Langford continues to dominate overseas.
The 6-foot-4 Fort Worth, Texas, native recently was named MVP of the Adriatic League's Final Four tournament.
Langford, who plays for Maccabi Electra Tel Aviv, scored 21 points, grabbed four rebounds and had three steals in an 87-77 championship-game victory over Cedevita. He scored 17 points in the semifinals.
Maccabi this week will begin play in the Israeli Final Four.
He will return to the United States on May 28 and figures to spend at least some time in Lawrence in June to work out with his brother, KU junior-to-be Justin Wesley.
It's being speculated that the 28-year-old Langford will not return to Maccabi next season.
Italian website Sportando.net reports that Langford is No. 1 target of Emporio Armani Milano of Italy. Also, Fenerbahce Ulker Istanbul has made an offer.
"We presented Keith with our best offer, but we're aware he has others we can't match," a Maccabi team official told Sportando. Maccabi reportedly has offered Langford $800,000 for next season and a $100,000 buyout if he leaves the team after one season.
Sportando reveals that Euroleague teams Armani Milano and Ulker Istanbul are offering well over $1 million a year, perhaps up to $1.5 million.
Offer: Kevon Looney, a 6-foot-8 junior wing from Milwaukee's Hamilton High, has received a scholarship offer from KU, Rivals.com's Eric Bossi reports. Looney played for the Milwaukee Rebels in last weekend's Kansas City Classic AAU Tournament in Lee's Summit, Mo.
"The Milwaukee (Wis.) Hamilton product showed off improved athleticism and ball handling to go along with ever-improving range on his jumper," Bossi wrote. "Looney is simply a kid with a knack for making basketball plays on both ends of the floor, and his high shoulders and length allow him to fully utilize his size making him a matchup problem who can play on the interior or perimeter."
Bossi says Looney has offers from KU, Wisconsin, Marquette, Illinois, Tennessee and Michigan.
Custer update: Clayton Custer, a 6-foot junior to be from Blue Valley Northwest, also competed at the tourney for MoKan Elite. He has received offers from Kansas State, Oklahoma, Oklahoma State and Houston thus far.
Barber likes KU, Bama: Anthony Barber, a 6-2 senior-to-be from Hampton (Va.) High, tells hokiehaven.com that KU and Alabama have been recruiting him the hardest of late. He also has UConn, Duke, Virginia, Virginia Tech and others on his list.
"I look forward to going to the schools and seeing what they've got," Barber told the website.
More like this story on KUsports.com