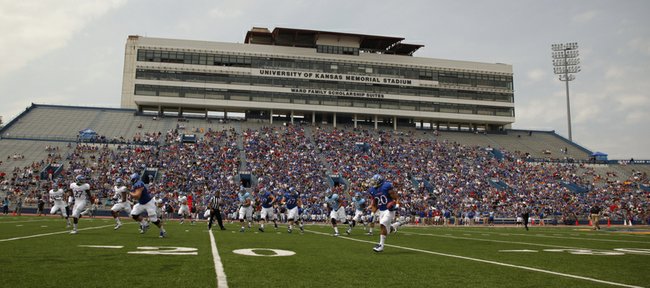 The announced attendance for this year's Kansas University football spring game was 15,000 — one of the largest turnouts for the annual game in years and the fourth highest total in the Big 12 Conference this spring.
But it was not just KU fans who came out in record numbers to watch the scrimmage on the last Saturday in April. Nearly half of the Jayhawks' 27-man recruiting class, which is expected to arrive on campus next month, was on the sideline for the spring game. Many of those who made the trip said they felt a strong bond with their new teammates.
"We were like a little family," said City College of San Francisco quarterback Turner Baty. "It was really cool."
For Baty, who will be eligible to play in 2012 and is expected to challenge for the second-string quarterback position behind Dayne Crist, the chance to make one final visit to KU offered the opportunity to meet future teammates and friends who he had only known through Twitter. The weekend was packed with events, including dinner with the entire team following the spring game, and the Class of 2012 recruits who were on hand had the chance to get to know each other a little more. What Baty discovered was that many of them were alike.
"We've all been talking to each other, and I think the coolest part about this group is every single one of us was overlooked," he said. "We're the underdogs. And this is a place where we can all come together. Everyone's a hard worker, and I think the most dangerous thing for a player to be able to have is to play with a chip on his shoulder. And I really think we all have that, and I think it's going to serve us really well."
Despite being more than 1,000 miles away in California, Baty said he could sense the excitement around KU football building by the day. That surge helped reassure him that Kansas definitely was the place for him.
"As soon as I committed, I gained like 700 Twitter followers," he said. "I couldn't believe it. It was so cool to receive that kind of support right away. You really don't get that anywhere else. I think that's probably the coolest part about KU. Maybe it's that Midwest vibe, but everybody's just nice to each other. That was something I saw on my visit, too. Everyone really likes each other. And I think that adds to the family factor, and I think that will help lead to success."
During his recent trip to Lawrence, Baty, who has known fellow 2012 signee Tre Parmalee since the two were babies, spent a lot of time with Crist — another old friend — and stayed with sophomore running back Brandon Bourbon, who hosted Baty on his official visit. While that kind of one-on-one interaction with friends new and old made him even more excited for the next few years, Baty said the turnout at the spring game had everyone jacked up.
"Seeing how many people came out was awesome," he said. "I live out in the Bay Area and I went to Stanford's spring game and I have friends who went to Cal's spring game and I have friends who went to Cal's spring game, and no one goes. No one cares. It was so cool just to see that amount of KU people there and see everyone into it. Just the excitement that's surrounding the program is huge, and I think that will really help us."
Asked to recall the spring game plays that stood out most, Baty, like most, pointed to sophomore running back Tony Pierson's big day.
"Obviously, Tony Pierson had that break-away run," Baty said of Pierson's 88-yard touchdown run. "That was sweet. Not only that, but (senior wide receiver) Kale Pick did an awesome job. He looked awesome. I'm a little bummed that he has my number and I have to wait a year to get number 7, but he's a stud."
Instead of wearing No. 7 next season, which he has worn his entire life because of his fondness for and his father's connection to former Stanford and Denver Broncos quarterback John Elway, Baty will wear No. 6.
"(Quarterbacks) coach (Ron) Powlus just told me I'm gonna be No. 6 and he said, 'Don't worry, I'll get you No. 7 again next year, but you're gonna have to wear 6 this year,'" Baty said. "It's OK, though. I'm a big LeBron (James) fan, too."
Baty, like most of KU's incoming class, will report to campus on June 3. He has spent the past couple of months working out, going over his playbook and watching film of the New England Patriots' offense. None of those three has taken as much of a toll as his least favorite part of the past few months — waiting.
"I'm counting down the days," he said. "I'm working hard out here at my training facility, doing lots of two-a-days, watching a lot of film, studying my playbook the best that I can, but I'm excited to just be out there."
The biggest reason? What he saw at the spring game.
"You can't say a lot from the spring game because it was mostly ones against mostly twos," he said. "But I think what you can say is that, just by watching it, you know we have talent. Whether that's at O-Line, wide receiver, running back, on defense, whatever; I know we have the talent here to win."