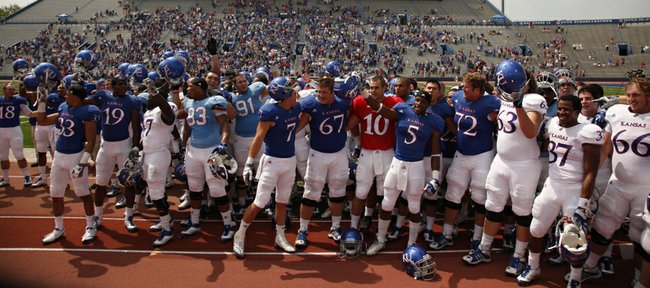 When the 2011 football season ended last November, 92 Kansas University football players expected to be back with the Jayhawks for spring football in 2012.
Only 75 were.
When KU coach Charlie Weis was hired to replace Turner Gill last December, he said the normal rate of attrition among college football programs with incoming coaches is anywhere from 10-15 players.
Chalk up the ability to do math as another one of Weis' strengths. Since taking over the KU program, 20 of those 92 players who expected to be on the roster in 2012 are gone. What's more, one-third of the names on the final 2011 roster — 20 who left plus 15 who graduated — were not listed on KU's 82-man spring football roster.
"This is everywhere," Weis said. "When people say, 'So-and-so came in and 12 guys transferred,' every other coach, when they go in, the same thing happens. The same thing happened my first year at Notre Dame. I went to Notre Dame, and I think 13 guys left in the first year. Some of them, I was very happy they left."
The reasons for the departures at KU include everything from dismissal for disciplinary reasons to leaving for personal reasons and all scenarios in between.
In mid-January, Weis announced the dismissal of 10 players, which included one group — JaQwaylin Arps, Dexter McDonald, Darrian Miller, Adonis Saunders, Brock Berglund and Keeston Terry — that simply was asked to leave, another group — Jordan Webb, Tyrone Sellers and Tom Mabry — that reached a mutual decision to explore other opportunities, and one player — Travis Bodenstein — who elected to transfer.
Shortly after that, the roster shrank further when former tight end Brandon Olson left and Weis revealed that walk-ons Malcolm Walker, Chris McEnaney, Isaac Wright and Blake Abbott would not be back.
A couple of months later, after spring drills began, Weis removed five more players from the roster, as Collin Garrett, Julius Green and Chris Robinson all were kicked off for violating team rules and Tanner Gibas left for personal reasons. Defensive end Javonte Daniel is the only player no longer on the roster who disappeared without an official explanation.
Of course, 35 players disappearing from a football roster does not happen without the coaching staff replacing at least some of them. That, too, has happened at KU.
Three mid-year transfers — Dayne Crist, Jake Heaps and Justin McCay — already are here, and the other 24 members of Weis' first recruiting class are expected to report to campus this summer. Add to that five names that did not appear on the roster last November — wide receiver Jon Jones, cornerback Jackson Long, defensive end McDouglas Archibong, tight end Scott Baron and linebacker Ricky Speer — and the final tally, at least for now, comes out to 35 gone and 32 in to replace them.
Many of those players, fifth-year seniors and true freshmen alike, will be counted on to contribute right away, which means when Aug. 2 rolls around, Weis and his coaching staff will have a lot of work to do to get the newcomers ready and just four weeks to do it.
Of that, Weis is very aware. And, as with everything else so far, he doesn't appear to be worried.
"I think it forces you to have a fast track program for these guys coming in here so that you don't try to do too much with them the day they walk in the door and get them confused," he said. "You have to get them lined up and ready to go, but we have a gameplan in place. If you know anything about me, you know there is a plan in place. We're not going to say, 'Okay they're coming in, let's wing it now and see how it goes.' I think we have a pretty good idea of how we are going to handle this."
Exploring Kansas
Weis on Tuesday made the first two stops in what figures to be a whirlwind tour of the Sunflower State during the next couple of weeks.
Officially dubbed "The 2012 Kansas Football May Tour," Weis and special guests from the KU athletic department and alumni association will meet fans across the state at luncheons and happy hours.
Tuesday, Weis and KU athletic director Sheahon Zenger were the featured guests at a luncheon at The United Wireless Arena in Dodge City early in the day and wrapped up the first leg of the tour at The Golf Club at Southwind in Garden City.
Here are the dates and locations for the rest of the tour:
Today — A luncheon at Smoky Hill Country Club in Hays, 11:30 a.m.
Today — A happy hour event at Salina Country Club, 5:30 to 7 p.m.
Thursday — A luncheon at Prairie Dunes Country Club in Hutchinson, 11:30 a.m.
Thursday — A happy hour event at Larry Bud's Sports Bar & Grill in Wichita, 5:30 to 7 p.m.
May 22 — A happy hour event at Chatters Grill in Pittsburg, 5:30 to 7 p.m.
May 23 — A luncheon at the Capitol Plaza Hotel in Topeka, 11:30 a.m.
May 23 — A happy hour event at LiveStrong Sporting Park's Member's Club in Kansas City, Kan., from 5:30 to 7 p.m.