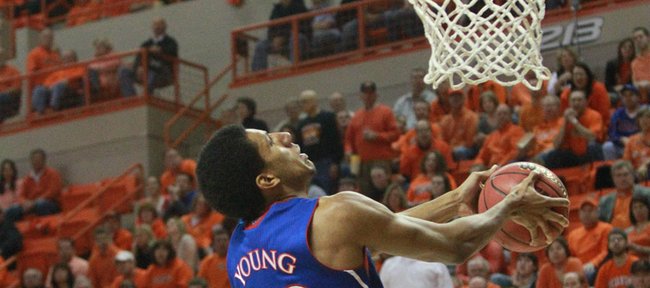 Kansas University senior-to-be Kevin Young will try out for Puerto Rico's senior national team later this month.
If the 6-foot-8, 195-pounder from Perris, Calif., makes the squad, he'll represent the U.S. commonwealth in the FIBA Olympic world qualifier July 2-8 in Caracas, Venezuela. A top-three finish in that 12-team tourney would vault Puerto Rico into the Olympics July 28-Aug. 12 in London.
"I am really excited. It's a great opportunity and chance for me to get better at basketball," said Young, whose mother's parents were born in Puerto Rico, making him eligible to play for that team. "It's a good opportunity to get my face shown over there, so if I don't make it this time I can be there on the next try. It's always fun to go back to Puerto Rico."
Young competed for Puerto Rico in the FIBA U19 World Championships in July 2009 in Auckland, New Zealand. He averaged 7.7 points and 5.0 rebounds for 5-4 Puerto Rico. Led by KU senior guard Tyshawn Taylor, Team USA won the gold medal.
Young had 18 points and 12 boards against Lithuania.
"We played them in France and got into an altercation, and the game was called off. When we played them in New Zealand, we wanted to show them we were better than them (Lithuania)," said Young, who averaged 3.4 points and 3.0 rebounds while logging 11.4 minutes in 38 games at KU this past season.
"It was a great experience. It's a lot different from college basketball, very physical. Playing for a nation is a bit more prideful. At the same time, it's a lot prideful here at Kansas, too. I'm looking forward to seeing the comparison from here and there."
Young, who said he weighs a solid 195 pounds after working out with trainer Andrea Hudy since the end of the season, said he'll take final exams next week, head home to California to spend time with his mom, younger brother and sister, then attend tryouts at the end of the month in Puerto Rico.
"I'm totally on board for Kevin to get the opportunity to try out for Puerto Rico," KU coach Bill Self said. "We are still a ways away from knowing details to see if he has a legitimate shot."
More like this story on KUsports.com