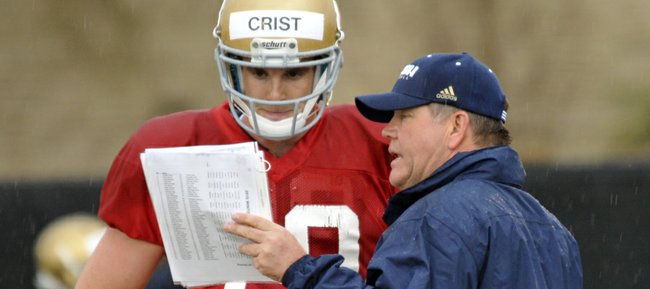 Topeka — The Notre Dame Club of Eastern Kansas welcomed Notre Dame football coach Brian Kelly to town Tuesday, and Kelly spent the afternoon being serenaded by the school's famous fight song and talking up the Fighting Irish.
Before it all began, though, Kelly took time out to comment on the man who preceded him at the prestigious football factory, Kansas University coach Charlie Weis.
"First of all, he's an experienced head coach," said Kelly, set to enter his third season in South Bend, Ind. "His time at Notre Dame clearly prepared him for Kansas and the job that he has. He's obviously a great offensive mind, but I think that probably gets too much attention, because Charlie now, as a head coach, has a great understanding of all the things that go along with it. It's a great hire for Kansas, and I'm a little partial to guys that are Notre Dame grads, and we wish him the best of luck."
Three young men who played for Kelly during the past couple of seasons are headed to Kansas to join the man who originally recruited them, and Kelly said he believed all three could make the Jayhawks better.
"The great thing about all these kids is they all have their degree from Notre Dame," said Kelly, referencing KU quarterback Dayne Crist, who already is on campus, as well as tight end Mike Ragone and linebacker Anthony McDonald, who will arrive next month. "So you're getting great kids, you're getting guys that love to play the game. ... It's great that Charlie gave them the opportunity to finish off. I feel like they're going to be able to help Kansas football."
Kelly spoke specifically about McDonald and Crist.
"Anthony is a really good athlete, a good football player," Kelly said of the 6-foot-2, 230-pound middle linebacker. "He was stuck in a tough position behind Manti Te'o. Manti's gonna be one of the top draft picks next year, a great player for us. So (McDonald) didn't get his opportunity. He had a couple of injuries, but if he's healthy, Anthony's a good football player, and he'll help Kansas."
As for Kelly's thoughts on Crist, they seem to be in line with those of just about everyone else who knows the former five-star QB.
"Just a class act," Kelly said. "He's been in the bright lights. He's been on that grand stage. The thing you have to understand about Dayne is he's overcome incredible adversity. Two knee injuries. He's fought back from both of them. He won our starting position going into last year. So you know he's a really good football player. And he's not gonna back off from the opportunity that he's gonna have at Kansas."
Kelly, who spent four seasons at Cincinnati and three more at Central Michigan before landing at Notre Dame, also offered some insight into why Weis' stay in South Bend wasn't longer than his five-year stint from 2005-09.
"In today's society, it's about winning and you can't use that P word," Kelly said. "There's no patience anymore. You gotta go win."
That's true whether you're at Notre Dame or Kansas, but Kelly said he thought being the head coach at Notre Dame was different than every other job in America.
"I had 17 years as a head coach and it still didn't prepare me for the job at Notre Dame adequately," Kelly said. "There's so many demands on your time, and you're on stage 24 hours a day, seven days a week. That's a good thing, but, certainly, there's so many time demands that you have to balance. ... I don't think there's any job like the Notre Dame job. It's one that I don't know that you're ever prepared until you get into that seat."
No news on McCay
According to the KU press release sent out on April 20, the NCAA's Subcommittee for Legislative Relief had until 5 p.m. Tuesday to make a ruling regarding the appeal of KU wide receiver Justin McCay, who had his initial request for a hardship waiver denied two weeks ago.
However, the release did not specify whether the NCAA was required to inform KU of its ruling by the same deadline. Therefore, McCay, the Bishop Miege High wide receiver who transferred to KU from Oklahoma at semester, must wait at least a little longer for the final word regarding his status for the upcoming season.
If the NCAA rules in his favor, McCay, 6-2, 215, will be eligible to play during the 2012 season as a sophomore. If not, he will have to sit out 2012 and will be eligible as a junior in 2013.
McCay, who was allowed to practice all spring, played in last Saturday's spring game but did not record a reception.
"I think it's put a lot of stress on him," Weis said of the receiver's uncertain eligibility status.
More like this story on KUsports.com