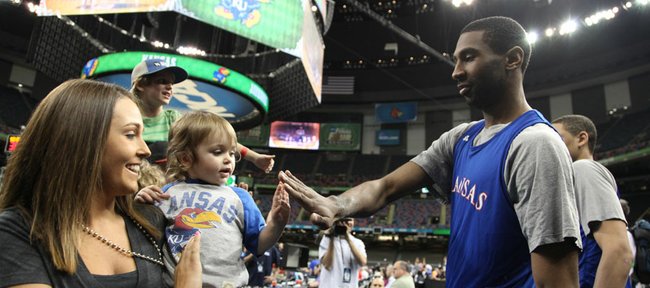 New Orleans — The last time Kansas University forward Justin Wesley was in the Superdome for the Final Four, he was 11 years old and there to watch his brother.
The year was 2003, and Wesley's older brother, Keith Langford, was a key member on the KU squad that lost to Syracuse in that season's national title game.
Wesley can recall just about every second of that weekend, largely because the fanfare, excitement and tough loss provided such an emotional experience.
"I just remember the atmosphere was crazy, and there were a lot of people going nuts," Wesley said. "At the end of the Syracuse game, me and (former KU forward) Nick Collison's brother just looked at each other and started crying. We were really into it at that age."
Decked out in his brother's No. 5 jersey — as he was every game — and sporting a suede KU bucket hat, Wesley did all he could to help give Langford a boost on the floor.
"Yeah, I looked awful," he said with a laugh. "But I was a kid."
With the tables turned and Wesley wearing his own jersey this time around, the KU sophomore said Langford offered a little advice via telephone earlier this week.
"He told me he was so happy that I got a chance to experience it, and he told me to enjoy every second of it, no matter what happens, because this is a once-in-a-lifetime deal," Wesley said.
Asked if he knew if Langford thought very often about KU's close call in 2003, Wesley jumped right in.
"Oh, he's still got a grudge against Syracuse," he said. "He doesn't talk about it much, but he's always said how he wished he could go back and play that game again and not get that horrible charge called against him."
Times have changed, and this Superdome experience is a lot different for Wesley the 20-year-old than it was for the younger version.
But like his brother, Wesley still holds on to part of that 2003 experience and is hoping to write a different ending this time around.
"Of course," he said. "My brothers and I have such a close bond. He was hurt from that, and I was hurt from that, so, in a way, it's kind of like I'm back here not only for me and my teammates and Jayhawk Nation, but also for him, too."
Langford, who still plays professional basketball in Israel, will not be at tonight's 7:49 p.m. tipoff between the second-seeded Jayhawks (31-6) and second-seeded Ohio State (31-7).