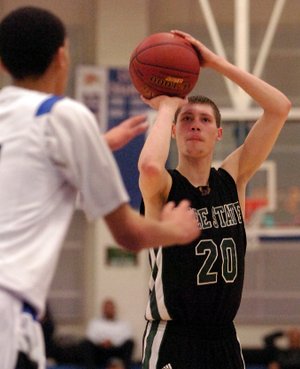 Tyler Self remembers exchanging thoughts with Bill Self, Kansas University's ninth-year coach, during one of their fairly common father-son basketball rap sessions, not long after the release of the preseason college basketball polls.
The Jayhawks were picked in the top 15, but were not everyone's pick to win their eighth consecutive Big 12 championship. Tyler, then on the cusp of entering his senior season on Free State High's basketball team, thought that was crazy. The coach thought his son was the wrong-headed one.
"There were definitely times where we were talking about if we could win the Big 12 and all these analysts were picking us third, fourth, sometimes fifth," Tyler recalled shortly after KU's 80-67 victory over North Carolina in the Elite Eight last Sunday. "I was like, 'There's no way we won't win the league,' and he'd just look at me like I was crazy. But, at the same time, I think in the back of his mind he knew we'd definitely have a shot to win the league and do something special. I just don't think he wanted to be up front about it just because the team had so much growing to do and so much to prove."
That approach is classic Bill Self, never more evident than this season. Rather than fielding a team full of first-round picks and McDonald's All-Americans, Self started with a squad that had just one proven player in senior point guard Tyshawn Taylor. Fast forward five months and there Self was in St. Louis cutting down the nets after reaching his second Final Four.
A question that surfaced months earlier intensified the night KU earned a trip to New Orleans: Was this Self's best coaching job?
Tyler said his dad's most recent achievement ranked with the best because this run to the Final Four came as such a surprise. In 2008, when Self won the national title, father and son shared high expectations.
"I don't think it's really that he thinks they will always be good because of him," Tyler said. "But I think he sees how everything will all mesh together at some point to make them pretty dang good. I think he knows the game just about the best in the nation, but it's not only that, he also created a family atmosphere. The guys are playing for each other, which doesn't always happen, and he just got them believing that they are good."
Barry Hinson, KU's director of basketball operations who this week accepted a job as Southern Illinois' head coach, has known Self for 30 years. He said his boss' ability to churn out such consistent efforts from such different teams reveals his greatest strength.
"They just keep asking, 'What is it about him?'" Hinson said. "And it's hard to answer that because there's not hundreds, but thousands, of variables. But I think it comes down to this: He's one of the greatest communicators I've ever been around. If he had been in the military, he would've been a general. If he had been at IBM, he would've been a CEO. If he had been in the movies, he would've been a lead actor. That's just what his calling is."
And that's what his players love so much about him. No matter who they are or where they're from, Self finds a way to relate to each one. Whether it's fifth-year senior Conner Teahan or first-year reserve Naadir Tharpe, the one thing they all have come to understand about their head coach is he is who he is and he's not going to change.
"I want to say I'm proud of coach Self, but that's kind of hard to say because this is something that I think coach Self just does," junior guard Elijah Johnson said. "I think people are blind to that. People underestimate him so much, and they don't realize that he's a winner. He's gonna win. You might get him once, you might get him twice, but he's gonna get you 90 percent of the time."
Asked if they recognized anything different from Self this season, the Jayhawks struggled to think of much. Junior center Jeff Withey said the coach showed a little more patience.
Tharpe shared that the upperclassmen told him they never had an easier winter break. Teahan said he felt like Self truly coached this group more than any he remembered.
And then there was Taylor, the four-year starter who in so many ways had become an extension of Self on the court: Cold-blooded competitor. Infectious smile. Heart of gold. Winner.
"I think he kind of took this year as a challenge to himself and said, 'This is a team that probably isn't gonna be as good as my other teams, but I like these guys because they're gonna buy in and they're gonna want to learn and want to be coached and this is when I can actually show who I am,'" Taylor said of his coach. "I think he's done a great job, and I'm so proud of him that he stuck by me and stuck by this team. We're this far because of our coaching staff, starting with him."
Taylor couldn't stop there.
"Like any other coach, he yells, he screams, he gets on our nerves, but I couldn't imagine having his job because we gotta deal with one of him, but he has to deal with 15 of us," Taylor continued. "I would go crazy. I would lose it. He's done a great job with us. He got all of us to buy into his system and he did it in a way where we had fun doing it. I'm so grateful to have played for such a great coach. I'm pretty sure he's gonna be in the Hall of Fame one of these days, and I've been lucky to learn so much and to play under him."