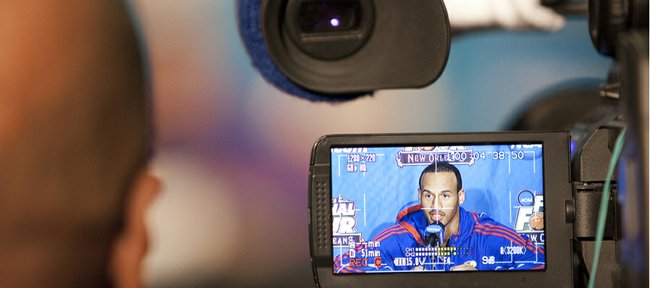 The clock on the locker room wall expired, and when Jordan Juenemann saw it, he and the rest of the Kansas men's basketball players prepared to take the court for the Jayhawks' Sweet 16 game against N.C. State.
A few seconds later, KU's coaches entered and told the guys to relax. The North Carolina-Ohio game had just gone to overtime, meaning KU had five more minutes to wait.
Though he most likely wasn't going to be relied upon as part of KU's rotation, Juenemann, a senior walk-on, could feel his own nerves building.
He could sense the same around him as well. Many of his teammates put headphones back, nodding their heads to the beat of a tune while singing along with the lyrics.
As Juenemann scanned the room, his focus stopped on teammate Travis Releford.
The junior was sitting by himself on the stool in front of his locker, hands clasped in front of him with a big smile on his face.
No need for headphones.
"He seemed so calm," Juenemann said, "and ready to play."
It's a moment, teammates say, that describes Releford well.
The Kansas City, Mo., native is the cool guy in KU's locker room, the laid-back one whom everyone likes.
"I don't think anybody's ever had a problem with Travis," KU senior guard Conner Teahan said. "I think he could hang out with pretty much anybody."
It's that kind of no-worries attitude that has helped Releford thrive during his four years at KU.
Though he was once a top-five prospect early in his high-school career, Releford didn't come in with an ego when he joined the Jayhawks in 2008.
His freshman year, he played just seven minutes per game while averaging 2.7 points.
"I knew there were things I had to work on. Nothing was given to me, as they were in the past," Releford said. "I knew I had to work to step on the court and perform. It didn't bother me, stepping back and learning more about the game and bettering my skills all around."
Following a red-shirt year, the 6-foot-5 small forward suffered a sprained ankle midway through the 2010-11 season.
After missing six games, he never fully recovered from the injury, averaging just 4.7 minutes in KU's final 18 contests.
"I think that was very frustrating for him, but at the same time, he's always been such a good team player," Teahan said. " ... When he could have had a bad attitude when all that was going down, he stayed positive."
Following the departure of Brady Morningstar to graduation, Releford took advantage of KU's open spot in the starting lineup.
He has started every game this year except for Senior Night while giving his team a lockdown perimeter defender in the mold of former KU standout Brandon Rush.
Teammates gush about Releford's ability to slide defensively and also his uncanny ability to get a hand on the ball for a deflection or rebound.
"He's doing some things that a lot of people don't really recognize or give a lot of emphasis to," Teahan said. "Here he is, playing great defense for us and getting a lot of loose balls and getting us a lot of second-chance opportunities. That's some stuff that goes unnoticed."
Releford's contributions weren't ignored by one major publication. In March, he was named to SI.com's "All Glue Team."
Only six players receive the honor nationally. Former Jayhawks Morningstar (2011) and Christian Moody (2005) picked up the same honor in previous years.
Many times this season, Self has endearingly described Releford as having an "old man's game."
"I've been hearing that awhile. But I don't know whether to take that as a compliment or not," Releford said with a smile. "I'm guessing just a guy that knows a lot about the game and makes smart plays while not forcing anything."
Those old-man moves were on display against N.C. State, when on a fast break Releford weaved in and out before reversing on a spin move to put in a layup.
Self and teammates jokingly gave him flak after the game for his move being slow.
Not surprisingly, Releford didn't take them seriously. He deadpanned that it was a move that he couldn't teach, and if they wanted to learn, they should watch his tapes.
"I felt like I was moving fast," Releford said with a laugh. "I don't think it was too much that an old man can do."
More than anything, Releford said he was enjoying his opportunity to play.
The cool, laid-back guy in KU's locker room — at long last — is seeing his patience pay off.
"I feel like this is my time," Releford said, "to be able to show what I've learned."
More like this story on KUsports.com