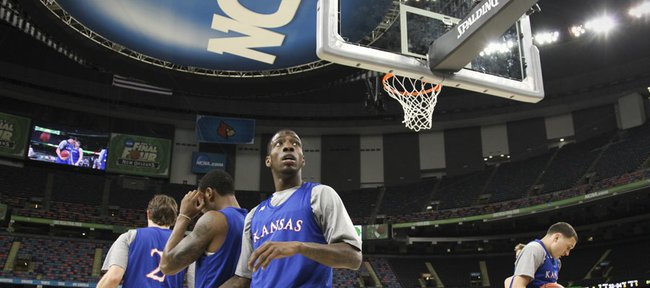 New Orleans — Tyshawn Taylor had trouble concentrating fully on basketball back on Dec. 10 — the afternoon of the Kansas-Ohio State game in Allen Fieldhouse.
Taylor, KU's 6-foot-3 senior point guard, scored just nine points with 13 assists and seven turnovers in a 78-67 victory over the previously undefeated Buckeyes. He had a date with the knee surgeon scheduled just 15 hours after tipoff.
"I'm not using my knee as an excuse, but I know I am not going to be in a brace tomorrow," said Taylor, 100 percent healthy heading into a Final Four semifinal contest between KU (31-6) and the Buckeyes (31-7) at 7:49 p.m. today in the Superdome.
"I won't be worrying about my knee, worrying about making certain cuts or plants or landing on it, getting hit. I won't be worrying about any of that, what I was worrying about in that game. That's out the window.
"Everybody's talking about Jared (Sullinger, OSU's All-American who missed the first meeting with back spasms), but we also didn't have a Jeff Withey playing like he is now," Taylor added.
Seven-foot KU center Withey had just two points, two boards and two blocks in 21 minutes that game.
"We didn't have Thomas Robinson (21 points off 7-of-9 shooting and seven rebounds) having the same game as he has now. There's a lot of things so different with both teams because it was so long ago. We've come a long way — their players and ours," Taylor said.
The fact Taylor was playing at less than full strength — he had successful right-knee arthroscopic surgery at 6 a.m., Sunday, Dec. 11, and didn't miss a game, by the way — has not received as much attention as Sullinger's not playing.
"I don't know if I was 75 percent or 80 percent," Taylor said. "I was able to play 32, 33 minutes (35), and that's all that matters."
Taylor's 13 assists versus the Buckeyes rank as his career high. His point-guard opponent today — 6-2 sophomore Aaron Craft — had 11 points off 4-of-11 shooting, with six assists, three turnovers and five rebounds in 38 minutes.
"I mean, as many questions as I've answered about how good he is on defense, he must be," Taylor said with a smile, referring to Craft. "He'll make the game challenging, but I won't change the things I do."
Taylor averages 16.7 points a game with 174 assists and 128 turnovers to Craft's 8.8 points, 178 assists and 82 turnovers. Taylor acknowledges he'd like to see one part of his game improve: his outside shooting.
He's 3-for-37 overall from three-point land in 13 NCAA Tournament games. He's 0-for-17 in his career in domed stadiums, 0-for-11 in domes this year and 0-for-17 overall in the 2012 NCAAs.
"I've not heard much about that this week. I've answered a few questions about it," Taylor said of his dome woes. "Good thing I am not a Conner (Teahan), that I have to make threes for people to know I'm out there. I have to do other things to be effective. I am not a three-point specialist. It doesn't upset my game that much. I shoot a lot of them (57-of-148 for 38.5 percent). I've not been making that many. I can still be effective in other ways defensively and offensively. I'm going to shoot them if I'm open. If I miss, I'm not going to hang my head. I'll shoot the next one, too. That's how it's got to be."
The Taylor-Craft match-up has received a lot of pre-game hype, as well as the 6-9 sophomore Sullinger versus 6-10 Robinson and 7-foot Withey.
"It'll be me and Thomas on him off and on," Withey said. "He's definitely a great player, and it'll be fun playing against him."
Sullinger averages 17.6 points and 9.1 boards a game; Robinson 17.7 points and 11.8 boards; Withey 9.2 points, 6.2 boards with 129 blocks to Sullinger's 36.
"I was disappointed, but it didn't really bother me that much," Robinson said of not being able to go against Sullinger in Allen. The two became friends last summer at various national camps. "I wanted to go against him. He's a great player, but I knew I would get my chance Saturday (in Final Four)."
Sullinger has called Robinson national player of the year.
"He's a real cool guy off the court," Robinson said. "Like I've said, everybody has their opinion. I agree with him."
Of Sullinger, KU coach Bill Self said: "He's as good a low-post scorer as there is in the country. We caught a huge break when he didn't play the first time. He's a terrific player. They are not the same team that we played because they improved a lot. I don't think we're the same team because we've gotten better. That first game seems like two seasons ago. I don't know if it will have any impact on what happens tomorrow."
The Buckeyes have other threats, including Deshaun Thomas, a 6-7 sophomore who scored 19 points off 7-14 shooting vs. KU in December, and William Buford, a 6-8 senior who scored 21 off 8-for-23 shooting. OSU hit just 38.7 percent of its shots versus KU (5-of-17 on threes) on a day the Jayhawks cashed 58.3 percent, including 9-of-17 from three. Kevin Young had a big day off the bench for KU with 14 points off 6-of-8 shooting. Elijah Johnson had 15 points (5-of-7 on threes) and Travis Releford 10.
"If we are going to win this game," Taylor said, "we have to stop them from scoring. They can score one-through-five on the court. They can all score. We must be locked in defensively. Offensively, we have to run our stuff. Our stuff works. It's been proven it works. I think we match up pretty evenly with them. It's about players making plays in a game like this."
The winner will advance to Monday's 8 p.m. final against either Kentucky or Louisville, who tangle at 5:09 p.m. today.
More like this story on KUsports.com