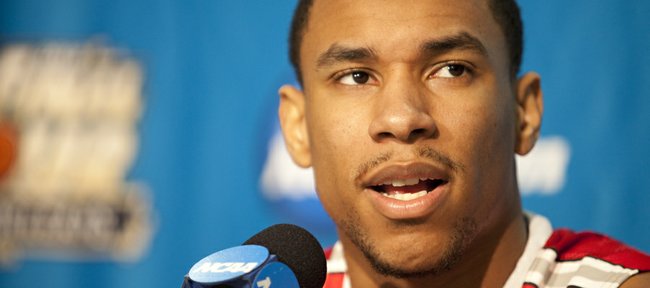 New Orleans — When former Ohio State point guard James "Scoonie" Penn helped lead the Buckeyes to the 1999 Final Four, he did so without the luxury of playing with a dominant big man.
Although more than a decade has gone by since that Final Four, Penn could not help himself when asked how much he would have benefited from playing with a center like current Buckeyes All-American Jared Sullinger.
"I would've loved it," Penn said Thursday at the Superdome, site of this year's Final Four. "Would've loved it. It opens up so much for the perimeter. It's awesome. What does every point guard always say? He would love to play with a great big guy. He sets me a solid screen, and it's such an advantage. I can pull up, I can go score, I can drop it off. It's an advantage."
Penn, who recently wrapped up a professional playing career in Europe and spent the summer scrimmaging with the Buckeyes, is back in Columbus, Ohio, trying to break into television. Although he spent much of Thursday on the other side of the camera, he was happy to share his thoughts about the marquee match-up between Sullinger and Kansas University All-American Thomas Robinson. The way Penn sees it, the head-to-head match-up between Sullinger and Kansas center Jeff Withey might be more important to the outcome of Saturday's 7:49 p.m. semifinal. If that's the case, it could spell good news for the Jayhawks, according to Penn.
"All year, (Sullinger's) been having problems with guys that size," Penn said of Sullinger's facing the 7-foot Withey. "The length has been hurting him. So I think it's gonna be Sully and what the big fella can do with Jared. One of them's gonna get in foul trouble, we just don't know which one yet."

Penn was not the only Ohio State guy who tried to take the focus off of the showdown between big-time big men. Sullinger also took a turn.
"People are making such a big deal about this being Jared Sullinger against Thomas Robinson," Sullinger said. "But at the end of the day, it's The Ohio State University against Kansas."
And it's happening for the second time this season. The Jayhawks topped the Sullinger-less Buckeyes, 78-67, at Allen Fieldhouse back in December. Asked if he regretted missing that one, Sullinger complimented KU's home arena.
"I was very disappointed," he said. "It was hurtful because that's one of the best places to play. It was loud. I left the floor with a headache, and I didn't even play."
Sullinger said he did everything he could to play that day. But back spasms that left him unable to stand upright or walk properly made it impossible.
"I couldn't bend," Sullinger recalled. "I was walking like someone with an arch in their back. If I went out there, they would've attacked me all game, and I would've been like a dead duck."
That's not likely to be the case this weekend. The 6-foot-9, 265-pound Sullinger, who enters Saturday's game averaging 17.6 points and 9.1 rebounds per outing, said he had not had any issues with his back since he was cleared to return to action nearly three months ago. Just as he was back in December, Sullinger is looking forward to measuring his game against Robinson's somewhere other than one of the three offseason skills camps the two attended together.
"Everybody's kind of shocked that he 'came out of nowhere,'" Sullinger said of the 6-10, 237-pound Robinson. "But he's a great player. He's fast, he's strong, he never gives up on a play, and he's always in attack mode. Like I said earlier, he's the player of the year in my eyes — without a doubt."
Sullinger's kind words about Robinson were echoed earlier in the day by Robinson, who said he, too, was excited finally to be able to face Sullinger.
"Why wouldn't I be?" Robinson asked. "Off the floor we're cool. But he's a competitor, and I'm a competitor, so come Saturday, we can't be cool out there. He didn't play (in December), but he's gonna play Saturday, so we'll see what the difference was."
More like this story on KUsports.com