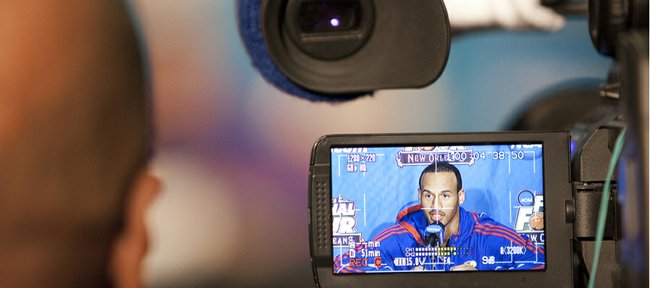 New Orleans — Kansas University guard Elijah Johnson has felt like royalty since Sunday, the day the Jayhawks defeated North Carolina in St. Louis and punched their ticket to the Final Four.
"I've never felt like I had a red carpet laid out for me in my life. The experience is fun," Johnson, KU's 6-foot-4 junior out of Las Vegas, said Thursday at a news conference in the Superdome. "I'm enjoying it, but we are down here to play ball."
KU's five starters each held court in their own interview room, where they fielded a barrage of questions for 20 minutes. The Jayhawks practiced for an hour and a half after finishing with the media.
Johnson was asked about his clutch three-pointer that boosted a narrow one-point lead to four during crunch time against the Tar Heels.
"I think it was a shot everyone told me was a good shot. I didn't shoot the shot thinking I could be a hero," said Johnson. His three upped a 68-67 lead to 71-67 with 3:07 left in KU's 80-67 victory in St. Louis.
"After the shot, I didn't think I was a hero. I shot the ball. I knew I could make it. Our fan base, coaches and teammates saw something I couldn't see. It was a big shot to them. They wanted to tell me how big they thought it was. I still don't see it as a big shot because it's something I can do, make that shot."
Remember, he also stroked a key three in erasing a 56-54 deficit with 3:04 left in a 63-60 second-round win over Purdue.
"I just want to do my part. I want to see how far we can go," Johnson said. "In a week, this team will never be together again. We won't be in the locker room. We won't be ready to get on a plane. We won't be talking to media. We won't go on the road. I think it's motivating us to keep going.
Self honored: KU coach Bill Self was presented with the 2012 Adolph Rupp Cup by the Commonwealth Athletic Club of Kentucky on Thursday at the New Orleans Marriott. KU associate AD Jim Marchiony accepted the award on behalf of Self, who had coaching responsibilities. The Rupp Cup is awarded by the Commonwealth Athletic Club of Kentucky, a non-profit organization established in 1972 by players and associates of former coach Adolph Rupp.
Support: Johnson pulled his hood over his head while walking past a group of reporters into the locker room Thursday at the Superdome. He was asked if he was trying to make a statement, apparently in support of the family of Trayvon Martin, a 17-year-old high school student who was shot and killed on Feb. 26 in Sanford, Fla. LeBron James and the Miami Heat recently wore hooded sweatshirts in honor of Martin.
"I'm not here to promote that. I'm here to play ball, but I guess you could say that was (in support)," Johnson said.
Johnson on senior guard Tyshawn Taylor: "Tyshawn needs to be let off the leash. You can't try to tame Tyshawn. You've got to let him have fun, and that's when you get the best from Ty. I think that Ty's having the most fun since he's had since he's been at Kansas right now, and I think it's showing in his game. Just let him be free and do what's on his mind, and he'll come out with something positive. I think coach agrees with that, and I think that's why he's let Tyshawn loose."
Johnson on Taylor's three-point shooting: "My personal opinion: Tyshawn's having fun with the whole statement of not being able to make a shot in a dome (he's yet to make a trey in a dome). Tyshawn can make a shot in a dome. He will make a shot in a dome."
Thomas Robinson on his experience in New Orleans: "It's a little overwhelming. You get here, and there is a band, and people hand out beads. It's exciting to be here. You have to cherish this moment. At the same time, you can't lose focus. We have been taking pictures all day."
Taylor on reaching the Final Four: "It has been a long season. I am so excited to be here. I wish we could put aside all this stuff and go play, since that is what I want to do. Getting here yesterday was kind of what opened my eyes. This is really the Final Four. Of all the college teams that play basketball, there are only four left, and we are one of them."
Travis Releford on the Final Four: "This week has been busy. We've been preparing and practicing. We all talked to (Conner) Teahan because he's the only one on the team that has been through the situation. He's telling us all the stuff we've had to go through and all the stuff we are going to have to do. So far it hasn't been bad, but this is just the start. So far it's lived up to what I've heard."
Book signing: Former KU guard Tyrel Reed will be at the Nebraska Furniture Mart (1601 Village West Parkway, Kansas City, Kan.) from 11 a.m. to 1 p.m. Saturday to sign copies of his book, "Reed All About It." Reed played basketball for a pro team in Belgium first semester before returning to the U.S. to complete his studies in physical therapy.
More like this story on KUsports.com