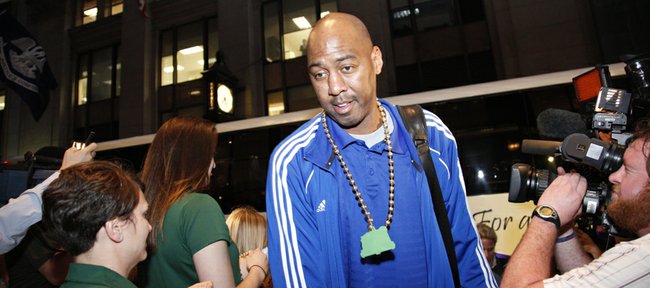 Kansas assistant coach Danny Manning has been announced as Tulsa's 29th head basketball coach, UT athletic director Ross Parmley announced Thursday morning.
"I'm excited and looking forward to being the head basketball coach at The University of Tulsa," Manning said in a release. "I want to thank President Upham, Ross (Parmley) and the search committee for allowing me this tremendous opportunity to coach at a university with a fine basketball tradition. I'd also like to thank (Kansas) coach (Bill) Self for giving me the chance to be a part of his staff for the past nine years. I have learned a tremendous amount about the game and the profession from him and all of the members of his staff.
Because Manning, 46, is coaching with the NCAA Final Four-bound Jayhawks, the official news conference introducing him as the Golden Hurricane coach will be held next week.
"I look forward to meeting with our TU players, the ardent Golden Hurricane fans, the campus and Tulsa community and the media," Manning said. "Right now my focus is on Kansas and its participation in the Final Four. We've worked extremely hard to get to this point and we want to keep it going for another few days."
Manning is in his ninth season on the KU men's basketball staff. In March 2007, he officially became an assistant coach for the Jayhawks.
"We are extremely excited to have Danny join The University of Tulsa as our new head basketball coach. He epitomizes everything our university stands for," Parmley said. "His impact on young people will extend far beyond the TU basketball program and reach well into our campus and community. His 15 years in the NBA combined with the last nine years under one of the best coaches in the country, have helped mold him into a great teacher and coach of basketball. He most definitely brings the excitement, the style of basketball, and character that we were looking for in our head coach."
More like this story on KUsports.com