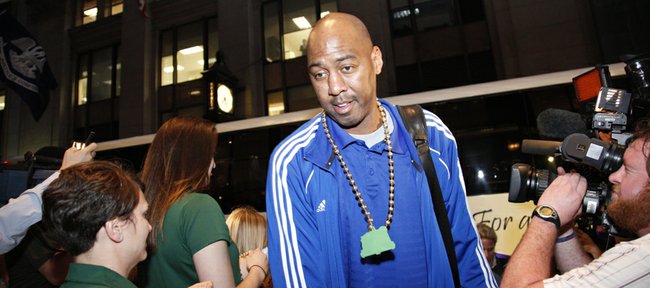 New Orleans — It looks as if Kansas University assistant basketball coach Danny Manning will be the next head coach at Tulsa University. But, Golden Hurricane officials and KU head coach Bill Self cautioned that, despite ESPN and CBSsports.com reports that Manning had taken the job, nothing had been finalized as of Wednesday night.
"I'll comment: 'Not done deal,'" Self said Wednesday. "He's had talks with them and interviewed. I know that he was very encouraged and excited about the prospect of it. It's not done. It's not done, but there are talks going on. Who knows what will happen next?"
Manning, who exited the team bus with the Jayhawk players and coaches after 8 p.m., had no comment on the published reports. KU assistants do not comment on other job openings as part of team policy.
Tulsa issued a statement to the Tulsa World shortly after ESPN cited sources indicating Manning had agreed to terms to become Tulsa coach.
"The University of Tulsa has not reached an agreement with any candidate for the head basketball coaching position at the school," read the statement issued by TU's sports information office. "As stated when the coaching search began on March 11, TU officials will not discuss any candidates until an official announcement is made by the University."
Sources told the Journal-World Manning was working with TU on possible years of the deal. Sources said he had reached out to one or more individuals about possibly working for him on his staff at Tulsa.
Self is a former head coach at Tulsa, with connections there.
"The faces have all changed. The people that back the program are still pretty consistent," Self said. "I have ties to that situation. If Danny is the guy there, and I'm not saying he is, but he'll get it on his own merits, no question about that."
Self's director of basketball operations, Barry Hinson, was introduced as Southern Illinois' new coach Wednesday. He hustled to New Orleans to be with the KU team about 9 p.m.
Self was asked about the timing of two of his staff members being sought by other schools.
"I'd say it's not the best timing," Self said. "The thing about it is, the world doesn't stop for us. Southern Illinois needs a basketball coach. Barry Hinson will not do one thing for Southern Illinois until our season is finished. If anybody else gets a job on our staff, they will not do one thing for that respective school until our season is finished. It's not going to be a major distraction for us. The distraction would be the day before a game. We'll be able to talk to our players about them. We'll be up-front with them, and they'll know what's going on."
Tulsa tweet: Adding to the likelihood that Manning is headed to Tulsa is this Twitter post from his son, Evan Manning, on Wednesday night: "Never been so proud of someone in my life!!! My dad truly deserves this! But in the meantime, ROCK CHALK AND LET'S GET A CHAMPIONSHIP!!!"
No Shabazz: Shabazz Muhammad, a 6-6 guard from Bishop Gorman High in Las Vegas, said at the McDonald's All-America game he has a final list of Duke, Kentucky and UCLA. KU was on his original list of schools.
Ellis in McDonald's: In the McDonald's game, KU signee Perry Ellis had four points, four rebounds and two assists.
Larry to SMU? Former KU coach Larry Brown has expressed interest in the SMU men's basketball opening, the Dallas Morning News reports. Brown, 71, last coached the Charlotte Bobcats in 2010.
"I'm not going to be politicking for a job right now," Brown told espn.com. "I'd like to get back involved in the game in some capacity. Whether that's as a coach, assistant, running a team or just as a resource, I don't care."
More like this story on KUsports.com