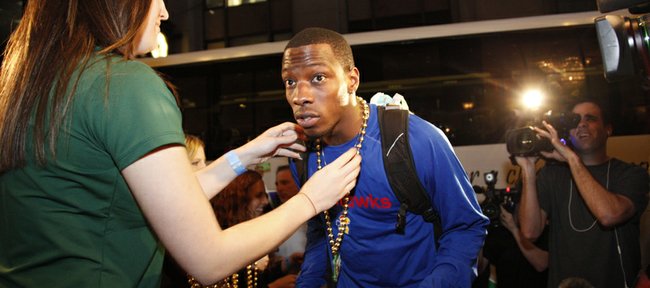 New Orleans — Sirens filling the air, Kansas University's basketball team bus received a police escort into downtown New Orleans at 8 p.m. Wednesday.
Jayhawk players and coaches exited in back of the JW Marriott hotel to much fanfare. Workers placed beads over their heads, while a six-piece band played tunes like "When The Saints Go Marching In."
"I love jazz, and this week I'm going to love it more than I ever have, I hope," KU coach Bill Self said.
The team was to practice today at an undisclosed location and hold media sessions at the New Orleans Superdome. On Friday, it's more media and a shootaround open to the public from 3:10 to 4 p.m. at the Dome.
"We're not going to turn them loose on Bourbon Street, although I totally trust my guys," Self said with a smile. "But they can go out and eat, walk around (Wednesday night). We'll have curfew relatively early because tomorrow is a busy day. Friday will be a busy day.. It's free time tonight, and beginning tomorrow they'll be tied up every minute of the day for the most part."
KU will play Ohio State in a Final Four semifinal approximately 7:49 p.m. Saturday in the newly named Superdome.
"I think what was cool was driving in (from airport) and seeing what used to be the Superdome. I guess it's now seeing the Mercedes-Benz Superdome," Self said. "It's a cool view. Then driving by and seeing all the (Final Four) banners hung ... our guys are excited. I told our guys they have it seated for 75,000 (fans), and there won't be more than 45,000 at practice. No reason to be nervous. I think these type of things will get our guys fired up."
More like this story on KUsports.com