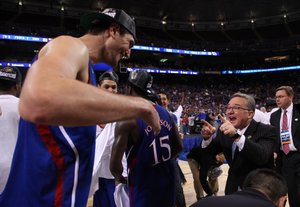 New Orleans — Kansas University director of basketball operations Barry Hinson, who worked nine seasons as head coach at Missouri State before arriving at KU four seasons ago, on Wednesday was introduced as head coach at Southern Illinois University in Carbondale, Ill.
"We are all so happy for Barry. The last four years, we've had a guy that has been a huge asset to our program," KU coach Bill Self said Wednesday night. "Everyone within the university and department has enjoyed him being here so much, but his goal was always to get back on the sidelines as a head coach. What a great opportunity that Southern Illinois has presented to him. I know there is not one guy in America that is more proud or will work harder representing Southern Illinois University the way Barry Hinson will.
"For a head coach of 11 years (two at Oral Roberts) to come in and sacrifice and do what he's done for our program and the next thing you know, he's a head coach overnight, I'm so excited for him," Self added.
Hinson signed a five-year, nearly $1.5 million contract with a school that finished this season 8-23. SIU has had three losing seasons in the past four.
"What we're going to be able to accomplish is going to be spectacular," Hinson, 50, said.
Hinson and Self said Wednesday that Hinson would only be working for KU until the end of this season.
"I'm gonna work for the University of Kansas until Monday night at 11 o'clock, if that's OK with you," Hinson said with a smile.
Hinson, with a 205-140 career record, replaces Chris Lowery, who went 145-116 in eight seasons with the Salukis.
Hinson was fired by Missouri State in 2008 after he failed to take that program to the NCAA Tournament in nine seasons, during which time he guided Missouri State to a 169-117 mark.
At Missouri State, Hinson had consecutive 22-win seasons in 2005-06 and 2006-07, but the lack of NCAA Tournament invitations may have cost him his job.
"I'm genuinely excited to be the head coach at a university with a great tradition in college basketball, and even more excited to be part of a community which seems so much like the place where I was raised," said Hinson, a native of Marlow, Okla.
He arrived in New Orleans about 9 p.m., traveling to town on his own, not in the Jayhawk traveling party.
Leaving no doubt where his loyalties lie this weekend, he told the Journal-World: "Now let's win the next two this weekend."
Noted SIU AD Mario Moccia: "Barry Hinson comes from a great tradition, has an excellent record of graduating his student-athletes, winning games and is currently on staff with the University of Kansas, which will be playing in the Final Four this weekend. We are so pleased to welcome him as our new head coach."
— The Associated Press contributed to this report