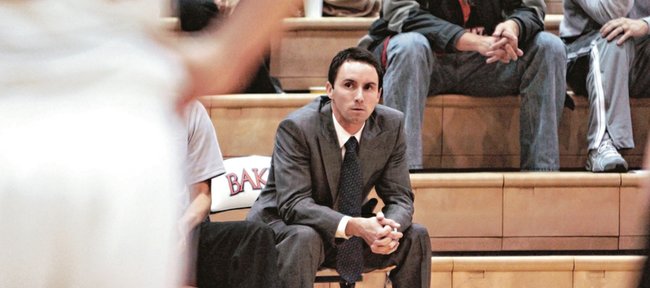 Baker University men's basketball coach and former Kansas player Brett Ballard has accepted an assistant coaching position at the University of Tulsa with new coach Danny Manning, the BU athletic department announced Thursday afternoon.
"I thoroughly enjoyed my time coaching the Baker University men's basketball team," Ballard said. "I was fortunate to work with a group of dedicated players, committed to the classroom and basketball court. .... Baker University is an amazing place and I am very humble to have been their head coach."
Ballard spent two years as Baker's coach with a 33-30 overall record. This year, the Wildcats advanced to their first Heart of America Athletic Conference championship game in over 15 years and capped that with an NAIA national tournament berth — their first since 1996.
"Brett did exactly what we asked of him — to bring a new level of play and excitement to our basketball program," Baker University president Pat Long said. "He did just that and more. He became a leader on campus and within the community. He was Baker through and through. I will miss him as a coach and as a person."
Baker athletic director Theresa Yetmar said the athletic department was ready to begin its search for a new head coach immediately.
"Brett is a rising star in this profession and we wish Brett, Kelly, and their entire family the best of luck on this new adventure," Yetmar said. " ... I believe our program has a bright future ahead of it with our current team and recruits. We will carry the positive momentum from our recent success forward."