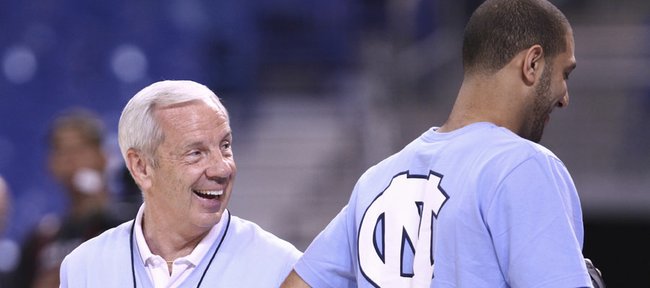 St. Louis — Last Thursday, during the media session leading up to his team's Sweet 16 matchup with Ohio, North Carolina coach Roy Williams could not go 20 seconds without fielding a question about the status of injured UNC point guard Kendall Marshall.
Saturday, as Williams and the top-seeded Tar Heels (32-5) cranked up preparation for Sunday's Elite 8 showdown with second-seeded Kansas (30-6), Williams went nearly 20 minutes without talking about Marshall's fractured-but-healing right wrist.
Even on the biggest stage, where two members of college basketball royalty are scheduled to face off with a trip to the Final Four on the line, Williams' past ties to Kansas University stole the show. Although the former KU head coach obliged by answering any and all questions pertaining to the school where he won 418 games in 15 seasons from 1988-2003, he admitted that facing Kansas was something he would rather avoid.
"I don't think I will ever be comfortable," Williams said. "I really don't."
It's funny, but Williams' discomfort in facing his former school is merely the second most important storyline involving the comfort of someone wearing Carolina blue. The first centers around Marshall, whose status for Sunday's 4:05 p.m. tipoff remains uncertain.
"Kendall, today, went through the dummy stuff," Williams said Saturday. "Today's the first day he's bounced a ball, first day he's caught a ball, first day he's shot a ball. We kept him out of all the live stuff. Now we want to see if it bothers him or if it pains him or if it swells up or if his toes curl or whatever happens next. And then tomorrow at shoot-around, we'll try to do the same thing. Then there's two things that have to happen: one, he has to feel comfortable that he's not hurting. And then two, I have to decide, can he be effective in the game with his situation."
Marshall certainly appears to be closer to a return. After not doing anything basketball-related since breaking the wrist a week ago, the 6-foot-4, 195-pound sophomore talked about testing the injury for the first time in the UNC locker room.
"Obviously, there's gonna be pain," he said. "There's gonna be pain for the next month and a half. It's just a matter of if I'm able to contribute to my team, if I can withstand the pain. Those are key things."
Stilman White, a true freshman who started in Marshall's place against Ohio, said going through Friday's game made him more comfortable in his new and wildly unexpected role. He also said he had not been told who would start Sunday.
"To be honest, I have no clue," White said. "Kendall looked good in practice, and it looks like he's healing really fast. But I'm gonna come with the mindset that I'm gonna start just in case he Kendall can't go. I gotta be ready for that."
Although Williams said Marshall was in better shape Saturday than he had been two days earlier, the general feeling inside the Carolina locker room was that the Tar Heels are not expecting the point guard to play.
"We're not planning on him coming back," UNC forward Tyler Zeller said.
If that's the case, a lot of the focus in this one will shift to White, who finished with two points, six assists and no turnovers in the victory against Ohio.
"It's definitely different now," White said. "I definitely got my feet wet the last game."
When asked about the advice Williams gave him prior to the Ohio game, the 6-foot, 160-pound guard from Wilmington, N.C., said the veteran coach's words had a calming influence.
"He just said play my game," White remembered. "'If Kendall's not out there, don't try to be Kendall.' It's been hectic, something I haven't expected. But crazy things happen in sports. People go down, other people have to step up."
As for KU's take on the will-he-or-won't-he-play status of Marshall, the Jayhawks are preparing for — and hoping for — UNC to put its best team on the floor.
"I gotta put pressure on their point guard and make it tough for them either way, whether it's Kendall or Stilman," KU senior Tyshawn Taylor said. "I think it helps us if he doesn't play because he's so good. He's so good, and he could create havoc for us. But I hope he does play."
• A previous version of this story has been updated.
More like this story on KUsports.com