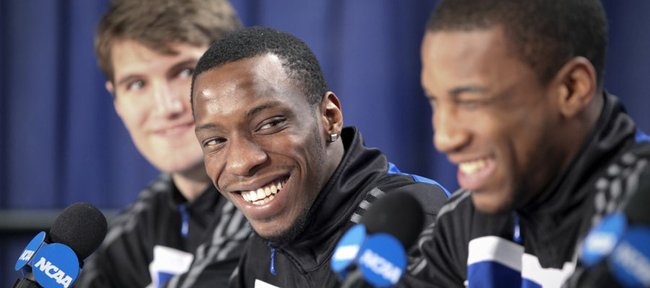 St. Louis — Shielded more from the media during the season, when the locker rooms are off limits to reporters, Kansas University basketball players get questions fired at them on a far more regular basis during the NCAA Tournament.
It can add to the pressure they feel when the questions zero in on the enormity of the upcoming game.
Could this (Sunday's Elite Eight game against North Carolina), somebody asked on Saturday of KU senior guard Tyshawn Taylor, be the "defining game of your career?"
How much pressure can one tire take, for crying out loud.
"I think it could be because offensively I haven't been playing too well," Taylor said. "I don't want to put extra pressure on myself, but I just know I can't play too much worse offensively. I'm actually looking forward to playing."
Somebody else wanted to know: "Do you think much about your legacy at Kansas?"
Responded Taylor: "I think it crosses my mind, time to time, because I've been one of those players who have been criticized a lot. Fans love me, they hate me. I think about it time to time, you know, being in a position where you come behind so many great players who people were embracing and showed so much love to. You want to be one of those guys."
Another question thrown his way Saturday: "Tyshawn, I was looking back through past tournaments today and in a dome you've never hit a three-pointer. Is there anything to that?"
Taylor: "Honestly, I haven't noticed that, so thank you for putting that in my head. I appreciate that. I don't know what it is, man. I don't know what it is. I'm going to keep shooting it confidently. I feel like they're good when they leave my hand, and so I'm going to keep shooting it."
Sunday's game is in the Edward Jones Dome, where he misfired on all six three-point attempts in Friday's three-point victory against North Carolina State, but it appears the NCAA Tournament atmosphere, not the dome background, has been the issue throughout his career. In 12 NCAA Tournament games, Taylor has made just 3 of 32 three-point shots, which makes him a 9-percent three-point shooter. In the other 131 games, he has been a 41-percent long-distance shooter. It's true he hasn't made one in a dome in 12 attempts in three different domes, which makes him 3 for 20 (15 percent elsewhere).
Nobody can question his effort. He brings that every game. It's evident he badly wants to win, sometimes too badly. He hasn't looked loose shooting three-pointers and is 0 for 12 in the three NCAA Tournament games. It's not a new development.
If Taylor's thinking about legacy and the 144th game of his career defining that career and that other vague nonsense, his head's in the wrong place.
"I think as far as my work on the court, I think I could possibly be one of those guys," Taylor said when asked the legacy question. "(Today's) game is a step in the right direction, but it's not something I'm driving myself crazy thinking about because I think my teammates, the teams I played on, my coaching staff, I think they all understand what I've done to help us be an elite team the past four years. I've been a big part of all four of those teams."
One game, regardless of his performance, can't change that.
"I think they all understand that whether I get the love of a Jacque Vaughn or Kirk Hinrich or not, I think the people who matter the most understand," Taylor said.
That's the mindset Taylor needs to take into this game: The people he cares about most won't change their opinion of him no matter how his shots fly today.
Taylor shot so poorly Friday, the pressure mounting with each miss, that it's possible the tire took on so much pressure it blew up and now he can start over with a fresh one.
"It can't get any worse," Taylor said. "It can only go up from here."
Taylor is averaging 8.7 points, 3.3 assists and 3.3 turnovers this tourney.
"It's hard not to get down when you're getting good shots, wide open, and they don't go down," Taylor said. "Once you miss it, you can't think about it. It's over. You've got to think next play. I've had games where I've scored three points in the first half and I've come in at halftime and said, 'Yo, I suck right now,' and then came out and scored 20 in the second half. It's a long game. You can't get down on yourself."
So easy to say.
"I think for a second there (Friday) night, I did, but when it came down to crunch time and we needed to get stops and make big plays, I just forgot about it. It didn't even cross my mind until I got in the locker room after the game. I was like, 'Yo, I played pretty bad.' It's definitely hard, but you've just got to think next play."
More like this story on KUsports.com