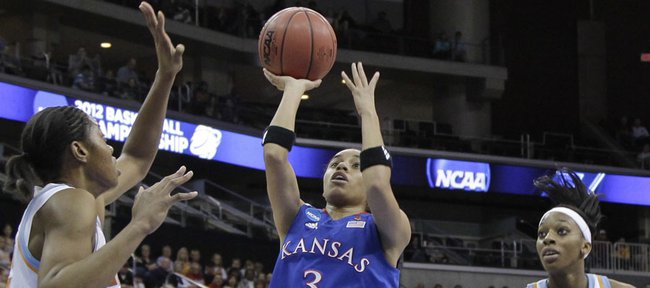 Des Moines, Iowa — Nothing came easily for Kansas University's women's basketball team this season.
The Jayhawks' trip to the Sweet 16 was no different.
After seeing one of its top players unexpectedly transfer in December and its All-Big 12 forward suffer a season-ending ACL injury in February, KU rode junior point guard Angel Goodrich to some March Madness magic before Tennessee derailed the No. 11 seed's roller-coaster season with an 84-73 victory Saturday at Wells Fargo Arena.
"I couldn't be more proud of our resiliency and our toughness," Jayhawks coach Bonnie Henrickson said after tying the program's deepest NCAA Tournament run with its third appearance in a regional semifinal.
That grit was on display throughout the first half, when KU (21-13) led by as many as 14 points, with everything clicking.
Sure, Goodrich (game-highs of 23 points and six assists) was her usual do-it-all self, but her teammates matched her flamboyance and productivity in the early going.
Freshman forward Chelsea Gardner, who only became a starter after junior Carolyn Davis tore her ACL, scored eight of KU's first 10 points. Freshman guard Natalie Knight scored on a fast-break layup. Senior forward Aishah Sutherland, who had missed her first three shots, confidently drilled a baseline jumper. Goodrich scored seven straight points, and following a three from the left corner by sophomore forward Tania Jackson and a smooth reverse layup by Sutherland, Kansas had built a 26-12 lead on the No. 2-seed Volunteers (27-8).
Said Gardner, who finished with 14 points and a team-leading 10 rebounds: "The first couple minutes of the game, we came out with a lot of energy on defense and offense, and were hitting a lot of shots."
Things were going so well for Kansas that when junior Monica Engelman swung the ball to an open Goodrich in the left corner, Tennessee associate head coach Holly Warlick turned her head and walked the other way in disgust, knowing Goodrich's three would drop — which it did, giving KU a 31-22 lead at the 6:10 mark.
But everyone in the building knew Tennessee would make a run at some point. The Vols began chipping away in the first half. By intermission, the Kansas lead was 35-30. At that juncture, KU had shot 48 percent from the floor while holding the Vols to 12-for-33 shooting (36 percent).
But in the second half, Tennessee scored 13 of its 23 second-chance points, 10 of its 13 fast-break points and went 17-for-33 (51 percent) from the floor.
With back-up guards Ariel Massengale and Meighan Simmons leading the charge, Tennessee finally started to resemble the powerhouse it has become under coach Pat Summitt, winner of 1,098 games and eight NCAA championships. Less than four minutes into the second half, behind back-to-back three-pointers from Massengale (12 points), the Vols tied the game at 42-all.
Simmons, meanwhile, did her best Goodrich impression, scoring 16 of her 22 points in the second half off 7-of-10 shooting. Goodrich said the Vols' backcourt was explosive.
"It's hard to try and stop both of them," Goodrich said of Simmons and Massengale, "and then trying to match up and trying to get back and match up with the bigs, as well."
Once Massengale hit her second three, KU never led again. It took Tennessee nearly 10 minutes to stretch its margin to double figures, but as the Jayhawks responded, they also wore down.
Said Gardner: "I felt that we were kind of gassed when the game got tied."
Added Goodrich: "There was a long stretch where it just kept going back and forth, back and forth, and you kind of get tired. We kind of got down a little bit, but we picked ourselves up."
That's been the calling card for Kansas all season. Losing sophomore guard Keena Mays to transfer was one thing, but having Davis miss the final 10 games of the year could have been devastating. Once that happened, Henrickson said her team regrouped as best it could.
"We just went around the circle and asked everybody to do a little bit more," the coach said. "I know it seems crazy at that point to ask Angel Goodrich to do more, but we did. And she did. And she gave us more, and Aishah gave us more and they all gave us more."
Sutherland closed her KU career with 19 points and eight boards in the season-ending loss. Every other Jayhawk who played in the Sweet 16 game — Goodrich, Gardner, Knight, Jackson, sophomore guard CeCe Harper and junior guard Monica Engelman — should be back next season. The same goes for Davis and freshmen Asia Boyd and Bunny Williams, who didn't play Saturday.
The year they just went through, Henrickson hoped, would provide an important lesson.
"When life gets tough," she said, "you've got to suck it up and keep working."