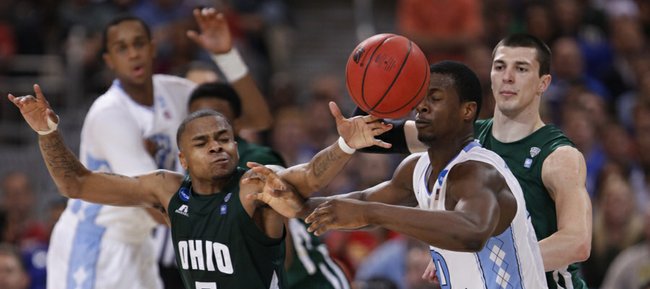 St. Louis — Ready for Round 2?
In the moments and days that followed Kansas University's thrilling, one-point victory over Missouri on Feb. 25, nearly everyone's attention turned to a potential rematch and Border War rubber game in the Big 12 tournament championship.
It never happened.
Now, thanks to top-seeded North Carolina's 73-65, overtime victory over stingy Ohio on Friday night at the Edward Jones Dome, the match-up that has been perpetually on the minds of Kansas fans since UNC coach Roy Williams left for North Carolina in 2003 is set for Sunday.
Kansas. North Carolina. Winner goes to the Final Four. Loser gives up bragging rights for who knows how long. The aptly named Elite Eight match-up will mark the first time KU and UNC have squared off since the Jayhawks knocked off the Tar Heels in the 2008 Final Four, which propelled KU coach Bill Self to his first national championship. It also will mark just the second time Williams has faced his former school since taking over at UNC.
With Carolina playing the early game on Friday, Williams, who won 418 games in 15 years as the head coach at Kansas, did not know which team the Tar Heels would face Sunday at the time of his postgame news conference. From the sound of it, that might not have mattered.
"I was just begging and pleading and trying to work my rear end off to get us in," Williams said. "We're in the Elite Eight, and we have got to make sure that our kids feel good about it. I want my team to enjoy this."
Depending on which statistics you looked at after the game, the fact that Carolina survived seemed both obvious and impossible. The Tar Heels out-rebounded Ohio 63-30, but also committed 23 turnovers. Ohio shot just 23-for-71 (32 percent) but Carolina was not much better, finishing at 40 percent, 26-of-65.
"We didn't have our starting point guard, so it was a little tough out there for us at times," said UNC forward John Henson, who finished with 14 points and 10 rebounds. "But we found a way to win and that's all that matters in March."
Noticeably absent from UNC's offensive attack for most of the game was star forward Harrison Barnes. The Ames, Iowa, native finished with 12 points and 7 rebounds, but shot just 3-of-16 from the floor, including 2-of-9 from three-point range.
While Barnes was off, the Ohio shooters were dead on, which kept Ohio in the game and gave them a chance to win. The Bobcats knocked down 12 of 32 three-point attempts and seven of eight free throws. The only one they missed came in the final 20 seconds of regulation off the right hand of Walter Offutt. Had he hit it, Ohio would've led by one late. Instead, the game remained tied and the Tar Heels were able to pull through in overtime.
"Obviously, this feels terrible," said Offutt, who hit 10 of 18 shots and 6 of 10 three-pointers to lead all scorers with 26 points. "One free throw away. As a leader on this team, I take responsibility. I gotta hit that free throw."
Playing without starting point guard Kendall Marshall, who sat out because of a wrist injury and watched the game in a suit while sitting next to Williams, the Tar Heels looked sloppy and out of sync throughout the night. UNC committed 24 turnovers — 13 of which were Bobcat steals — compared with 13 for Ohio. Although Marshall's replacement, seldom-used freshman Stilman White, never killed the Tar Heels (2 points, 6 assists), he also did not do much to help them, as he finished 0-for-4 from the floor, 0-for-1 from three-point range and picked up three untimely fouls.
"It was the type of thing where I was thrown in where I couldn't be nervous," White said. "This team is too good... already set up where I can't come in and be nervous."
Williams praised White's toughness.
"He was really something," Williams said. "Thirty-two minutes, six assists, zero turnovers, and it wasn't a comfortable game. I hope that the slant here is not how lucky North Carolina is."
As for what White's role will be Sunday against the Jayhawks, Williams said he was unsure whether Marshall would be well enough to get back onto the court.
"I would love to give you guys an answer, but I really can't," Williams said. "I have no idea. He is much better. He brushed his teeth today. He didn't jump down and do 10 one-handed push-ups, which I told him he was going to have to do before I would let him play. Is there a chance he (will) play Sunday? There's a better chance he (will) play Sunday than it was today. We tried to prepare all week that he was not going to play (Friday) and that's what we'll try to prepare for for Sunday. But if he can play, needless to say, I would take him."