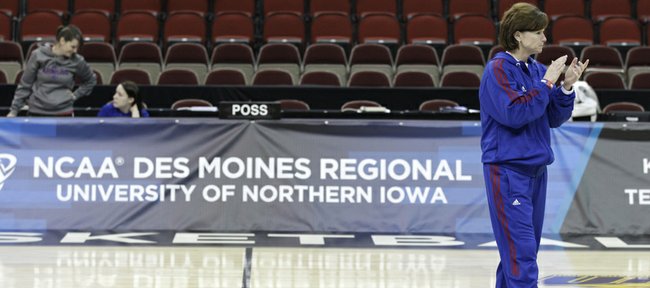 Des Moines, Iowa — Throughout the season, Kansas University's women's basketball team has seen its share of juggernauts.
There was 6-foot-8 Brittney Griner and undefeated Baylor in Big 12 play. Then, in the second round of the NCAA Tournament, came Elena Delle Donne of Delaware, another no-brainer pick for All-American status.
But in the world of women's college basketball, not much compares to the brand name and staying power of Tennessee and legendary coach Pat Summitt.
The 11th-seeded Jayhawks (21-12) will encounter one of the toughest tests of their remarkable season at 11:04 a.m. today at Wells Fargo Arena, when they face the second-seeded Volunteers (26-8) out of the SEC.
KU coach Bonnie Henrickson, leading her program farther than it has been in her eight seasons, said even the Jayhawks' victory against two-loss Delaware that put them in the Sweet 16 wouldn't prepare them for the perennial powerhouse they're about to face.
"Delaware and Tennessee, there are no similarities other than (they're) both very, very successful and very talented, obviously," Henrickson said.
Year in and year out, the Vols have an attack that everyone knows about, and no one seems to be able to stop.
"What's always most scary about Pat's team," Henrickson said, "is the offensive-rebounding machine."
Tennessee's ability to chase down its own misses and score or get to the free-throw line has proven difficult to counter. This season, the Vols average 16.1 offensive boards a game. Four players have 50 or more offensive rebounds in 34 games, and 6-foot-3 senior forward Glory Johnson leads the way. Johnson gets 3.5 of her 9.8 rebounds a game on the offensive end.
It will be up to KU's post players, led by senior forward Aishah Sutherland, to limit Johnson's impact.
"We're definitely going to have to box her out," Sutherland said. "She's a great rebounder, and we're going to have to rebound just as hard as her. We're going to do drills in practice to be able to stay focused, box out and not trying to just go for the ball, but be able to see her before we catch the ball."
Volunteers forward Shekinna Stricklen and center Vicki Baugh also average more than six rebounds a game, so the Vols can produce on the glass from a number of positions. Henrickson said that makes it all the more difficult to prepare.
"That's not plays they run," she said. "That's plays they make."
Also a concern for Henrickson is Tennessee's ability to draw fouls and get to the charity stripe. The Vols average more than 21 free-throw attempts a game and have shot 70 percent for the season.
"That's created by what they do from a defensive standpoint — turn you over, get opportunities in transition, offensive rebound," Henrickson said.
The Jayhawks are aware of how lethal Tennessee's attack can be, but Sutherland said KU is up for the challenge and won't let Tennessee's name scare the Jayhawks out of competing.
"It's not intimidating at all. We just need to work hard and play together," Sutherland said. "We can have good players on our team that might not have been seen as well as a Tennessee team."
Junior Kansas point guard Angel Goodrich did a lot to prove that point, carrying KU with 23.5 points an outing in the first two rounds. So did freshman forward Chelsea Gardner, whose career night of 15 points and 16 rebounds helped knock off the Huskers in the first round.
KU sophomore guard CeCe Harper said the Jayhawks will continue to embrace their underdog role that began last weekend in Little Rock, Ark.
"I think it has been a really great experience coming in as an 11 seed," Harper said. "Nobody expected us to win and go this far, so I think it's good to come out and prove people wrong."
Sophomore forward Tania Jackson said the players have enjoyed making one of the most surprising runs in the tournament (after losing junior forward Carolyn Davis to a season-ending ACL injury Feb. 12).
"It's a great feeling, you know, being the Cinderella story that everyone keeps saying we are," said Jackson, a back-up post player. "We were excited to get in, but we weren't satisfied … not content with just getting in, so just getting here shows how much strength we have and how we faced adversity throughout the season."