Podcast episode
Kansas coach Bill Self talks to reporters following the Jayhawks' 60-57 victory over N.C. State in the Sweet 16 on March 23, 2012.
Podcast episode
KU players Thomas Robinson and Jeff Withey talk to reporters following the Jayhawks' 60-57 victory over N.C. State on March 23, 2012.
Podcast episode
N.C. State's Mark Gottfried, C.J. Leslie and Scott Wood talk to reporters following their 60-57 loss to Kansas on March 24, 2012.
KU vs. N.C. State
St. Louis — Former Kansas University guard/current North Carolina assistant basketball coach Jerod Haase, who turns 38 on April 1, does indeed want to be a head coach some day.
He has a stellar assistant coaching résumé, having earned two national title rings on Roy Williams' staff at North Carolina, with a spot in the Elite Eight on tap Sunday.
"When the opportunity is right," said Haase, who was assigned to scout the KU-North Carolina State game Friday following his own team's 73-65 overtime victory over Ohio.
"That's one of the biggest things. I don't need to run out and get a head-coaching job just because I might be able to get one. Getting in the right situation is paramount.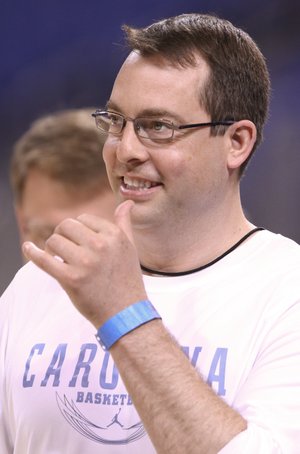 "I'd love to be a head coach. That's the next step in the process. I'm definitely thinking about being a head coach some day."
Haase and fellow UNC assistant/former KU guard C.B. McGrath trade off coaching Carolina's junior varsity every other year.
"Two years ago we were 16-2, this year 7-7. It's a little bit like high school. There's only so much recruiting you can do," Haase said with a smile. "Basically, it's the hand you are dealt (talent-wise)."
McGrath, a Topeka native who also wants to run his own program someday, joked: "Two years ago we were 13-1. Last year we were under .500. I started the downward trend."
Asked about a possible match-up against Kansas on Sunday, McGrath said prior to knowing the outcome of KU-N.C. State: "It'd be a tough game. They are playing really well. I don't know if Kendall (Marshall, fractured hand) can play. He's had a heck of a year. He's really good."
Faces in the crowd: Former KU guard Ryan Robertson, regional sales director for Goldman Sachs in St. Louis, attended, as did his brother, Troy, KU's official NCAA host for the Midwest Regional. Also on hand were former KU coach Larry Brown; former KU assistant Tim Jankovich, head coach at Illinois State; former KU guard Jeremy Case, assistant coach at SE Missouri State; former KU guard Terry Nooner, assistant women's coach at Southern Illinois; KU Chancellor Bernadette Gray-Little and her husband, Shade; former KU guard Stephen Vinson; former KU guard T.J. Whatley; former KU guard Sherron Collins; and ex-KU forward Jeff Graves.
Graves, by the way, played for Erie of the NBA Developmental League, but left the squad in December because of an ankle sprain. He said he'd be back in Lawrence this summer completing work on his college degree.
Naismith dies at 73: Ian Naismith, the grandson of the inventor of basketball, Dr. James Naismith, died Tuesday at the age of 73.
Naismith, who was living in North Carolina, died of a heart attack while a passenger on a train to New York. He was en route from western Massachusetts.
He served as a trustee of the Naismith Memorial Basketball Hall of Fame, which bears his grandfather's name.
"The train pulled into New York's Penn Station, and people thought he was asleep," Joan Brooslin, the vice-president of the Naismith International Basketball Foundation (NIBF), told masslive.com. "He died doing what he loved best — traveling."
Parker likes Hudy's program: Tony Parker, a 6-foot-9, 250-pound senior center from Miller Grove High in Lithonia, Ga., who has a final list of KU, Duke, Memphis, Ohio State and UCLA, told ESPN.com he likes the training program at KU.
"I've got to go somewhere that has a crazy trainer like K.P.," Parker said of his trainer, Kevin Peoples. "That's one of the things I love about Kansas. I love (KU trainer Andrea) Hudy."
"She's a monster," Parker added. "She'll get you where you need to be. Kansas has a lot of things I like."
More on Robinson turning pro: CNN recently interviewed Thomas Robinson, who indicated his desire to earn a paycheck in the NBA to take care of his sister, Jayla, who lives with her dad in Washington, D.C.
"For me to feel comfortable the best way to do that was to be able to reach my lifetime dream and doing that will be able to take care of her," Robinson told CNN. He told ESPN that soon, after he signs an NBA contract, he's going to petition for custody of his sister. Thomas and Jayla's mom, Lisa, died Robinson's sophomore season — in January of 2011 — at the age of 43.
More like this story on KUsports.com