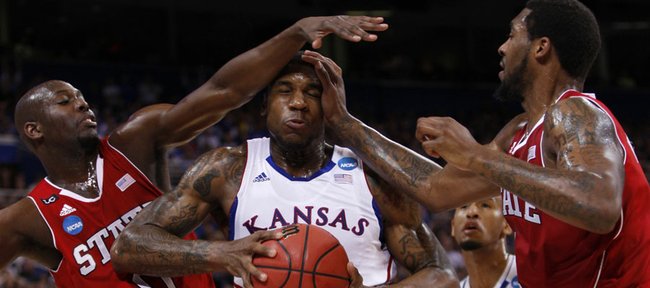 Podcast episode
Kansas coach Bill Self talks to reporters following the Jayhawks' 60-57 victory over N.C. State in the Sweet 16 on March 23, 2012.
Podcast episode
KU players Thomas Robinson and Jeff Withey talk to reporters following the Jayhawks' 60-57 victory over N.C. State on March 23, 2012.
Podcast episode
N.C. State's Mark Gottfried, C.J. Leslie and Scott Wood talk to reporters following their 60-57 loss to Kansas on March 24, 2012.
KU vs. N.C. State
St. Louis — Kansas University's basketball team smoked one of the schools on Tobacco Road — North Carolina State — on Friday night in the NCAA Tournament's Sweet 16.
The Jayhawks' 60-57 victory over the Wolfpack before 23,964 fans at Edward Jones Dome — made possible in large part by the fearless shot-blocking prowess of junior center Jeff Withey — now sets up an Elite Eight clash on Sunday against a more-renowned team from the Triangle.
That'd be North Carolina, which beat Ohio, 73-65, in Friday's other Midwest Regional semifinal.
Tipoff for the Elite Eight game between the Nos. 1 (UNC) and 2 (KU) seeds in the regional is 4:05 p.m.
"It feels great to advance and play a great team like North Carolina," said 7-footer Withey, who smiled widely when told his 10 blocks tied Cole Aldrich for most in a game in KU history (10, vs. Dayton, in 2009 NCAA Tournament). Also, the 10 rejections gave him a KU single-season record 126 blocks, one more than Aldrich.
His seven first-half blocks were most by a player in a half in KU history.
"I wish it'd have been a triple-double," added Withey, who scored eight points with five rebounds in 33 minutes, "but 10 blocks feels great. Coach (Bill Self) has been on me to be more aggressive.
"I have bragging rights on Cole now. It's what I do, protect the rim. If somebody gets beat, I pride myself on being there."
Withey's biggest block came with 22 seconds left and KU leading 58-57. He skied high to reject C.J. Leslie, who'd come up with a rebound of an errant Scott Wood three.
"Things got scrambled, they came up with a rebound. Fortunately, I got my hand on the ball," Withey said.
The game (KU looked like it might be able to light a victory cigar in leading by eight with 3:51 left) was not over after the Withey block — not by a long shot.
Tyshawn Taylor (six points, 2-of-14 shooting) missed the front end of a 1-and-1 at :16.1, KU still up by one. KU retained possession, however, and on the inbounds play, Taylor hit Elijah Johnson with a perfect pass as Johnson charged up the middle and laid it in at :13, giving KU a 60-57 lead.
"Like I've said, he's my twin. I knew what I needed to do," Johnson said of making eye contact with his backcourt buddy and converting the easy layup.
"They (Wolfpack) knew we didn't have any timeouts left. Elijah bailed me out again," acknowledged Taylor, who barely avoided a five-second inbounds violation.
Wood missed a potential game-tying three at :05, the Wolfpack fouling Thomas Robinson (18 points, 15 rebounds), who rebounded at 4.3 seconds. Robinson missed the front end of a 1-on-1, giving N.C. State one final chance to tie.
Richard Howell (four points, 2-of-12 shooting) missed badly from three at the buzzer. KU improved to 30-6 on the season. N.C. State fell to 24-13. North Carolina is 32-5.
"We didn't play great by any stretch," KU coach Bill Self said, "but we made enough plays to eke out a win. I'm proud of the guys because the last two games (N.C. State, Purdue) we've had to figure out a way."
The Jayhawks didn't seem bothered after nearly letting this one slip away. All that seemed to matter in the locker room is they live to play UNC on Sunday.
Taylor grinned when asked if he hopes UNC point guard Kendall Marshall is able to play. Marshall did not play against Ohio after suffering a fractured hand in a second-round victory over Creighton.
"For sure. As a competitor, you've got to want that. He (Marshall) makes their team better," Taylor said. "He's got to play. It wouldn't be right if he didn't.
"C'mon, Kendall," Taylor added with a smile.
"Coach Williams, like coach Self, is a great coach," Taylor added of UNC coach Roy Williams, who coached at KU 15 years. "It'll be a fun game. I've probably seen 10 of their games. They're good."
As far as more on Friday's thriller, KU went a horrific 0-for-8 from three and continued a recent trend of bad shooting by making just 13 of 38 shots the first half (37.5 for game, 1-14 from three, 11-20 from line), but trailed by just one, 33-32, at halftime.
Taylor especially was misfiring, hitting one of nine shots for three points.
Withey's seven blocked shots in the first half helped keep North Carolina State's shooting percentage at 33.3 (12 of 36, 4-of-9 from three).
KU, which trailed, 8-0, in its second-round win over Purdue, trailed 9-1 and 13-3 (14:51) versus the Wolfpack.
KU did use a dominant 20-4 run to grab a 23-17 lead at 7:04. Robinson had seven points in the run, while Kevin Young had four.
Undaunted, N.C. State immediately cut the six-point deficit to one at 23-22.
Conner Teahan put in a stickback and foul shot, and Johnson cashed a jumper, sandwiched around a Lorenzo Brown three, and KU led, 28-25 at 4:11. Teahan (five points total) scored again to break a 28-28 tie, and Robinson followed with a bucket as KU led by four with 1:11 to play in the half, 32-28. However, Wood hit a three and Leslie a two to conclude the first-half scoring and give the Wolfpack a one-point lead.
Leslie scored 12 points to top Robinson by one point for halftime scoring honors. Leslie finished with 18 for N.C. State.
More like this story on KUsports.com