Roy Williams, who has 61-year-old knees, takes a daily walk, instead of a jog these days.
Thursday, the ninth-year University of North Carolina basketball coach who coached the previous 15 years at Kansas University crossed the path of a KU fan during his morning stroll.
"This guy says, 'Rock Chalk Jayhawk.' And you know what I said: 'Go KU,'" Williams said Thursday at the Edward Jones Dome. His Tar Heels will meet Ohio at 6:47 p.m. today, with the winner meeting either KU or North Carolina State on Sunday.
"OK. And he walked about three or four steps, and he says, 'Damn, that was Roy,'" Williams added. "That is the way I feel about it. I'll be ecstatic if we are still playing on Sunday regardless of who we are playing. And I'm a Kansas fan. I'm a North Carolina fan first. For 15 years, I was a North Carolina fan, but I was a Kansas fan first. And I'm interested in what is going to happen tomorrow (vs. Ohio). That is taking every ounce of my energy, every ounce of my concentration, and that's what we are trying to work on."
Williams, who attended North Carolina and apprenticed under KU grad and UNC coaching legend Dean Smith, said: "I'm really being truthful. I love the University of Kansas. My first chancellor at North Carolina (James Moeser) said it's not immoral to love two institutions, and I think there's some truth to that. OK. I love Kansas."
Haase recalls wrist woes
Tar Heel point guard Kendall Marshall isn't the only member of the UNC basketball program who has had surgery on his hand. Tar Heel assistant coach Jerod Haase broke his right wrist during his senior year at KU (1996-97).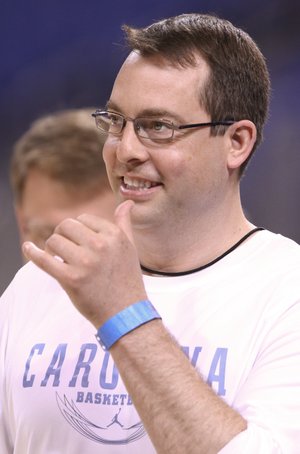 "I broke it the first game of the year, the Santa Clara game. It's probably good for the team I didn't shoot that much. I let the All-Americans do their thing," Haase said. "It would get a little better, a little bit worse. Toward the end, it got really bad. I had a cortisone shot right before the Sweet 16. It went south. That was the end of that."
In fact, Haase was rendered helpless in KU's Sweet 16 loss to Arizona.
"It's the toughest loss I ever had, certainly one of the low points of my life," Haase said.
Haase, who is in his ninth year on Williams' UNC staff, and wife Mindy have three children: sons Gavin (51⁄2), Garrett (21⁄2) and newborn daughter Gabrielle.
McGrath reflects
UNC assistant C.B. McGrath also is a former KU guard in his ninth year in Chapel Hill.
"The last 16 years of our lives we've spent basically every day together," McGrath said. He and buddy Haase trade off every other year coaching UNC's junior-varsity team, gaining head-coaching experience while also assisting Williams full-time.
"It's a lot of fun working for coach Williams in a big program. We've got a nice life. With coach Williams, you get in a comfort zone. We all work hard. We know what we have to do to be successful and keep him off our backs," C.B. added, smiling.
McGrath and wife Kris have twin daughters Kate and Addison, born in 2006, and son Hunter, born in 2008.
Marshall update
Williams said he has "no idea" if Kendall Marshall will play against Ohio or Sunday if the Heels make it that far.
"If he comes running in and jumps down and does 10 right-handed pushups on his right hand, then I'll say I'll probably play his rear end," Williams said. "But I don't expect that to happen. The guy can't brush his teeth right now."
Nice dunk
About 2,000 fans attended KU's afternoon shootaround at Edward Jones Dome. Highlight was Tyshawn Taylor throwing the ball off the shot clock to a trailing Justin Wesley, who slammed for the fans to conclude the action.
T-Rob says
KU's Thomas Robinson on his motivation last summer:"Me proving to people outside of Kansas' program that I am a good player, that I felt like I deserved to be named among the top players of the country. And as far as working on my game, I just wanted to get better at everything. So I don't really try to get great at one thing. It's something that I just try to work on every single aspect of my game."
Distractions
Travis Releford and Robinson on distractions during the tourney: Releford: "I would just have to say our family, maybe. Because they probably are the biggest distraction right now, worried about tickets and telling us to do things that we haven't been doing like throughout the season. So maybe them and our friends. We keep them out the way and stay in our circle, our team, and coaches, and just do what we have been doing to get here. We should be fine."
Robinson: "Everybody thinks they're coach (Bill) Self this year, so we get all kinds of crazy texts and people telling you what to do. So we just try to stay away from it and stay within ourselves, and we can put them off for a couple more weeks."
Self on upsets
"I don't think there's really any upsets this time of year, like a lot of the so-called prognosticators think there is. Once you get to this weekend, all the teams are good. So there may be minor ones, but they're not major upsets this time of year.
"I'll be honest, we did not play our best (Sunday in win over Purdue). I think Purdue had a lot to do with that, but we played tough. I think sometimes coaches take more pride when their team plays tough than when things aren't going their way, kind of figures it out, then when they do it's easy. We tell our guys, it's not hard to have a good attitude and a great outlook if everything's going perfect for you. The key is when it doesn't go perfect for you, how are you going to respond, and I thought our guys responded well in that area."
Ellis honored
KU signee Perry Ellis on Thursday was named Kansas Gatorade Player of the Year for the fourth straight year, the only prep in Kansas history to win the award four times.