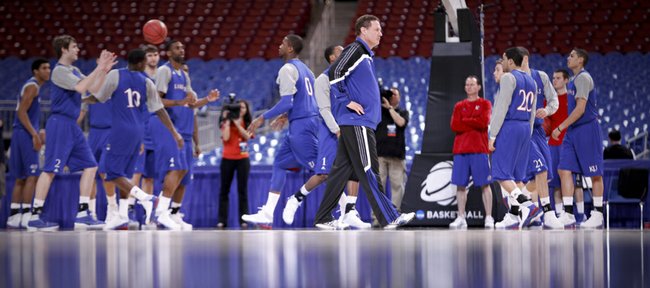 St. Louis — Kansas University center Jeff Withey worked up quite a sweat during a pair of practices Thursday: the first at St. John Vianney High School and the second a 50-minute shootaround at Edward Jones Dome, site of today's 9:17 p.m. Sweet 16 game against North Carolina State.
"I'm trying to get back in shape," the 7-footer said with a smile. "It's weird to say that, but sitting out a game you kind of lose your breath a lot. I'm trying to get back into it."
The San Diego junior might have been exaggerating just a tad about his physical condition this late in the season. The point is, he's a bit rusty coming off Sunday's game against Purdue in which he played just 15 largely ineffective minutes.
"I am a lot more comfortable than the first weekend," Withey said.
He scored four points and grabbed two rebounds in KU's 63-60 second-round victory over the Boilermakers. He had seven points and nine boards while playing 29 minutes in a first-round victory over Detroit, also in Omaha.
"It was a tough weekend for me," Withey said. "I feel I had a little bit of jitters. It's the first time I played in this tournament, really (after not playing much as a sophomore). To get that monkey off my back feels really good. I'm excited we got past that round. I feel now we can really get comfortable and start playing."
Withey said it's only natural a No. 2 seed such as KU (29-6) would feel jitters going against a No. 15 seed in Detroit and No. 10 in Purdue.
"You don't want to be the team that gets upset," Withey said. "This weekend, everybody can play. We will have fun with it and kind of let loose.
"After the game last weekend, coach (Bill) Self mentioned that every great team has to have a win like that," he added of the narrow, come-from-behind win over Purdue. "The last couple years, we fell short. To get a win like that this year takes a lot of pressure off."
North Carolina State (24-12) enters tonight's late game as a No. 11 seed, which in theory could again add to the pressure.
Withey doesn't see it that way.
"They're a great team. We know at this point of the season they are all great teams," Withey said. "They are a more traditional team (than guard-oriented Purdue). It should be a little easier for me and T-Rob (Thomas Robinson) playing against them. They have two big guys, not just a bunch of guards. It's a perfect chance for me to get back into it. I'll be able to make a bigger impact, I feel."
N.C. State has a pair of 6-foot-8 starting forwards in C.J. Leslie (14.6 ppg, 7.4 rpg) and Richard Howell (11.0 ppg, 9.1 rpg). DeShawn Painter, who is 6-9, comes off the bench for 6.3 points and 4.3 rebounds per contest.
"They remind you of Baylor," Withey said, "because they are so athletic. They can jump out of the gym and are really fast."
Of the challenge of going against 209-pound sophomore Leslie, the 6-10, 237-pound Robinson said: "I need to be aggressive from the jump ball. He's athletic so I've definitely got to use that to my advantage, the fact that he is an athlete, probably one of the best I'm going to face the whole year."
Self is wary of junior Howell and Leslie.
"It's more traditional because they will play two bigs," Self said. "Their bigs are really quick. They can catch the ball at 17-feet and put it down and drive it, or they can make shots. They are not traditional bigs, but at least they are bigs. We can play more traditional than we had to against Purdue when we had Thomas guarding their two guards for the majority of the game."
N.C. State has scoring balance. Point guard Lorenzo Brown averages 12.8 ppg (231 assists, 116 turnovers), three-point bomber Scott Wood 12.4 ppg (93 of 223 threes for 41.7 percent) and senior guard C.J. Williams 10.6 ppg.
When a reporter suggested N.C. State had "nothing to lose," Withey said: "We have that mind-set all year, too. We have nothing to lose, either. It'll be a fun game, a battle. There will be a lot of scoring."
Withey also was asked what the odds were of KU shooting just 33.9 percent as it did Sunday versus Purdue.
"The odds are ... it's not going to happen again," he said. "Purdue put a lot of pressure on us. I feel N.C. State is more a team like ourselves, that likes to run. I think it'll be a high-scoring game, a lot of layups and quicker game."
The winner advances to a Sunday game against either North Carolina or Ohio. KU officials indicated that game time would either be 1:10 p.m. or 3:55 p.m.
"I feel we're excited and ready," Withey said. "I feel the last two years we let ourselves down. There is a chip on our shoulders because we were favored two years in a row. To lose last year in the Elite Eight, and the year before we didn't make it past the first week ... we definitely want to win. A lot of people didn't pick us to be here this year. It helps us being under the radar. We all love each other on this team and enjoy playing together. I think when we come out with energy we are tough to beat, and that will be the case (against N.C. State)."
More like this story on KUsports.com