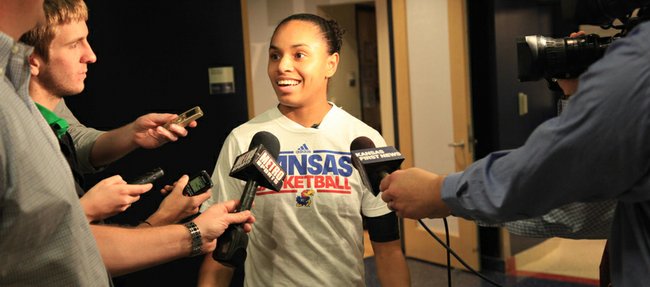 It's called the Sweet 16 for a reason.
Life itself seems candy-coated these days for Kansas University's women's basketball team, a bracket-busting No. 11 seed still alive in the second weekend of the NCAA Tournament.
The Jayhawks had fans cheering and sending them off Thursday afternoon as they left Allen Fieldhouse and headed for Des Moines, Iowa, site of their 11:04 a.m. Saturday regional semifinal against national powerhouse Tennessee.
Before boarding the team bus, junior point guard Angel Goodrich said the KU players love all the attention they're getting following their upset wins over Nebraska and Delaware in the first two rounds of the tournament.
"It feels really good," said Goodrich, who has averaged 23.5 points and 5.5 assists and hit 21 of her 39 field goals thus far in the postseason. "Especially with this team, we all wanted to come here and make a difference on this team and in this program, and we feel like we're doing that."
The last time Kansas reached the Sweet 16 was 1998, long before any of the current players or eighth-year KU coach Bonnie Henrickson arrived on campus. Before this season, the Jayhawks hadn't reached the NCAAs since 2000 and hadn't won a tournament game since 1999.
Senior forward Aishah Sutherland said she and her teammates — Goodrich, junior Monica Engelman, sophomores CeCe Harper and Tania Jackson and freshmen Natalie Knight, Chelsea Gardner, Asia Boyd and Bunny Williams — have relished their tourney run, but they're focused for their game against No. 2 seed Tennessee (26-8).
"It's a great time to be able to play this far (into the postseason)," Sutherland said. "Other teams are done playing, and we're still able to play and show our skills and have the nation look at us."
Still in the hunt for the 2012 national championship, along with KU (21-12) and Tennessee, are Baylor (36-0) and Georgia Tech (26-8) in the Des Moines regional. Stanford (33-1), South Carolina (25-9), St. John's (24-9) and Duke (26-5) are playing at the Fresno, Calif., regional. Notre Dame (32-3), St. Bonaventure (31-3), Texas A&M; (24-10) and Maryland (30-4) remain in the Raleigh, N.C., regional. Connecticut (31-4), Penn State (26-6), Gonzaga (28-5) and Kentucky (27-6) will play in the Kingston, R.I., regional.
Of all the teams to make the Sweet 16, Kansas is tied with Gonzaga for the lowest seed and has the most losses.
Henrickson said her team has been "workman-like" since losing senior forward and captain Carolyn Davis to a season-ending ACL tear Feb. 12. But she doesn't want the players to be satisfied with what they've been able to accomplish in the first two rounds.
"I always say, 'If what you did yesterday still looks good today, you haven't done much today,'" the coach related.
Living in the past shouldn't be an issue for KU, given the mind-set of the players. Goodrich said even going to practice is exciting at this point in the season, and it was hard to believe that this team became just the third in program history to win two games in the NCAA Tournament.
"I don't think nobody expected this," Goodrich said. "Making it to the Sweet 16 is unbelievable for us, and right now we're just wanting to win."
Kansas has never advanced farther than this point in the tournament, and neither has Henrickson, who coached Virginia Tech to a Sweet 16 appearance in 1999.
Tennessee, meanwhile, has reached the Sweet 16 30 times in legendary coach Pat Summitt's 38 seasons. The Vols have won eight national championships, the most recent coming in 2008.
Henrickson said KU's players know how tough it will be to beat Tennessee and keep their season going.
"I think they're really excited," Henrickson said, "and with great respect, understand the challenge we have Saturday morning."
More like this story on KUsports.com