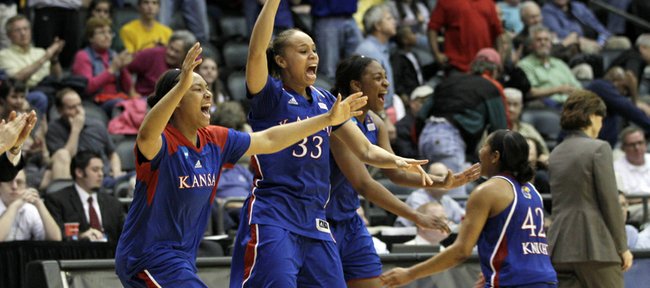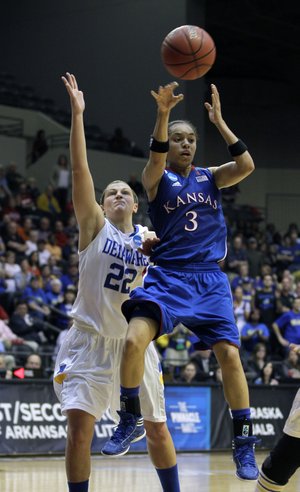 Little Rock. Ark. — Delaware's Elena Delle Donne came in with all the hype, but Kansas University junior point guard Angel Goodrich stole the show and sent an All-American home Tuesday night at Jack Stephens Center.
Too compact and explosive off the dribble to be slowed down by the Blue Hens' defense, the Jayhawks' 5-foot-4 captain from Tahlequah, Okla., engineered her team's second straight NCAA Tournament upset, leading the Kansas women's basketball team to a 70-64 victory and a spot in the Sweet 16.
Cool and calm throughout the second-round victory, Goodrich saw the offensive end with absolute clarity, reading the defense and punishing the Blue Hens for whatever openings they allowed her, whether that be a driving lane, a passing angle or an open three-pointer.
Goodrich went 12-for-21 from the field with 27 points, three three-pointers and six assists. That was clear to everyone, including the Twitter-verse, where "Angel" was a trending topic. Not that the instant fame impressed Goodrich.
"I didn't know what trending meant," she said with a huge smile.
The No. 11 seed Jayhawks (21-12) trailed 37-31 at halftime, but their point guard helped them turn things around abruptly. Goodrich scored a layup just 10 seconds into the second half, which was a mere flash of what was to come.
In the following six-plus minutes, Goodrich set up senior forward Aishah Sutherland inside for a bucket and Natalie Knight outside for a pair of three-pointers. Plus, Goodrich scored five points of her own, and KU built a 53-43 lead.
Said Delaware coach Tina Martin: "We really struggled to keep her contained tonight."
Sutherland and the rest of the Jayhawks knew how important Goodrich would be if KU wanted to keep its season alive.
"That's a dominant point guard sitting next to me right now," Sutherland said after the team's latest tournament victory. "I'm happy to play with her. She's a great player."
Henrickson has watched Goodrich since she was an eighth-grader, and she joked "Angel" has been a trending topic with her for years.
"When she's aggressive and plays confidently, she has an unbelievable impact on everybody else," Henrickson said, adding Goodrich's teammates think they should knock down shots because the point guard works so hard to set them up.
It appeared for a few minutes that Delle Donne would will her Blue Hens (31-2) back to a victory. The 6-foot-5 do-it-all player was snatching rebounds, drawing fouls in the paint and behind the three-point line, and the Jayhawks' lead shrank to 59-57 with 7:25 to play.
But Goodrich took over once again. CeCe Harper found the KU junior captain for a three with 6:46 left. About a minute and a half later, Goodrich used a Sutherland screen at the top of the key, went left and put a jumper off the glass to improve the Kansas lead to seven.
The Jayhawks' run continued when Chelsea Gardner found herself wide open inside, thanks to a Goodrich dish. The next trip down the floor, Goodrich swiped a steal, scored a layup and KU was back in control, 68-57.
Goodrich said the Jayhawks have been rolling because they're unselfish and like playing together.
"I try to be aggressive and attack the rim and just look for my teammates," Goodrich said. "I wouldn't be able to do anything without my teammates. I give them all the credit."
Delle Donne led all scorers with 34 points and was one of three Blue Hens to finish with 10 rebounds, as Delaware held a 40-34 rebounding edge in the loss.
The Jayhawks, however, did a much better job on the glass in the second half, when Sutherland grabbed seven of her game-high 11 boards.
KU's lone senior, Sutherland scored 12 points in 24 minutes after getting into foul trouble.
Freshman forward Chelsea Gardner scored 10 points and gathered seven rebounds for Kansas.
KU held Delaware to 21-for-56 shooting and Delle Donne went 9-for-18, doing most of her damage at the foul line, where she went 15-for-18.
Once the final buzzer sounded, Gardner threw the ball up in the air and she and her teammates went wild — hugging, jumping and screaming in front of the KU bench.
The Jayhawks shot 50 percent (30-for-60) to improve the program's record in NCAA Tournament second-round games to 3-5 and advance KU to the Sweet 16 for the first time since 1998.
Next up for Kansas is an 11 a.m. match-up on Saturday with Tennessee in Des Moines, Iowa. The game will be televised on ESPN.