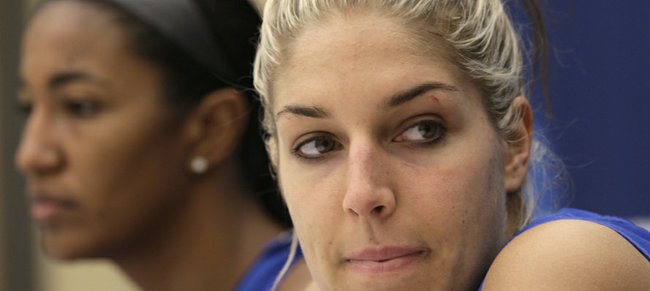 Little Rock, Ark. — It's difficult to go more than a few seconds at Jack Stephens Center these days without hearing her name.
Elena Delle Donne.
She's the Delaware University women's basketball team's inside-outside threat with the size (6-foot-5), skill (27.9 points a game, 10.3 rebounds, 42-percent three-point shooting) and pedigree (signed with Connecticut before transferring) to give opposing teams nightmares.
Right now, Delle Donne is Freddy Krueger for Kansas coach Bonnie Henrickson and her Jayhawks, set to face the Blue Hens at 8:40 tonight in the second round of the NCAA Tournament.
Since defeating No. 6 seed Nebraska, 57-49, Sunday night in the first round, No. 11 seed Kansas (20-12) hasn't had much time to prepare for No. 3 seed Delaware (31-1) and one of the country's elite players. Henrickson said Monday while addressing the media that KU has gone over various defensive approaches in an attempt to thwart Delle Donne, but she didn't want to make so many changes with such a narrow window for preparation that the Jayhawks would confuse themselves.
"There's some things that we can't control, and she can just hit ridiculous shots," the eighth-year KU coach said of Delle Donne. "We've got to make sure we can manage the emotion of that. We've got to try to make a play and not let her get the same thing, but we recognize that."
KU junior captain and point guard Angel Goodrich said facing unbeaten Baylor (34-0) and consensus player-of-the-year candidate Britney Griner in Big 12 play should prepare the Jayhawks for the daunting task that awaits them. A significant difference with Delle Donne is that she is three inches shorter than Griner, and she is a threat from behind the three-point line.
Goodrich (13.3 points, NCAA-leading 7.4 assists) said the Kansas forwards, especially senior Aishah Sutherland, would have to be active defensively on the perimeter.
"It's gonna be a good match-up. Aishah, we trust her," Goodrich said of the athletic 6-2 forward. "It's just going to be a team effort."
Henrickson indicated that three of KU's forwards — Sutherland and subs freshman Bunny Williams and sophomore Tania Jackson — probably would guard Delle Donne at one point or another, but freshman starter Chelsea Gardner might not figure into that mix.
"Aishah will have the match-up to begin with, but Aishah can't guard her for 40 minutes," Henrickson said. "There's no way. We're going to have to move some people around.
"(Delle Donne) is too tough a match-up. And how much of the offense goes through her?"
Sutherland said she isn't going to alter her approach just because Delaware has a superstar on its roster.
"I'm just going to face up, and I'm going to play my same game and not make any changes," said Sutherland, who is averaging 13.8 points and 8.9 rebounds. "We're going to go out there and play hard and play with the team and just play together. That's what we need to do."
Gardner, meanwhile, is hoping for results similar to her night against the Huskers in the first round, when she reached career highs of 15 points and 16 rebounds.
"Just play like I played (Sunday), going for the boards, offensive and defensive boards, and just playing deep (in the paint)," she said.
If the Jayhawks can get some sort of contribution from all nine players — Goodrich, Gardner, Sutherland, Williams, Jackson and guards Natalie Knight, CeCe Harper, Monica Engelman and Asia Boyd — like they did against Nebraska, their surprising postseason might continue to the Sweet 16.
Said Henrickson: "We talked about how good it felt to see our name pop up on the selection show on Monday, and then the only feeling that would top that would be to win, and now the only thing that can top (Sunday) night is to win (again)."
More like this story on KUsports.com