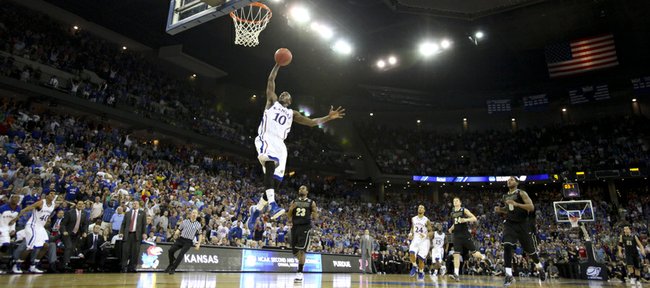 Podcast episode
Kansas coach Bill Self talks to reporters following the Jayhawks' 63-60 victory over Purdue on March 18, 2012.
Podcast episode
KU guards Elijah Johnson and Tyshawn Taylor talk to reporters following the Jayhawks' 63-60 victory over Purdue on March 18, 2012.
Podcast episode
Purdue coach Matt Painter and players Robbie Hummel and Lewis Jackson talk to reporters following the Boilermakers' 63-60 loss to Kansas on March 18, 2012.
KU vs. Purdue
Omaha, Neb. — No. 2-seeded Kansas University will meet No. 11 seed North Carolina State on Friday in the Sweet 16 in St. Louis.
Game time is 9:17 p.m. at Edward Jones Dome.
The Wolfpack of the ACC defeated No. 3 seed Georgetown, 66-63, on Sunday in Columbus, Ohio.
N.C. State, 24-12, is in the middle of a storybook season under first-year coach Mark Gottfried, the nephew of former KU football coach Mike Gottfried.
Taking over a program that went 15-16 a year ago, Gottfried is the first Wolfpack coach since Jim Valvano to win 24 games in a season. The Wolfpack is in the Sweet 16 for the first time since 2005 and second time since 1989.
N.C. State, which is 6-1 in its last seven games, led in the second half of games against Indiana, Stanford and Duke this season, but lost all of those games. N.C. State is 2-8 against RPI Top 50 teams, with quality victories over Texas, Virginia, St. Bonaventure and UNC Asheville.
On Sunday, guard Scott Wood (6-foot-6 junior, Marion, Ind.), guard C.J. Williams (6-5, senior, Fayetteville, N.C.) and forward C.J. Leslie (6-8 sophomore, Holly Springs, N.C.) scored 14 points apiece. Wood hit four threes. Richard Howell (6-8 junior, Marietta, Ga.) grabbed a game-high 10 rebounds. Lorenzo Brown (6-5 sophomore, Roswell, Ga.) contributed 12 points.
"It's a great win for our program," Gottfried told the Raleigh News and Observer. "But, you know, really you just look at this group of guys … to me what stands out is how they've gotten better, and they're continuing to get better."
N.C. State has won national titles in 1974 and 1983. In its previous trip to the NCAAs, the Wolfpack lost in the Round of 32 in 2006.
KU is 10-1 all-time vs. N.C. State. KU beat the Wolfpack, 75-67, on March 23, 1986, in the NCAA regional final in Kemper Arena in Kansas City.
"We'll be excited to play them," KU junior Jeff Withey said. "They've had a great season and have a great team."
Great game: KU coach Bill Self on Robbie Hummel, who scored 22 points the first half and finished with 26 overall on 9-of-13 shooting.
"I've been a fan from afar for a while," Self said. "With everything he's gone through (two ACL tears), I thought he deserved to play great in the NCAA Tournament. He was fabulous. I'm happy we won the game, but if we were going to win, I was happy to see him have a good game. He deserves it. I kept telling everyone we would win the game, but I didn't know if I was believing it."
Self was asked if going to the Sweet 16 grows old: "No, no, it's not getting old," he said. "I think there have been three years we haven't gotten to the Sweet 16 since I've been at Kansas. To play in the NCAA Tournament is great, but to feel the full benefit from an exposure standpoint you need to get to the second weekend because there are only 16 teams getting publicity rather than 68."
Dehydration: Self asked if Tyshawn Taylor was leg-weary playing two days after being dehydrated.
"I don't think so. He was trying to force too much. I don't think it had anything to do with him being leg-weary."
All-staters: Future KU players Perry Ellis and Conner Frankamp were named first-team all-state Sunday by the Wichita Eagle.
Ellis, a 6-8 senior forward, averaged 25.8 points and 9.4 rebounds for state champion Wichita Heights (23-2).
Frankamp, a 6-1 junior, averaged a City League-record 32.3 points a game for Wichita North (15-8).
He hit 66 percent of his shots (51 percent from three) and 93 percent of his free throws. He has 1,641 career points, fifth best in City League history.
Other all-staters: Semi Ojeleye, 6-7, junior Ottawa High (32.2 ppg); Clay Custer, 6-0, sophomore, Blue Valley Northwest (19.0 ppg) and Micah Swank, 6-1, senior, Pratt (22.3 ppg). Joe Auer of Wichita Heights was coach of the year.
Otis Livingston, I presume?: Former KU guard Otis Livingston worked as a color announcer for CBS at Midwest Regional games in Columbus, Ohio, last weekend.
Shabazz' dad sayz: The father of Shabazz Muhammad, a 6-6 senior from Bishop Gorman High in Las Vegas, tells Zagsblog.com his son will visit UCLA in early April then announce his college choice April 9 or 10. He has taken official visits to Kansas, Texas A&M;, Kentucky, Duke and is considering UCLA, Duke, Arizona, Kansas, Kentucky and UNLV. Muhammad will also play in the McDonald's All-American Game March 28 in Chicago and the Jordan Brand Classic April 14 in Charlotte, N.C.
More like this story on KUsports.com