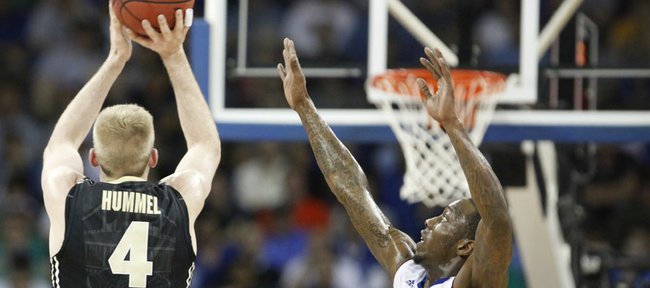 Podcast episode
Kansas coach Bill Self talks to reporters following the Jayhawks' 63-60 victory over Purdue on March 18, 2012.
Podcast episode
KU guards Elijah Johnson and Tyshawn Taylor talk to reporters following the Jayhawks' 63-60 victory over Purdue on March 18, 2012.
Podcast episode
Purdue coach Matt Painter and players Robbie Hummel and Lewis Jackson talk to reporters following the Boilermakers' 63-60 loss to Kansas on March 18, 2012.
KU vs. Purdue
Omaha, Neb. — For Kansas University basketball fans who believe in omens, Sunday's 63-60 third-round NCAA Tournament victory against 10th-seeded Purdue had to be a sweet sign.
In each of the last three years, the team that has knocked out the Boilermakers in the NCAA Tournament has advanced to the Final Four.
In 2009, top-seeded Connecticut reached the Final Four after beating Purdue in the third round. A year later, the Boilermakers lost to eventual national champion Duke in the Sweet 16. And last year, Purdue — like Kansas — was one of the surprise victims of 11th-seeded VCU's run to college basketball's promised land.
"Ever since I've been here, the team we've lost to has gone on to the Final Four," Purdue senior Ryne Smith said after Sunday's loss. "It's a tough feeling, but obviously Kansas has a great opportunity to go on and do that this year."
It hardly looked like that was the case for much of the night. Kansas, seeded No. 2 in the Midwest region, trailed for most of the game and only was able to exhale after Smith's last-second three-point attempt to force overtime banged off the front of the rim and fell to the floor.
A big reason the Jayhawks played from behind most of the night was the incredible first-half performance of Purdue's fifth-year senior Robbie Hummel. Hummel torched Kansas for 22 points in the first half on 7-of-8 shooting, including a 5-for-6 mark from three-point range.
"I swear, if you had taken his jersey off, you probably would have found an S on his chest for Superman," said KU's proud and relieved director of basketball operations, Barry Hinson. "But (KU) Coach (Bill Self) made an adjustment. Sometimes in this business we get so stubborn and set in our ways, but he didn't. He just looked at us and said, 'We gotta do this.' And it worked. I told him how proud of him I was."
Hinson did not divulge exactly what that adjustment was. And it said a lot about it that the heartbroken Boilermakers couldn't pinpoint it either.
"They threw in maybe a triangle-and-two, a box-and-one," Smith said. "At some points in the game, I didn't even know what they were in, but they were out there, and they were playing really good, and we just couldn't get shots to fall down the stretch."
Added Hummel, who also admitted to being confused by KU's different defensive looks in a second half in which he made just two of five shots and missed all three of his three-point attempts: "They went to a triangle-and-two or a box-and-one or something and they did a very good job. They kept somebody on me the whole second half, and I probably should've been more aggressive, to be honest. But Kansas did a good job of switching their defense up, and that made it tough on me. I don't even know what to say."
One by one, the Jayhawks took turns on Hummel in the second half, sometimes with as many as two or three guys playing within arm's length of Purdue's 6-foot-8 wingman. Travis Releford. Thomas Robinson. Conner Teahan. Kevin Young. Elijah Johnson — they all took a turn. And they switched on screens repeatedly. That gave Hummel just enough pause to help Kansas survive.
"That was the idea," Releford said. "We wanted to throw different looks and different guys at him all night to make him as uncomfortable as possible. We knew he was gonna score, and we knew we had to limit him. In the first half we didn't. In the second half we did. That was the key to the game."
More like this story on KUsports.com