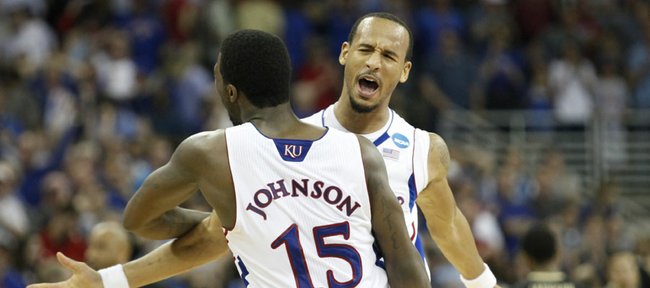 Podcast episode
Kansas coach Bill Self talks to reporters following the Jayhawks' 63-60 victory over Purdue on March 18, 2012.
Podcast episode
KU guards Elijah Johnson and Tyshawn Taylor talk to reporters following the Jayhawks' 63-60 victory over Purdue on March 18, 2012.
Podcast episode
Purdue coach Matt Painter and players Robbie Hummel and Lewis Jackson talk to reporters following the Boilermakers' 63-60 loss to Kansas on March 18, 2012.
KU vs. Purdue
Omaha, Neb. — Las Vegas, the town from which Elijah Johnson came to play big-time college basketball for Kansas University, is packed with guys who have the guts to make high-risk plays.
Even his friends back home had to be impressed with the confidence Johnson showed in lifting his team from also-ran status in the NCAA Tournament by doing a little bit of everything on a night packed with so many snake eyes for so many teammates.
In the final 3:12 of KU's 63-60 victory against Purdue, which advanced the Jayhawks to a Sweet 16 match-up against North Carolina State, Johnson sensed somebody had to make things happen, and he didn't see any reason not to be that somebody. Until Johnson took over the game, Kansas never had led and had trailed 13-2 at the outset.
In the final 3:12, Johnson scored five points, had two rebounds, a steal and a bold assist. His three with 3:04 left gave Kansas its first lead, 57-56, and it wasn't the play for which he'll be remembered most. That would be the lob he tossed to Tyshawn Taylor with 1:02 left, which again put Kansas up by one. Of course, the steal and layup that gave KU another one-point lead with 23 seconds left won't be forgotten soon.
Watching the transformation of superior athletes into terrific basketball players ranks as one of the most enjoyable aspects of watching Bill Self's basketball laboratory night in and night out, year in and year out.
Late in the season that almost ended Sunday night in the CenturyLink Center, the tentative Johnson, who always talked like he believed in himself but didn't always play like it, made believers of everybody.
The only player in KU's starting lineup who didn't earn Big 12 Player of the Week honors, Johnson has been more aggressive taking his man off the dribble, more assertive defensively, more confident of his long-range shooting. He has made 15 of 29 threes in the past five games.
"His confidence seems higher," Self said. "I don't know if there is anything specifically, other than the fact that maybe he's realized he's talented. He's a good guard. I would say he was our best player in Omaha, when you think of both games.
"He played well (in the Big 12 tournament) in Kansas City when our team struggled," Self said. "He's a really good guard. I think that he's going to continue to get better and better."
Johnson led Kansas with 18 points, made seven of 14 field goals and three of eight three-pointers. He had four rebounds, three assists, two steals and just one turnover.
He had a calming influence on the team and ignited the confidence of struggling teammates — on a night Thomas Robinson made just two of 12 field goals, and the team, excluding Johnson, shot .188 from three-point range and .292 overall.
Because he's a change-of-pace guard who likes to lull his defender into a comfortable state and because he plays alongside the remarkably quick Tyshawn Taylor, he sometimes doesn't appear as quick as he actually is.
Johnson's the latest example of how this team is as remarkable as any of Self's in terms of how much it has grown, a reality not lost on classy Purdue coach Matt Painter.

When someone tried to paint the game as a story of David nearly slaying Goliath, Painter didn't buy it.
"They play hard, too," Painter said. "Obviously, they have won eight straight Big 12 championships. I don't think he has a McDonald's All-American on his team. You've got to give Bill Self credit. They have guys that have developed into NBA prospects. You've got to give them credit for that, too."
Reaching the Sweet 16 had a little more meaning than usual for Self this time.
"I would say in years past, it's probably been more of a relief," Self said. "I feel relieved, but feel some jubilation. The kids are excited. If you look at our team and somebody said you will be 29-7 and playing in St. Louis in the Sweet 16, everybody would have said, 'What a great year.' I'm proud of our guys because a testimony to a team's toughness is to figure out a way to win when things aren't going well."
Johnson has developed into one tough customer, even by Vegas standards.
More like this story on KUsports.com