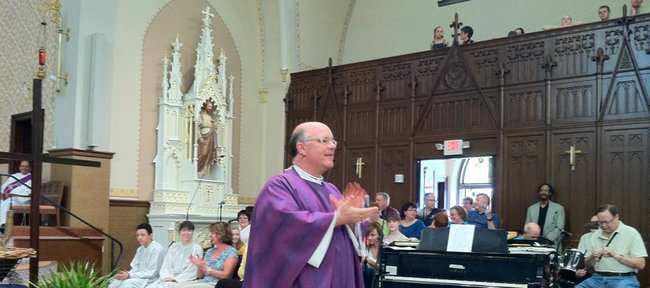 Omaha, Neb. — They say it takes a little luck to get through March Madness and into the Final Four.
But there's a man at Sacred Heart Catholic Church in north Omaha who believes a little holy devotion can help, too.
Sunday, at the 10:30 Mass at his church, Father Tom Fangman, a 1985 graduate of Kansas University, led his parish in a quick rendition of KU's famed Rock Chalk Chant.
"He does that during football season, too," parishioner Chuck Caniglia said. "If they're doing great, he'll go up there and act like he's gonna pray and then he'll do it."
Sunday's celebration did not catch anyone at the 110-year-old church on the northwest corner of 22nd Street and Binney by surprise. For starters, most in attendance were well aware that the second and third rounds of this year's tournament had invaded their town. Many in the pews even had on Creighton University shirts, showing support for the local team still alive in the tourney.
In addition, before the service began, one lady stepped to the front to remind everyone the Fangman's beloved Jayhawks likely were on the front of his mind. To help out, she quickly reminded everyone what the words "Rock Chalk" meant.
"Now he knows we remember his sermons," she said.
Not long after that, Fangman entered the church and got right to it.
"I had no idea we were going to start the way we did," he said, not 20 minutes after showing off his Rock Chalk miniature fan to a couple of visitors behind the church. "But since we did ... We gotta do it."
With that, Fangman invited any and all Jayhawks in the room to come up to the front to join in the chant with him. On this day, that included Lawrence orthopedic surgeon Dr. Jeffrey Randall and his wife, Kelly, as well as Cathy Jenkins-Walsh, the sister of John Jenkins, the president of the University of Notre Dame.
Fangman's love of KU is so well known around the church that his parishioners often like to needle him with jokes about some of KU's rivals.
Craig Enenbach, who drives 20 miles from nearby Elkhorn, Neb., to attend Fangman's Mass each Sunday, shared one story involving another local university.
"Every once in a while he wears the Jayhawk logo," Enenbach said of Fangman. "So one time, they gave him a Nebraska sweatshirt to wear. They put it on his chair at the start of Mass one day. He took it off the chair and went on with his business."
At the end of the day's service, when Fangman was sharing hugs and handshakes with his parishioners out front as they exited, one lady poked fun at his traditional purple Lenten garb, saying it reminded her of one of KU's rivals.
"I didn't know you liked K-State," she joked.
"I know," said Fangman with a laugh. "It is a little too purple."
If Fangman's love for KU gets under the skin of any in his congregation, they weren't letting it show on Sunday. Of course, part of that could be because Fangman made sure to show some love for Creighton, as well.
"We made such a deal over the Jayhawks," he said near the end of the Mass. "It's only fair that we recognize our Creighton Blue Jays. We are so proud of them."
It should be pointed out that Fangman also refers to them as "our Kansas Jayhawks," but it was clear that many people appreciated the tip of the cap to Creighton, as the church erupted in applause shortly after Fangman brought up the Blue Jays, who will face North Carolina in the third round Sunday night.
It's not just Sunday Mass that takes on a KU flavor in this inner-city Omaha neighborhood. Across the street is the Catholic school and down the block is the Sacred Heart rec center. All three are run by KU graduates and many in the area affectionately refer to that one-block stretch of Binney Street as "Jayhawk Boulevard."
Around here, Fangman is known for much more than his Jayhawks. During his 14 years heading up the church, he's raised thousands of dollars that helped restore the building inside and out and helped enrich the lives of hundreds in the area. It's clear by watching the way he interacts with his parishioners that Fangman is loved and a friend to many. His services are described as inviting and happy and operate at a tone that makes it feel as if everyone truly wants to be there.
Occasionally, a visitor from another town — of which there are many each week — will stop in and be impressed by what he sees. Enenbach recalled one time when a friend from New Orleans told him that he went back to his own church and immediately went confession because, as he told his priest, "They have too much fun there."
No time is that more true than in March when Fangman, who will attend Sunday night's game against Purdue at 7:40 at CenturyLink Center, gets extra fired up for his Jayhawks. When asked if the parking signs that stand near the four reserved spots just north of the church were painted crimson and blue on purpose, Fangman admitted the truth.
"Someone else picked those out," Fangman said. "But they're perfect. You can never have too much red and blue."
More like this story on KUsports.com