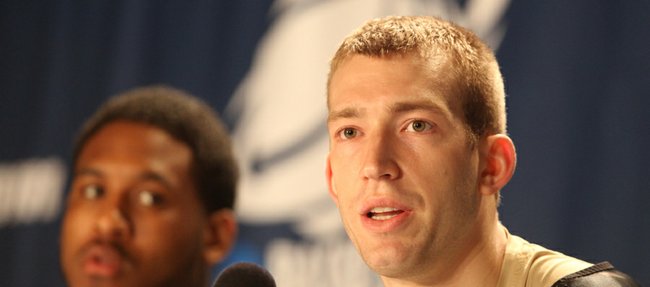 Omaha, Neb. — When Kansas University's men's basketball team knocked off second-ranked Ohio State in December at Allen Fieldhouse, an injury to OSU big man Jared Sullinger forced KU power forward Thomas Robinson to miss out on an opportunity to size up his game against one of the best big men in the country.
With KU's next NCAA Tournament opponent having faced Sullinger twice this season, a few of the Purdue University players on Saturday served as the de facto experts on comparing and contrasting the skills of the two.
"They're very similar," Purdue junior D.J. Byrd said. "Obviously, Sullinger's got more of a big body in the post, but they've both got that mid-range game, as well as a three-point shot sometimes, too. They're pretty much complete players and physical players who are difficult to guard."
Because the Boilermakers lack experienced size, fifth-year senior Robbie Hummel, 6-foot-8, 215 pounds, expects to find himself matched up with Robinson, 6-9, 240, for much of today's 7:40 p.m. contest at CenturyLink Center.
Although the bulk of the talk during Saturday's media session with the four teams left in Omaha was about game plans, Hummel took time to talk about Robinson and Sullinger's similarities.
"I think that's a great comparison," he said. "Sullinger is probably pretty spot-on. I think Michigan State and Ohio State are very good comparisons to Kansas in the sense that they have good guards, and they have some very good bigs."
Because the Boilermakers have just two players 6-8 or taller who average more than 15 minutes per game — Hummel plays 32 and Travis Carroll 17 — Purdue's locker room feature a group of guards chiming in about how they could help neutralize a player like Robinson.
"The main thing we try to do is limit his touches, because if he can't get the ball he can't score," Byrd said. "We're just gonna try to take him out of what he wants to do. That's the main focus for us right now."
Added senior guard Ryne Smith: "You just try to be as physical as you can without fouling.
And Hummel: "You just gotta make sure you don't give him angles, make him score over you. He's a very good player, and he's gonna make some shots. We just have to make sure when he does miss we get the rebound."
So, who does what better? The Boilermakers were up for answering that question, too.
"I think Thomas Robinson runs the floor a little better," Byrd said. "He's a little quicker up the court, but other than that they're both great players, and they're both probably going to play a long time in the NBA."
Smith pointed to Robinson's more chiseled frame and explosive play.
"Robinson's just a little bit more athletic than Jared Sullinger is," he said. "I haven't seen a lot of Thomas yet, but he's obviously a great player."
And Hummel focused on Robinson's wide array of offensive weapons.

"I think Thomas Robinson probably shoots it a little better than Jared does," Hummel said. "Jared can step out and shoot just like Thomas can, but, from what I've seen, Thomas might shoot it a little better. I'd also say Thomas Robinson might be a little bit better ball-handler."
In two games against Purdue this season, Sullinger, 6-9, 265, averaged 24 points and nine rebounds in 34 minutes. Those numbers include a recent meeting in the Big Ten tournament, where Sullinger exploded for 30 points and 12 rebounds in a 17-point OSU victory.
Asked if Sullinger's success had him salivating for his chance to take on the Boilermakers, Robinson played down his advantage.
"I don't look at it as, 'Sullinger did it, so I can do it,'" Robinson said. "I'm just gonna try to go out and have a good game."
More like this story on KUsports.com