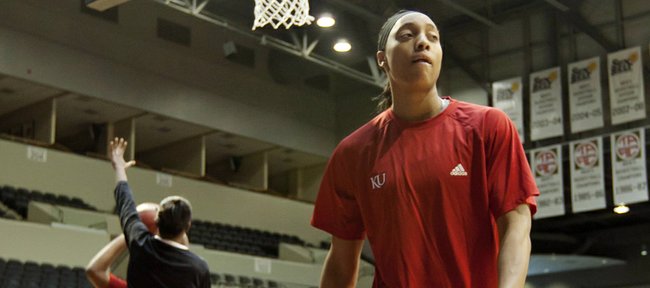 Little Rock, Ark. — It didn't take Kansas University women's basketball coach Bonnie Henrickson long to allow the excitement surrounding the Jayhawks' first NCAA Tournament berth since 2000 to morph into apprehension about the team's first-round opponent.
The Jayhawks (19-12) went wild upon learning of their inclusion in the tournament, and once the shock of the moment died down, there had to be some added sense of thrill due to the Jayhawks' drawing a familiar opponent in Nebraska. Not only were the Huskers (24-8) a Big 12 opponent just a year ago, but Kansas assistant coach Tory Verdi spent five seasons with Nebraska (2005-10) before joining the KU staff, and Henrickson gets along well with Huskers coach Connie Yori.
All of those relationships between the two programs from bordering states helped the Jayhawks' eighth-year coach quickly turn her attention to the task at hand. KU will meet NU at 6:50 tonight, with a live telecast on ESPN2 (Knology Cable channels 34, 234).
Once Nebraska showed up on the tournament selection show as KU's opponent, it was difficult for Henrickson to forget that NU junior point guard Lindsey Moore averaged 28 points in two games against Kansas last season.
"She's probably the most excited person about the match-up, I feel certain," Henrickson said. "She saw us pop up and she was screaming probably as loud as we were."
The Huskers and Jayhawks split their final two meetings in the Big 12, with each team winning at home in 2011, before Nebraska bolted for the Big Ten. When they meet again tonight at Jack Stephens Center, the former conference foes should display some similar tendencies. Nebraska, ranked No. 17 in the nation, relies heavily on the inside-outside duo of Jordan Hooper and Moore. The same holds true for KU, which looks primarily to senior forward Aishah Sutherland and junior point guard Angel Goodrich for production now that leading scorer Carolyn Davis, a junior forward, is out for the season due to an ACL tear.
Sutherland, averaging 13.9 points and nine rebounds for the Jayhawks, said Hooper (19.2 points, 9.3 rebounds) has a quick release, and Sutherland is looking forward to matching up with Hooper again.
"She's a really good face-up player," Sutherland said of the 6-foot-2 sophomore forward. "She's able to shoot the three, she's able to take the ball and get it to the basket."
The two teams also are similar in their desire to run, Henrickson said.
"I think it's gonna come down to who can guard each other better in transition," the Kansas coach said.
The biggest difference between each team's approach is Nebraska's reliance on three-point shooting. Plus, the Huskers' forwards are as likely to pop a three as their guards. Hooper (67 three-pointers), Moore (15.8 points, 48 threes) and freshman forward Emily Cady (9.9 points, 24 threes) account for 62 percent of Nebraska's offense. As a team, NU averages about 7-for-23 from three-point range (30 percent).
"That's a lot of threes and a lot of attempts," said Henrickson, whose Jayhawks average a little less than four threes a game on almost 11 attempts (34 percent).
Not surprisingly, KU forwards Sutherland, Chelsea Gardner, Bunny Williams and Tania Jackson have heard plenty about the Nebraska attack.
Said Gardner: "I've just been working on defending the three on the bigs."
With five different players who have hit at least 21 three-pointers this season, Henrickson said KU's first-round game will be challenging.
"I don't know that anyone runs motion as good as they do and keeps spacing," she said.
Kansas, a No. 11 seed, leads the all-time series with Nebraska, a No 6 seed, 49-31. The Jayhawks are 10-2 against NU in neutral-site games. Henrickson is 6-10 against Nebraska.
Tonight's winner advances to a second-round game Tuesday against either No. 3 seed Delaware or No. 14 seed Arkansas-Little Rock.
The Jayhawks haven't won an NCAA Tournament game since 1999, under former coach Marian Washington.
More like this story on KUsports.com