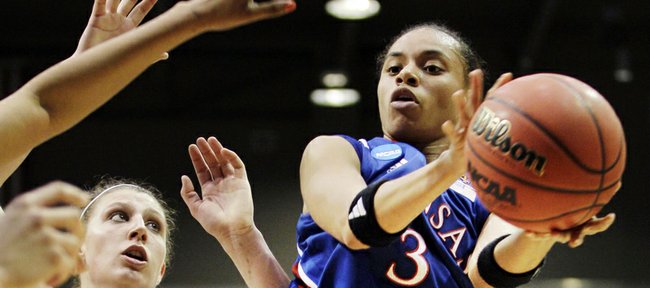 KU vs. Purdue
Little Rock, Ark — Having spent plenty of time the past few days watching both men's and women's NCAA Tournament games, Kansas University's women's basketball team couldn't ignore an obvious trend.
Junior forward Carolyn Davis, out for the season because of an ACL tear, pointed out to her Jayhawks teammates prior to their Sunday night first-round game against Nebraska that this is the time of year for unsung heroes.
That was the case for KU, too, as freshman forward Chelsea Gardner's career night helped the Jayhawks upset the Huskers, 57-49, in their first tournament appearance in 12 years.
Gardner, a 6-foot-3 freshman forward thrust into the starting lineup after Davis' injury, finished with 15 points and 16 rebounds — both career highs. Her impact wasn't lost on KU coach Bonnie Henrickson, who related Davis' remarks about the postseason being a chance for players to take their games to uncharted territory.
"Somebody else comes in and steps in and is a big contributor and helps the team win," the eighth-year KU coach said following KU's first NCAA win in her tenure.
Much of Gardner's success came by crashing the offensive glass, where she collected eight of her boards, and Henrickson said many of those were set up by junior point guard Angel Goodrich's ability to drive to the paint and draw away potential defensive rebounders. With Gardner leading the way, KU (20-12) out-scored Nebraska, 19-9, on second-chance points and 40-28 in the paint.
Said the De Soto, Texas, native after going 6-for-8 from the floor and 3-for-7 at the foul line in her eighth start of the season: "I didn't buy real estate, but Bonnie told me I might have a chance tonight to just work hard under the basket and get open shots."
Her play became crucial for Kansas once senior forward Aishah Sutherland got in foul trouble in the first half and ended up playing only 20 minutes and finishing with eight points and five boards.
"I just came out and was excited about this game," Gardner said. "I just felt like I needed to step up more."
Henrickson said the Jayhawks ended up running plays for Gardner, which they used to have reserved for Davis. Gardner said the injured Davis provides her with tips every chance she gets, and that proved immensely helpful against No. 6 seed Nebraska (24-9).
Goodrich, as she has become accustomed to doing, played for 39 minutes in her NCAA debut and scored 20 points to go with five assists and five rebounds. The Huskers, who never led, couldn't keep her out of the paint, and Goodrich's floaters and layups helped KU lead by as many as 10 points.
"It was just about being aggressive," the junior point guard said.
The Jayhawks led by just four with less than four minutes remaining when a Goodrich miss was gathered by Gardner for two of her second-chance points. Next, CeCe Harper drove in for a layup to put KU up 48-42 with 3:13 left. The following Kansas basket came on a steal and layin by freshman guard Natalie Knight, and the Jayhawks extended their advantage to 52-44 on an up-and-under move by Sutherland in the paint with 1:44 to go.
Nebraska cut the lead to five with just more than a minute remaining, and NU guard Lindsey Moore was headed for a layin when she lost the ball off her knee, turning it over to Kansas. On the ensuing KU possession, Nebraska elected not to foul, and Goodrich scored inside off a pass from Knight, putting the Jayhawks ahead 54-47.
Goodrich then secured a defensive board on the other end following a Moore miss. She drew a foul and sank two free throws with 32 seconds remaining to seal the program's first NCAA Tournament win since 1999.
Nebraska's three-point shooting had been an enormous concern for the Jayhawks entering the match-up with their former Big 12 opponent, but the Huskers went just 1-for-19 from downtown, dooming their chances of advancing to the second round.
Said Nebraska coach Connie Yori: "We lost the game on our offensive end."
Goodrich said the Jayhawks did all they could to contribute to Nebraska's off shooting night.
"That's what we were going into this game focusing on —getting back, finding match-ups and at least contesting the shot," Goodrich said.
Henrickson said Nebraska had a few good looks in rhythm, but many of them were rushed. And given the way things turned out, she didn't mind taking a light-hearted approach to what the KU defense had to do with the dismal shooting.
"I'm mad they got off 19, to be honest with you," she said with a smirk.
The Huskers made just 20 of their 61 field-goal attempts, while KU went 25-for-66 from the floor. The victory was far from pretty, but the Jayhawks' stay in Little Rock will continue a couple more days as they prepare to face No. 3 seed Delaware (31-1), which beat Arkansas-Little Rock, 73-42 Sunday.
KU-Delaware will tip off at 8:30 p.m. Tuesday.
More like this story on KUsports.com