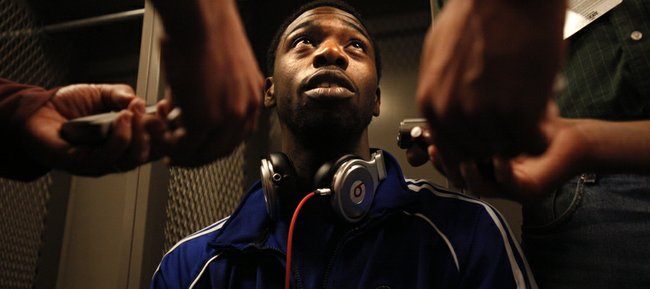 Omaha, Neb. — Elijah Johnson, who was born and raised in Gary, Ind., moved to Las Vegas when he was in the eighth grade.
As part Hoosier/part Sin Citian, he knows all about Purdue — the Big Ten school that will take on Kansas University in an NCAA Tournament game at 7:40 p.m. today in CenturyLink Center.
"I am from Indiana. I know the history. I know what kind of program it is and everything," said Johnson, a 6-foot-4 junior guard who had 15 points, four rebounds, two turnovers and three assists in Friday's 65-50 opening-round victory over Detroit.
"I know they've got motion offense. I know they've got a tough player in Hummel (Robbie, 6-8 senior, 16.3 ppg, 7.1 rpg) who came back from two (ACL) injuries. I respect him so much for that.
"I know they've got a point guard who loves to get to the paint (5-9 senior Lewis Jackson, 143 assists, 58 turnovers). They've got a shooter who shoots lights out who has taken over 200 threes (6-3 senior Ryne Smith, 88 of 204 from beyond arc). I know a lot about 'em.
I'm not done learning. I'll do my homework tonight," Johnson added.
Johnson, who was not recruited by Purdue — "I had already gone to the West Coast. They didn't even know I was from there when I was getting recruited," he said — learned how to play the game with the help of a Boilermaker.
That person would be Glenn Robinson, who played on the 1994 Purdue team that knocked KU out of the 1994 NCAA Tournament in the Sweet 16.
"He came from Roosevelt High School, the same high school I was going to go to," Johnson said. "I went to his camps in the summer as a little kid."
Johnson's dad, Marcus, and Indiana youth coaches also drilled him on fundamentals.
"My game ... I think when people hear I am from Vegas, they are kind of confused about that. Then I tell them I'm really from Indiana, it kind of makes sense," Johnson said. "I've got a feel for the game. I enjoy the game more than the average person. You can tell by the way I see things, by the way I don't care about scoring (9.8 ppg, 126 assists, 61 turnovers), by the way I enjoy how basketball is supposed to be played. Because in Indiana they don't just play basketball, they teach you how to play basketball. It's not just about going one-on-one — can you score 40? — and not play defense. It's about the whole court. I learned that in Indiana."
Johnson seems to have taken on more lead-guard responsibilities lately, especially in the second half of Friday's game when Tyshawn Taylor was out with leg cramps.
Taylor grinned when asked how it's determined who brings the ball up court when both are in the game together.
"If I get tired, I tell Elijah to bring it up," Taylor said. "One time Elijah was on the bench with two fouls. I said, 'I need you on the court. When you are not in the game I have to bring it up every time. I'm tired. You HAVE to be out there.'
"I love playing with him; it reminds me when I played with Sherron (Collins): Get it and go. I know how to run the 1 and the 2; he knows how to run the 1 and the 2 ... perfect."
Johnson is the obvious candidate to take over as lead guard next season — his senior year. Current freshman Naadir Tharpe will be the only other point-guard candidate on the current roster.
"I've learned a lot from Tyshawn, being hungry, realizing we're lucky to be at Kansas," Johnson said. "I was born to do this. This is my time. I'd be a fool if I said I wasn't ready. Who would say that?
"I'm a natural leader. A lot of people might not see it. My teammates know. I won't tell you to do something I won't do. It's good enough right there."
He's not looking far ahead. A victory today would mean a spot in Friday's Sweet 16 game against either North Carolina State or Georgetown in St. Louis. A loss and the season is over.
"I'm ready to win this next game. I can't think that far ahead or I won't survive tomorrow," he said.
And to beat Purdue, a team that enters with a 22-12 record compared to KU's 28-6 mark?
"Play hard," he said. "We know they have a good team. We see them play on TV. It's a name we are familiar with. We feel we know them because their record is on TV all the time, the conference they play in, what kind of offense they run, the style of play in that conference (Big Ten). We're adjusting to it now. We have to be in tune because they have no set plays. They do anything they want to. We have to be ready for anything."
More like this story on KUsports.com