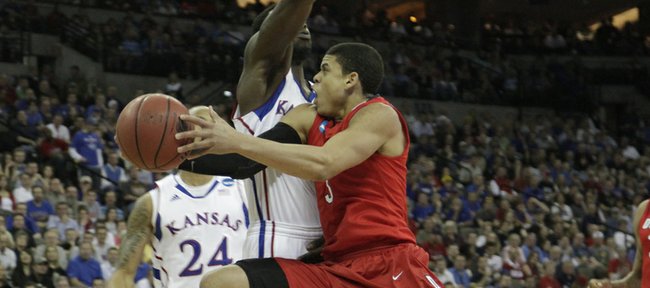 Podcast episode
Kansas coach Bill Self talks to reporters following the Jayhawks' 65-50 victory over Detroit on March 16, 2012.
Podcast episode
Kansas juniors Thomas Robinson and Jeff Withey talk to reporters following the Jayhawks' 65-50 victory over Detroit on March 16, 2012.
Podcast episode
Detroit coach Ray McCallum and players Ray McCallum, Jr. and Eli Holman talk to reporters following the Jayhawks' 65-50 victory over Detroit on March 16, 2012.
KU vs. Detroit
Omaha, Neb. — He entered the night billed as the only former McDonald's All-American on the floor, but played a game more befitting of a Hardee's all-star.
Behind a 4-of-15 shooting performance from sophomore guard Ray McCallum Jr., the University of Detroit Mercy could get little going on offense and fell quietly to Kansas University, 65-50, at CenturyLink Center on Friday night.
"I take the blame for this loss," said McCallum, who finished with eight points and five assists in 37 minutes. "I knew I had to have a big game for us to have a chance, and my mind-set was to come in and be aggressive. But I just couldn't get anything going."
There were many reasons for that.
For starters, McCallum Jr. said Kansas was by far the biggest team Detroit had played all season. The Jayhawks' length and size — particularly that of 7-foot center Jeff Withey — created problems for the Titans all night.
"We couldn't buy a basket," said Chase Simon, who finished with six points on 2-of-11 shooting.
Added McCallum: "We haven't played against a lot of guys with that kind of size. (Withey is) long, and I think that affected us. I know I drove into the lane, and he blocked one of my shots, and that contributed to my night."
KU's defense forced Detroit to settle for jumpers and forced the Titans out of their normal flow. UDM finished 20-of-63 (32 percent) from the floor and just 3-of-17 (18 percent) from three-point range.
"You can't shoot 20-for-63 and expect to beat a good team," senior LaMarcus Lowe said. "We just couldn't get our shots to fall, and I think that allowed them to get out in transition a little bit. I think that was the biggest difference."
Despite its shooting struggles, Detroit (22-14) hung around for most of the first half. The Jayhawks owned a 10-point advantage at the break, but only pushed it to 10 on the final shot of the first half.
While most of the second half was played with KU (28-6) firmly in control, that didn't stop the teams from getting after each other. Nowhere was that more evident than in the highly anticipated battle of big men, where Detroit's Eli Holman and KU's Thomas Robinson pounded away all night.
After the game, as he struggled to shake tears from his eyes, Holman talked about his match-up with Robinson, a showdown that was made more intense by a mini war of words played out in the media leading up the game.
"It was all respect," Holman said with a smile. "He gave me a hug after the game and told me good luck. I appreciated that. And I think he appreciated me. He told me there aren't a of guys in the country who are willing to stand up to him. He told me that at the free-throw line. That was cool. If I have to go out, I can't think of a better way to go out than playing against one of the best players in the country."
Like Robinson (16 points and 13 rebounds), Holman picked up a double-double of his own Friday, finishing with 10 points and 11 rebounds. As he had done so often throughout his Detroit career, he bowed out with the respect of his teammates as well.
"Neither one of those guys took it easy on the other," McCallum Jr. said of Robinson and Holman. "I think there was a lot of respect between them. You could tell by the way they played."
More like this story on KUsports.com