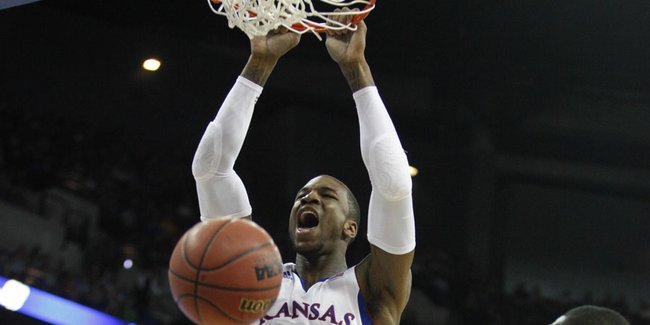 Podcast episode
Kansas coach Bill Self talks to reporters following the Jayhawks' 65-50 victory over Detroit on March 16, 2012.
Podcast episode
Kansas juniors Thomas Robinson and Jeff Withey talk to reporters following the Jayhawks' 65-50 victory over Detroit on March 16, 2012.
Podcast episode
Detroit coach Ray McCallum and players Ray McCallum, Jr. and Eli Holman talk to reporters following the Jayhawks' 65-50 victory over Detroit on March 16, 2012.
KU vs. Detroit
Omaha, Neb. — Tyshawn Taylor was lounging in his Embassy Suites hotel room Friday afternoon when he decided to check his infamous Twitter account.
"Somebody wrote on there that we should call today 'Upset Friday,''' Taylor, Kansas University's senior point guard, said after the Jayhawks' 65-50 Midwest Regional-opening victory over Detroit Mercy in CenturyLink Center.
"I was like, 'Dang, it doesn't have to be that,''' Taylor added after scoring 10 points while playing just 23 minutes because of a nasty case of the cramps that kept him from playing all but five minutes the second half.
The Jayhawks on Friday were the only one of three No. 2 seeds to survive No. 15 seeds on an upset-riddled day.
Missouri fell to Norfolk State, and Duke was downed by Lehigh.
"Good thing we had the last game of the day. It opened our eyes. Thanks to them for losing. It helped us (get focused)," Taylor said. "Actually, we don't need to be reminded too much. We've had some things happen to us in the past as well."
Taylor headed to the locker room for good with 13 minutes left in the game. By that point, KU had used a 25-5 run to open a 52-28 lead and pretty much assure itself a spot in Sunday's 7:40 p.m. game against Purdue (30 minutes after a 5:10 p.m. contest between Florida and Norfolk State).
Taylor suffered cramps in both legs after being called for a charge on a Thomas Robinson dunk with 16:48 left.
"I just cramped up real bad," Taylor said. "It started in my calf, kept coming up to my hammy (hamstring), my feet, my back, all over.
"I've been taking some stuff for a cold, and it dehydrates you. I've been drinking a lot of Gatorade. I guess I have to drink a lot more and some pickle juice," he added with a laugh.
Taylor said he'd be fine for the Purdue game.
"This happened to me in the first game in Maui, too," he said of the Maui Invitational. "I was fine the next two games."
He was not able to watch the remainder of the game on TV.
"They were keeping me posted, though," he said. "I was getting an IV. I'd get up off the table, and I still couldn't go. Finally they said, 'You might as well chill in here the rest of the game.'"
As to why it happened ... "I was sweating a lot the first half," Taylor said. "I don't know why I was sweating so much. I was trying to play some good defense (on Ray McCallum, who finished with eight points on 4-of-15 shooting)."
Taylor's absence, plus the foul trouble of Travis Releford (five points, 29 minutes) and Elijah Johnson (15 points, 26 minutes), meant a lot of playing time for Naadir Tharpe and Kevin Young. Tharpe didn't score with an assist and one turnover in 13 minutes; Young had nine points in 22 minutes.
"Kevin and Naadir played great and really helped us tonight," noted Thomas Robinson, who had 16 points and 13 rebounds.
"I'm happy for Naadir," Taylor said. "He played good defense, played well tonight."
Indeed, Tharpe said, "I was mainly focused on playing defense, getting up on my man. It was a good win for us tonight."
KU used a 15-3 run over the last nine minutes of the first half to open a 34-24 lead at the break.
Young had five points and also fed Robinson for a vicious dunk in the surge. Robinson, who also had a steal and ensuing slam, scored six, while Taylor had four, including a layup to beat the halftime buzzer.
Young had five points and two assists in 11 minutes the first half, while seldom-used Tharpe had an assist against no turnovers in nine minutes. He helped out with Releford and Johnson picking up their second fouls at 9:36 and 9:25 respectively.
Detroit showed off its athleticism the first half, as Doug Anderson had two vicious slams and a third wiped off the board after a teammate committed a charge.
"They had a good team," said junior center Jeff Withey, who scored seven points (five of nine from the line). They were athletic. We respected them, and they played hard. I think we did a good job on their big men the second half and were able to win the game.
"I'm excited about advancing," he added. "Purdue has a good team, and it will be a fun game Sunday."
KU improved to 28-6; Detroit fell to 22-14.
More like this story on KUsports.com