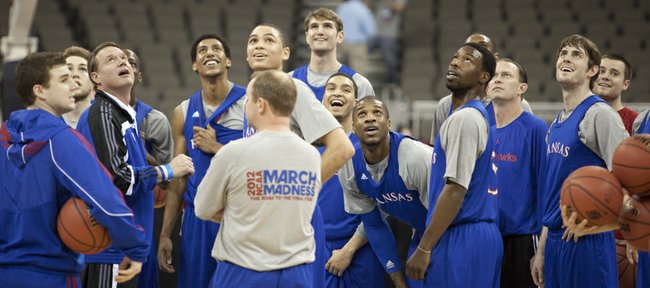 Omaha, Neb. — Conner Teahan, the only remaining Kansas University basketball player to clip the nets after the 2008 national title game, has shared with his 2011-12 teammates the secret to winning it all.
"Listen to coach (Bill) Self and get into what he says and get into the team concept," Teahan, a 6-foot-6 senior shooting guard out of Kansas City (Mo.) Rockhurst, said of the formula for postseason success. "We have so many talented players, you listen to what he has to say. Obviously, he has a good game plan in terms of defense, offense ... listen to what he has to say because sometimes we've had problems with that in the past."
The Jayhawks, who by all accounts have had a great few days of practice following Friday's loss to Baylor in the semifinals of the Big 12 tournament, begin the NCAAs tonight in the same building the Jayhawks opened the '08 NCAA run.
No. 2-seeded KU will meet No. 15-seed Detroit at 8:57 p.m. at CenturyLink Center. The winner advances to a Sunday game against either Purdue or St. Mary's, with that victor advancing to the Sweet 16 the following Friday in St. Louis.
"I don't know how many similarities there are (between now and '08). That team was so balanced in terms of scoring. We have two guys primarily our offensive people," Teahan said of Thomas Robinson and Tyshawn Taylor. "Defensively, that team was great. That's what this team needs to do if we want to go far. If we can look back to some of those games, understand how hard they played defensively (in '08), it'd help us out."
Teahan has taken bit of a trip down memory lane this week. The Jayhawks are staying at the same hotel they bunked in '08 — Embassy Suites. On Thursday, they practiced at the same high school they practiced at in '08 — Omaha Central.
They did occupy a different locker room for Thursday's media session ... the same hallway as in '08, though.
"I've was always very excited going into other (NCAA) Tournaments, especially as the 1 seed," said Teahan, who this year is a 2 seed after being a 1 in 2008, '10 and '11.
"I realize now that this is it," he added of his final go-around. "I was looking at a bracket the other day and said, 'I used to fill these out as a kid, and now I have an opportunity to play in one, and I've not really had the opportunity my first four years (as seldom-used sub or red-shirt).' I just want to do whatever I can to help this team go as far as we can. I have a bad taste in my mouth after the Big 12 tournament. I want us to get out there and play well."
Teahan and fellow senior Taylor were so upset following the Baylor game, they called a team meeting Saturday.
"It was just the players after we watched film," Teahan said of the locker-room session. "(We talked about) just how everybody has to take care of their job, listen to coach Self because he is right and make sure we are a team the next couple weeks because we feel we can play with anybody in the nation."
Today, KU meets a Detroit team (22-13) led by sophomore guard Ray McCallum, a former McDonald's All-American recruited by KU and other powerhouse programs. Despite the presence of McCallum, Detroit is a double-digit underdog today.
"I think it'd be a lie to say there weren't a little bit of nerves going out there at first, especially when you are such a high seed going against a low seed. You see upsets happening," Teahan said. "If we play like we know we can play and respect our opponent, things will work out. There are some nerves. I think that's natural for all teams.
"I think we got a little lackadaisical (last year in Elite Eight against No. 11 seed VCU). We thought we had already made it to the Final Four. We didn't have to play many high seeds. If we focus on what we do and practice the way we've been practicing, I think we'll be all right."
Taylor, who likely will guard McCallum some tonight, respects the 6-2 floor general who averages 15.6 points a game with 138 assists against 79 turnovers.
"They will go as far as he takes them. They go as he goes," Taylor said. "My job as defender is to cut the head off, basically, make shots for him as hard as possible, frustrate him. I'm sure he's saying the same thing about me."
The Horizon League tourney champs have four other scorers averaging in double figures.
"We've got to put our heads down and play," Taylor said. "After all the media and the shoot-arounds, it's still 'ball. I want this to be the longest run and make this last as long as possible because it's my last time for sure. I'm excited for that and just playing.
"If we come out and match their intensity and be as excited to play as they are, we'll be fine," Taylor added. "I think we can beat any team in the country if we come ready to play. If we turn it up defensively, rebound the ball well. I watched Syracuse (narrow victory for No. 1 seed over No. 16 UNC Asheville). They got off to a slow start, but they won. I'm sure we'll go through some runs, stages it'll look ugly. You've just got to play, man."
KU coach Self said the Jayhawks appear focused and ready to go.
"We haven't talked about the Baylor game one time. We talked about it a lot before the selection, but since the selection we haven't," Self said. "I know our guys' eyes are definitely looking ahead and not behind."
He said win or lose, they've entered the postseason with a healthy dose of respect for the first foe.
"Baylor and Missouri were two of the most athletic teams we play ... Detroit ranks right up there," Self said. "After seeing them play, it's shocking they are on the 15 line."