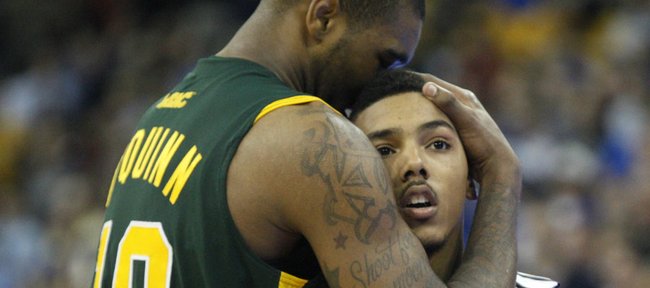 Omaha, Neb. — The ink hadn't even dried on the boxscore and already T-shirts were on sale on the official Norfolk State website: "This Was No Upset."
The rest of the country begs to differ.
Norfolk State became the first No. 15 seed in 11 years to defeat a No. 2 seed, knocking Missouri out of the tournament, 86-84, and all the way into the SEC.
"We messed up some brackets," NSU senior center Kyle O'Quinn told the Associated Press. "We messed up some brackets. We even messed up my bracket."
The Spartans, champions of the Mid-Eastern Athletic Conference, held on for the victory when Missouri sophomore guard Phil Pressey's off-balance three-pointer from the left wing with one second left glanced off the right side of the rim. Missouri had been a popular pick to emerge from the Midwest Region and advance to the Final Four in New Orleans. O'Quinn didn't let that happen.
O'Quinn led his team statistically, with 26 points and 14 rebounds, and he led the Spartans emotionally. He was grabbing teammates and firing words into their souls, and once took charge of the huddle during a timeout and barked, "At some point, we just have to take it."
Coming out of one late timeout he talked trash at Missouri reserve center Steve Moore. Afterward, Moore answered every question about O'Quinn with the same words: "He's a good player."
O'Quinn, a native of Jamaica (Queens), N.Y., was asked about what the tournament exposure meant for his future.
"What my future is? Winning on Sunday," O'Quinn said. "How about that? Let's take small steps."
Florida fans who remained in the CenturyLink Center after watching the Gators advance cheered passionately for the Spartans. So did Kansas fans who held tickets for the day session.
"We had Kansas fans in our hotel who really wanted us to beat Missouri and we got the job done for them," senior Rodney McCauley said.
During a break of the first game of the night session between Purdue and St. Mary's, O'Quinn, watching with teammates, stood up and exhorted the crowd. Kansas fans responded with a standing ovation for the Spartans (26-9).
Missouri (30-5) completed its final Big 12 season by costing the conference a lot of money by not advancing. And it's not as if cold shooting was to blame. The Tigers, second-place finishers in the Big 12 regular season and conference tournament champions, made 44.8 percent of their three-point shots, 52.7 percent from the field and 76.5 percent from the line.
Norfolk shot .526 from beyond the three-point line, .542 overall and .667 from the line.
"They had a counter for every time we scored pretty much any kind of basket," Tigers junior guard Michael Dixon said.
Said Moore: "We were contesting their shots and stuff they were just hitting shots. They were unconscious. They were unconscious in the first and second half. We thrive on making people shoot over us and they were able to hit them. When a team shoots like that for both halves their chances of beating us go up."
Said Phil Pressey: "I just felt like they made the right plays at the right time and we didn't, and that pretty much decided the game."
Norfolk State's victory made No. 15 seeds 5-105 against No. 2 seeds, a few hours before Lehigh improved that mark to 6-105 before the Kansas/Detroit game tipped off.
NSU became the first No. 15 seed to pull off an upset since Hampton defeated Iowa State in 2001.
More like this story on KUsports.com