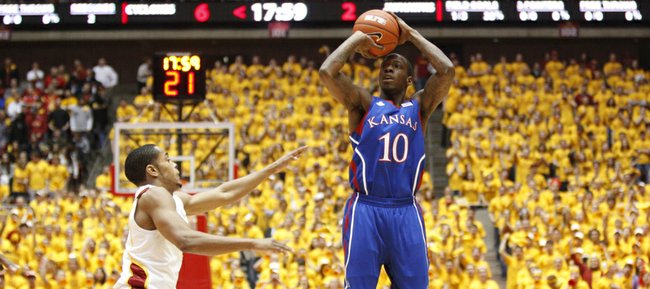 Omaha, Neb — Set, square, rise, release, follow through.
That, in a nutshell, is a list of the key components of the perfect jumpshot.
Kansas University senior Tyshawn Taylor possesses a few of them, but rarely does a jumper from the right hand of the dynamic guard from Hoboken, N.J., deliver the kind of shot that KU fans grew to love from current and former sharp-shooters such as Tyrel Reed, Xavier Henry and Conner Teahan.
Doesn't matter. During KU's 27-6 season, Taylor's long-range shots have gone in more often than ever before. And that's saying something for a four-year starter who has hoisted more than 300 three-pointers during his college career.
In helping lead Kansas to its eighth straight Big 12 title and a No. 2 seed in this week's NCAA Tournament, Taylor shot .435 from behind the three-point line, tops on the team among those with more than 20 attempts, and, by far, the best of his career. His 57 makes also led the team and were just five fewer than the number of threes he made during his first three seasons at KU combined.
"I'm just getting more opportunities to let it fly, man," Taylor said. "And they're going in for me. That's really it."
Throughout the years, the athletic combo guard has dedicated plenty of time to his jumper. Capable of getting to the rim on just about every possession, Taylor said he realized improving his range would make him even more dangerous off the dribble.
"I think it's just kind of one of those slow processes," said Taylor of the evolution of his outside shot. "I've been working on my shot for a long time, and it's continually gotten better over the years. I never felt like I was a bad shooter. I felt like I was a shooter that maybe didn't have too much confidence in his shot, but I've got the most confidence in the world right now, and if I feel like I'm open, I'm gonna shoot it."
Taylor's consistency has provided a huge lift to a team that entered the season lacking depth and proven three-point shooting. Senior Conner Teahan (47-for-132, .356) and junior Elijah Johnson (56-for-174, .322) opened the season as KU's most well known long-range bombers, but both had played few meaningful minutes, making Taylor's ability to rain threes critical.
"So critical," said senior walk-on Jordan Juenemann, who guards Taylor every day in practice. "Especially with his game because, as we all know, he can take it off the bounce and get to the rack. He really elevates on his three and can get it off over somebody — off the dribble or off the catch. And that's been a very good addition to our team."
Taylor said he fully expected Teahan and Johnson to carry the load behind the three-point line.
"If you would've asked me, I would've definitely told you that they would've been our best (three-point) shooters, percentage-wise, makes, whatever," Taylor said.
But he hasn't minded adding the long-range jumper to his own arsenal, something that, no doubt, will increase his value when his college career is finished.
Asked to describe Taylor's jumpshot, both Juenemann and Teahan had a little fun playing the role usually executed by KU's resident shot doctor, assistant coach Joe Dooley.
"He's got a great shot, just how he elevates," Juenemann said. "He does lean back a little bit, but he's got a high release and his elbow above the eye. He does kind of have a little kick in his leg, too. You'll see him kick that leg out when he lands, but it's a nice shot."
Added Teahan: "He might have an unorthodox kind of release, but, at the same time, he was always money."
As for his own evaluation of his jumper, Taylor called it "a work in progress."
"I don't think it's ugly," he said with a laugh. "I've seen worse. I've definitely seen worse."
More like this story on KUsports.com