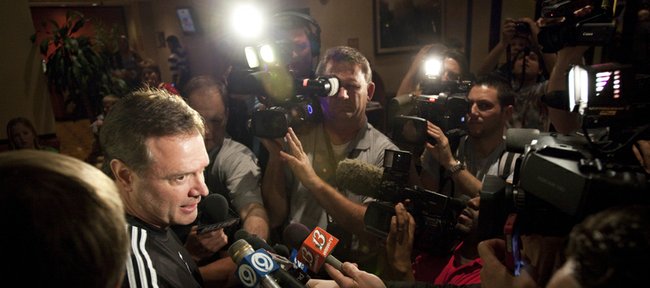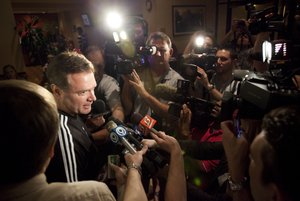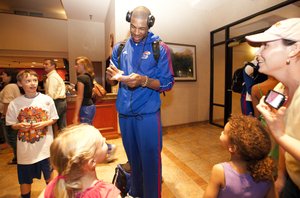 Omaha, Neb. — Kansas University's basketball team bus pulled in front of the downtown Embassy Suites hotel about 9:30 p.m. Wednesday, the path to the entrance mighty familiar to ninth-year Jayhawk coach Bill Self.
"This is the same hotel," Self said of KU's home base in March of 2008. That's when the Jayhawks defeated Portland State and UNLV in first- and second-round NCAA Tournament games in this Nebraska city, starting a successful road to the Final Four and national championship.
"How 'bout the weather? It's unbelievable. I didn't anticipate Omaha being 80 degrees when we roll in here or close to it (upper 60s)," Self added. "The weather's perfect ... love the arena (CenturyLink Center). People here roll out the red carpet. Omaha is a good host city. They've got a great downtown. I'm sure our fans will have plenty to do here."
Self said the Jayhawks — who will meet Detroit in an NCAA Midwest Regional opener at 8:57 p.m. Friday, with the winner advancing to Sunday's game against Purdue or St. Mary's — had a productive practice Wednesday afternoon in Allen Fieldhouse.
"We've had a good week of practice — not perfect, but a good week," Self said. "I think we got the guys' attention in large part we didn't play that well in Kansas City (in going 1-1 at Big 12 tournament). Everybody is excited when the bracket comes out. Everybody's batteries are recharged. Ours are recharged. We are looking forward to the opportunity to play."
The Jayhawks watched the Lamar-Vermont NCAA Tourney game on TV on the 31⁄2-hour bus ride before dining at Sullivan's Steakhouse in downtown Omaha.
On tap today is a 5:10 to 5:50 p.m. practice at CenturyLink Center. It is open to the public.
The Jayhawks will spend a lot of time in Omaha prior to Friday's late tip.
"I don't think it's the best game to play," Self said. "The problem is, if you play late Friday, there's a chance you will play early Sunday (if team wins). To me that's the biggest thing and the fact you are playing about the last game of the first round. Still, we'll be excited to play no matter what time."
KU, MU both here: Self was asked if KU and Missouri fans will be able to co-exist this weekend in Omaha. The Tigers are also here, gearing for an opening game against Norfolk State. Tipoff is 3:40 p.m. Friday.
"I hope so," Self said. "I understand you don't have to like each other. I don't understand some of the hostility that goes with it. I heard fights were going on (last week in Kansas City). That stuff is ridiculous. One thing about KU fans, at least I hope, is whether you like or don't like (the Tigers), certainly you respect the team they put on the floor. They represent themselves very, very well. They should feel the same way about us. It's a unique situation we've spent this much time together in an exit-type year (with MU off to SEC next season). I anticipate this being a pretty interesting weekend and one in all honesty I think it'd benefit both of us to play well this weekend."
More honors: KU's Thomas Robinson and Tyshawn Taylor on Monday were named All-District 8 first-team as awarded by the National Association of Basketball Coaches. They were joined by Marcus Denmon, Missouri; Royce White, Iowa State; and J'Covan Brown, Texas.
Students honored: KU's students on Wednesday won the inaugural Naismith Student Section of the Year Award as presented by Collegiate Licensing Company (CLC) and the Atlanta Tipoff Club. The award comes with a $5,000 cash award, which Kansas Athletics will direct to the university's general scholarship fund. Details on the selection process can be found at facebook.com/ilovecollegehoops.
Recruiting: JaKarr Sampson, a 6-8 senior forward from Brewster (N.H.) Academy, re-committed to St. John's on Wednesday, according to Zagsblog.com. Sampson chose St. John's over KU, Florida and Providence. He initially committed last summer but was ruled ineligible then reopened his recruitment before re-upping with St. John's.